Front Row Fixture Luka Sabbat Unimpressed with Fashion Week
A world-weary wolf pack of New York kids was bored by fashion week, still went to a lot of fashion shows.
---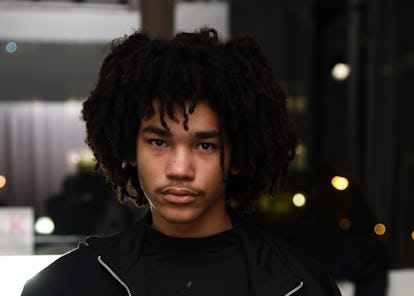 The front row crowd at Tim Coppens's show Wednesday night in New York resembled the back of a school bus. Seated next to editors and A-listers like Victor Cruz were a a couple of laid-back teenagers with big social media followings, Luka Sabbat and Steven Savoca a.k.a. @FatherSteve, an aspiring artist who sells hoodies on his website and prints worth $150. Next to them were two other young denizens of Instagram, Kerwin Frost and Jonah Levine.
While Cruz' three-year-old daughter made the fashion-weary crowd melt by playing with stuffed animals on the runway and dad's lap, Sabbat and Co. took in the show with practiced nonchalance. They didn't flinch when the designer sent down the runway angsty models wearing sweatshirts bearing the word "Acid," a reference to Coppens' memories of growing up in the '90's that was lost on Sabbat's young wolf pack.
Is acid even cool these days? As a self-proclaimed arbiter on the subject of what's fashionable – an "influencer," in fact, according to Adidas – Sabbat would know.
"Nah," he shrugged after the show. "I don't do drugs and don't support that."
Well, is sitting front row at a fashion show cool? Not really. "I mean, you just sit there," Savoca said. Still, that didn't stop Sabbat from attending at least three other shows this week – John Elliott, Rochambeau, and Calvin Klein.
What about men's fashion week? "So far, it's been really bad," said Frost, a veteran of Chanel and Givenchy's front rows. "Everyone is just making long coats and shearling," parroted Sabbat.
Then, what do they want to see?
"Other things," they deadpanned in unison. With that, they took off. There was more unimpressive fashion to catch.
Photos: Front Row Fixture Luka Sabbat Unimpressed with Fashion Week
Luka Sabbat at Tim Coppens. Photo by Getty Images.