Exclusive: Listen to Luna Shadows' Haunting Cover of Dua Lipa's "Be the One"
Premiering exclusively on W.
---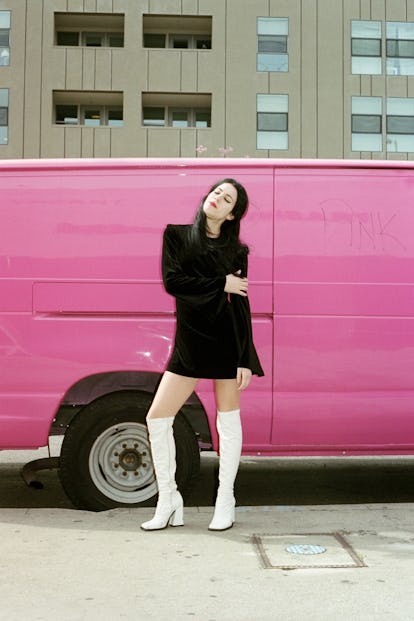 Photo by Larsen Sotelo.
Two years ago, the musician Luna Shadows booked her first show in Los Angeles at School Night, a concert series and unofficial rite of passage for up and coming artists in the city. "In preparation, I went a few months early to check out the venue," the native New Yorker recalled. "I stumbled upon a rising British artist also making her L.A. debut." That artist was a still relatively unknown Dua Lipa, who had yet to release her self-titled debut at the time.
"I was particularly moved by her song 'Be the One', which sounded like it could've accidentally been left off Fleetwood Mac's Rumours," said Shadows. "We made our debuts weeks apart, and since then, it has been an absolute inspiration seeing [her] career flourish into an international success."
Lipa's breakout year—she won best British female solo artist and British breakthrough act at this year's Brit Awards—had a lot to do with her hit single "New Rules," which reached number six on the Billboard Hot 100 and went all the way to number one on the radio airplay charts, and features a message of female empowerment. "Since our first shows, I've been running fast as I can to create my parallel universe in the indie world while celebrating the success of another female musician from afar," Shadows went on. "The world I want to live in is one where female musicians support and celebrate one another, so I decided to spin a dreamy interpretation of 'Be the One.'"
Her cover, premiering exclusively on W, is certainly dreamy. With a heart-thump beat and haunting vocals, it's a moody, captivating version that will stay with you. Produced by Shadows with Thomas Powers of The Naked and Famous, as well as Ryan Shanahan, known for his work with Zedd, the song was recorded in February in a single day in Echo Park, where the singer resides.
"I always wanted to live in L.A.," Shadows said. "From the time I was a child, I really romanticized California. By the time I was a teenager, I thought, As soon as I can get over there, as soon as I find a reason to go, I'm gonna go."
She would end up at the University of Southern California to study theater and music, playing violin, drums, guitar—but she feels most comfortable on the piano, she said, and these days, can be found on tour playing keyboard for The Naked and Famous. "I'm working on my own album by day and playing shows with them at night," she said.
"Lately, I've been really lucky to be surrounded by a group of female musicians that I hang out with a lot," she continued. "They really keep me motivated. It's tough being an indie artist. There's a lot of self-doubt, lots of uncertainty. They keep me inspired."