LVMH Says Bye-Bye to DKNY?
Big things are happening at the house of Vuitton — including a leather-scented perfume.
---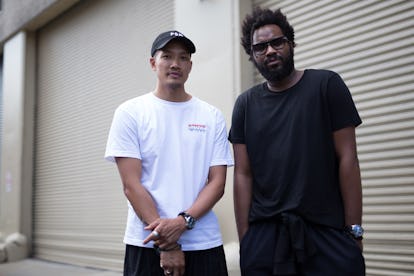 Getty Images
Ailes, Roger The Fox News exec has officially been ousted after sexual harassment complaints filed by former anchor Gretchen Carlson.
Bloomingdale, Betsy '80s socialite, fashion plate, and wife of Bloomingdale's heir Alfred S. Bloomingdale, died Tuesday at the age of 93.
Cobain, Frances Bean The daughter of Kurt Cobain and Courtney Love is now selling her art online.
DKNY LVMH is reportedly selling off Donna Karan's eponymous empire (now helmed by Public School's Maxwell Osborne and Dao-Yi Chow) — though LVMH has declined to comment. There's a lot going on over at the house of Arnault.
Elbaz, Alber Flirting with fast fashion — the former Lanvin creative director is reportedly in talks with Uniqlo's parent brand about a future deal. How the mighty have fallen.
Gvasalia, Demna The Vetements and Balenciaga creative director recently returned to the ITS talent competition in Trieste, Italy — the place where it all started for the Gvasalia brothers.
Kelly, Justin Makeup artist to Donald Trump, Paul Ryan, and the Republican National Convention. (But he's voting Hillary, for the record.)
Mane, Gucci Notorious rapper, still under house arrest (and with the ankle monitor to prove it), still dropping new tracks.
Vuitton, Louis Never wants you to have to give up that new-leather smell — and, with its perfume line to be stocked in its nearly 500 stores worldwide, you won't have to.