LVMH May Be Launching the Ultimate Designer E-Commerce Site
The company that controls Dior, Louis Vuitton, Givenchy and more is finally ready to take luxury e-commerce more seriously.
---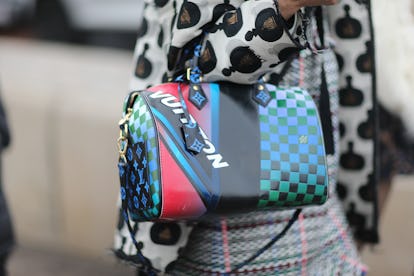 Edward Berthelot
Designer fashion brands have long struggled with how to approach the rise of e-commerce, but it appears that luxury conglomerate LVMH Moët Hennessy Louis Vuitton will struggle with the dilemma no more. The French company, which owns or has major stakes in a murderer's row of designer labels, is reportedly set to launch its own e-commerce site to compete with the like of Net-a-Porter, FarFetch and others.
That means it will soon be easier than ever to buy Dior, Louis Vuitton, Givenchy, Bulgari, Marc Jacobs, Fendi and more online and all in one place. Naturally, the expansive company will launch the site under the umbrella of another of its subsidies, Le Bon Marché, the legendary Parisian department store it's owned since 1984.
The report comes from the Financial Times, though the company has not yet confirmed the speculation. Though, there are certainly indicators that the company is taking digital commerce more seriously.
Take Céline, yet another of the company's brands, for example. The French label was notorious for doing the absolute least when it came to the internet. Incredibly, the brand had no social media presence at all until it finally joined Instagram last week. The move precedes plans to finally began selling at least some items online by the end of the year. Indeed, LVMH poached executive Ian Rogers from Apple in 2015 to jumpstart its e-commerce strategy.
Luxury brands have been slow comers to the online space. They preferred, instead, to highlight the high-class service costumers could only experience in stores, but most have given in to the internet one way or another. Most brands now offer at least accessories for sale online, but more and more designers are putting their entire collections on the internet to shop. It seems to be working. Online sales of e-luxury are growing at a faster pace than in-store purchases.
According to the report, the Le Bon Marché site will include all of the conglomerate's brands as well as outside lines as well.
Of course, the company isn't a completely novice with e-commerce. It also owns Sephora, which has been a leader in online high-end makeup sales for years.
Watch W's Most Popular Videos: