LA-Based Brand Lykke Wullf Combines Danish Design With Old Western Styles
Jemma Swatek melds her roots in Danish minimalism with a love of old westerns for the perfect summer look.
---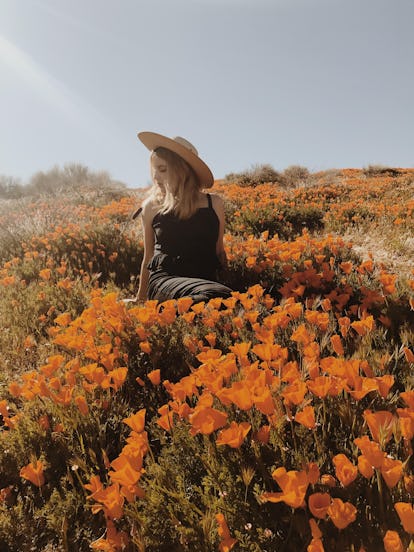 Lauren Beitel
The similarities between Scandinavia and California may not seem obvious at first, but both cities share a laid-back yet functional approach to style that is deeply rooted in the environment. Designer Jemma Swatek—who was born in England with a Danish mother and American father, raised on old western movies, and is currently based in Los Angeles—attempts to bridge the gap with her brand Lykke Wullf, which she founded in 2011. Her ethically-made, environmentally-friendly overalls, sundresses, and bell-bottom pants already has fans like Scout and Tallulah Willis, who describe her shop as "pantaloon heaven."
What's the story behind the name Lykke Wullf?
Lykke Wullf is my mom's maiden name. It means 'happiness wolf' in Danish. I always liked her maiden name and love wolfs, so I decided to name my brand after her; it just felt right.
How does the Lykke Wullff style reflect your background? How would you describe this aesthetic?
I spent all my summers in Denmark and my mom and I liked to take a lot of road trips, so it's really a reflection of minimal Danish design that was around me growing up and my love of old westerns, cowboys, and desert landscapes.
Best sellers:
All-time best sellers are the Anita Overalls, Ranch Jacket, Ranch pant and Sandi pant. Although right now our new Spring collection is selling really well!
What is your brand's connection to nature and environmentalism?
I have always been in awe of nature and as a child I wanted to be a botanist. Jane Goodall was one of my idols and I read all her books. I wanted to be like her and make a difference in the world; do something great. I went to school for environmental science and sustainable agriculture, although I eventually went on to study knitwear design. Now, I try to use the best fabrics that are made to last and be worn as to reduce waist. We also use deadstock fabrics and organic cotton as much as possible. Our 'forever' collection is really durable and a lot of it is inspired by vintage workwear, so it's meant to last, which to me means being more environmentally friendly. People have too many things and we really don't need them. Just be conscious of that and buy a couple good core pieces per season that you can keep wearing and reinventing.
Three words that convey the Lykke Wullf spring/summer look:
90s , sexy, easy.
Design mantras you live by:
Keep it simple and wearable, but don't be scared to mix it up. I like to throw in something a little off for fun. I think I make unconventional basics.
Personal fashion icons:
Mick Jagger and Brigette Bardot, but depends on my mood. I like to dress in themes; sometimes I just want to be a farmer, or pretend I am on safari, or be a '70s pimp.
Fashion pet peeve:
When people wear things that they look uncomfortable in. I think if you are confident in your clothes and yourself, then whatever you are wearing will look good.
What you're wearing right this minute:
Silk floral pajamas.
Night out look:
It's pretty much my daytime look but with heels and lipstick: Anita overalls with a blouse.
Preferred everyday footwear:
A boot with a block heel, Mary Janes, or a clog.
Hat or sunglasses? And which brands are your favorite?
I live in Los Angeles, so sunglasses are a must. I am currently loving a French vintage pair I picked up by Louis Féraud. They are tortoise aviator style with yellow lenses. I also wear hats on the regular and the one by my door is a straw one hand-made in Mexico.
What you keep in your overalls pockets:
Usually my phone keys and a lighter!
Something you would never wear:
Never say never, but I have never been a stiletto fan. I have no idea how people wear them and they just don't suit my lifestyle.
Most prized possession(s) in your closet:
That's a hard one, but I finally got a pair of Amelie Pichard fuzzy corduroy Mary Jane shoes and I love looking at them.
Dream summer vacation:
I am going to Cinque Terre in Italy in May and I am walking through all the cities for a week. It sounds like heaven to me, but also maybe laying on a beach somewhere beautiful.
Where you hope to see your brand in the next few years:
I am hoping to keep growing. I would love to get some great wholesale accounts in Europe and do more collaborations and just keep perfecting the brand. I have about a million ideas a day, so I'd like to find the time to make more of them happen. I am super excited for the future. We have the best customers and I just want to keep making them feel great in their clothes!
Your Spring Shopping Guide: 10 Must Have Items to Buy Now