Lyn Devon: Fashion's Best-kept Secret
She's not on every young fashionista's radar. But with her perfectly cut, defiantly untrendy pieces, 28-year-old Lyn Devon has become the go-to designer for Manhattan's sophisticated women of means.
---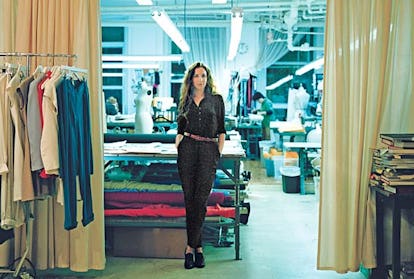 It's not immediately obvious from her clothes—"no-nonsense sportswear," as she puts it—but Lyn Devon is bucking a trend. She's a young designer in New York, the city for emerging fashion talent, most of whom aspire to dress the cool downtown kids, the avant art crowd or the young social swans. But unlike her peers, Devon describes her clients as "women of means" between ages 35 and 65. In other words, grown-ups, the kind who prefer their clothes polished. Either way they're an unlikely demographic to come knocking on a 23-year-old's door, which is exactly what happened when she started designing five years ago.
Devon's spring 2009 collection
"My customer base sort of grew naturally from my living room," says Devon, 28, who, tall and thin with an auburn mane, wears her slim, high-waisted trousers and blouse very well. "I started to work at home, creating my own outfits and wearing them around. I would do the patternmaking, the draping, the cutting, the sewing. I did it all myself. My patternmaker now looks at my patterns and kind of chuckles. But my mother requested some pieces. My first client."
Devon has since left her living room for a Broome Street basement studio. She remains under the radar but now boasts a tight list of tony stores such as Louis Boston and Jamie in Nashville, Tennessee. Considering her private client list, which includes Laurie Tisch, Kitty Kempner, Brooke Neidich, Vivian Mellon and Gigi Mortimer—women who are not necessarily famous on the party scene but are well-known among a certain circle of wealthy New Yorkers—Devon is definitely not underground. In fact her grassroots initiative began with uptown's elite.
Devon grew up on the Upper East Side and attended Brearley, followed by Trinity, followed by Brown, all the while nursing a major fashion fixation inherited from her grandmother and namesake, "a true fashionista" and couture client. She passed away before Devon was born but left her closet and her daughter to carry the fashion torch, the latter in a more understated way. "She's all about the perfect white shirt, the perfect tailored jacket, the perfect shoe," Devon says of her mother, who once worked at Halston, albeit "in a lowly position." "There's a practicality," she adds. "And that really influenced the way I imagined women dressing." Thus her collection is full of smart, sporty, tailored pieces such as spring's silk blazers, skinny pants and Claire McCardell–esque tennis dresses, all done with great attention to detail and color—navy, black and white shot with lilac, electric blue or yellow. "From the start it was never trendy," Devon says. "It was always clean, streamlined, but with a level of confidence."
In school Devon chose the liberal arts route. "I thought learning the classics and art history would inform my creative process later. But I always knew that I wanted to design," she says. "Right after I graduated from Brown, I knocked on Zac Posen's door when he was still in his parents' apartment." An interesting choice, considering Posen's obsession with over-the-top red-carpet glamour is a quantum leap from Devon's practical ideals. But in this case, experience trumped taste. "I didn't know anything about the business of fashion," says Devon, who interned for Posen for a year and a half. "I mean, the first thing I did at Zac's was put labels on all the clothes. But I got to see him move into his own studio. I saw everything—PR, sales and design."
Her next step, assistant designer at Ralph Lauren Blue Label, was more in stride with her ethos. Devon seized her RL time as "an opportunity to steep myself in designer sportswear, learn about men's tailoring and separates, and clothes for real women, real life," which inspired her to take her own designs more seriously and beef up her made-to- measure business while there. "I left Ralph when I had enough clients to sustain me," Devon says. "That was sort of the jumping-off point."
And then some. Nearly three years later, those private clients, many of whom are family friends, make up the bulk of her tiny $750,000 business, which she claims is enough to support her as the collection grows. She's well aware that, in her case, privilege has had its privileges, and she's not apologizing for it. "I had access," Devon says. "Whether it's the schools I went to or the social set—for example, Barbara Tober lived in my building growing up. From day one I've benefited from having the client base that any retailer would want." It's an advantage that Devon has taken seriously with a savvy business approach. All that personalized service has helped her learn not only what her woman wants ("She could ask for something longer, with a sleeve, in a different color, with a different closure") but also that selling direct turns a bigger profit, which, in turn, has funded bigger things.
Fall 2007 marked Devon's debut runway presentation and her first wholesale order, written by Debi Greenberg of Louis Boston. "When I'm looking at people's work, I try to make sure that it doesn't look derivative of something else," says Greenberg, who adds that her customers are women who go to work. "I usually already have the something else. I want something that has its own identity, and Lyn does. There's a definite sophistication that is beyond her years, and she has a modern approach." As for Devon's lesser-known name and designer price tags ($500 to $900 for separates and up to $2,500 for coats), Greenberg says they haven't been an issue for her customers, who are more interested in achieving a look than flaunting a label.
Likewise for Devon's private clients. "Most of them are women who could buy anything but are really intrigued by something new," Devon says. "I think the aspect of discovery is exciting for them. A lot of these women are involved in the arts. They're teaching classes at the International Center of Photography and advising on the board of the Guggenheim. They're always excited about something new in this city." And in other locations, as well. Devon hosts trunk shows for her loyalists and their friends in high places such as Palm Beach and Greenwich, Connecticut. Not exactly playgrounds for the young and hip, but indeed emerging markets for this emerging designer.