Artist Lynette Yiadom-Boakye's Black Bodies Are More Powerful Because They're Not Real
Inside the painter's new solo exhibition at the New Museum in New York.
---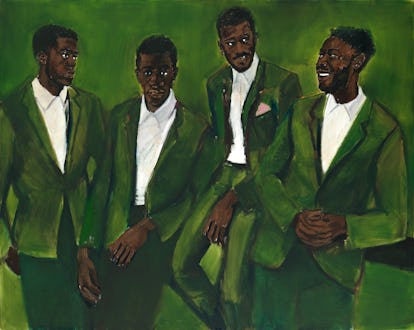 Copyright Lynette Yiadom-Boakye, Courtesy of the artist, Jack Shainman Gallery, New York, and Corvi-Mora, London
The mesmeric power of Lynette Yiadom-Boakye's portraits resides, in part, in the fictitious nature of her subjects, who look like real people but are entirely inventions of her imagination. A selection of her new paintings, on view from now through September 3 at the New Museum, in New York, reveals her ability to summon from the relatively narrow vocabulary of portraiture untold variations on mood, from the coolly nonchalant to the languorously sensual.
Yiadom-Boakye was born in London in 1977 to Ghanaian parents. Her imagined sitters are almost always black and often seem comfortably lost in private reverie. The show's co-curator Massimiliano Gioni sees her work "as a dialogue with an older generation of artists that includes Chris Ofili and Peter Doig, whose paintings reflect on the connection between race, representation, and painting."
Gioni acknowledges that exhibiting her portraits in New York at this moment "may invest them with more of a metaphorical aspect than they actually have, given that a black body in America today is not just a black body. Her work is not political in a rhetorical way, but through representation and form. That, too, is what makes it exceptional."
Watch W's most popular videos here: