M.Patmos Goes Global
Marcia Patmos talks about her International Woolmark Prize.
---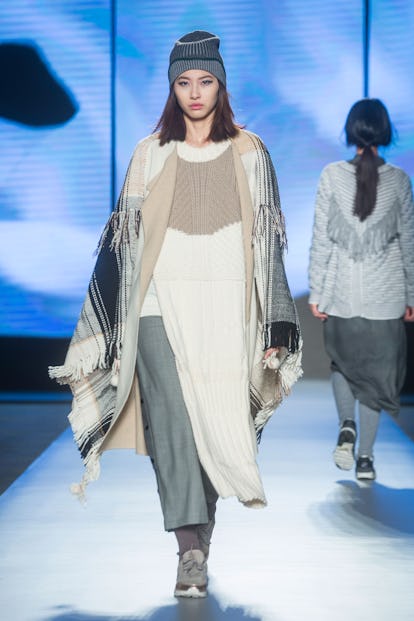 Less than nine months after taking home the regional Women's International Woolmark Prize, M.Patmos's Marcia Patmos scored the international version in Beijing, joining the prestigious ranks of past winners like Karl Lagerfeld and Yves Saint Laurent. Judges including Victoria Beckham and Franca Sozzani selected Patmos over more than 60 other designers based on the collection she created for a woman traveling through many different countries and climates. "It's a really beautiful neutral palette with tons and tons of layers and you could just keep piling on or removing the layers as you go," she explains. The travel theme doesn't stop there: Patmos also included accessories like a scarf that turns into a neck pillow, a sleep mask, and special socks to wear through security. All of them will no doubt come in handy as she travels to expand her business with help from her prize, which includes AU$100,000 and placement in global retailers like Saks Fifth Avenue, 10 Corso Como, and mytheresa.com.
Of course, the judges were looking for more than just a great collection and innovative use of wool. "I was certainly looking for someone who has a business acumen, who can deliver the product to market," says Stuart McCullough, the Managing Director of The Woolmark Company. "We don't want to choose a winner who cannot provide the product. The other interesting thing for us is that wool is often portrayed in a really formal manner, so to be able to see it in a setting that's a little more casual is fantastic for us." Hopefully Patmos's chic, versatile collection will be fantastic for shoppers as well.
Photos: M.Patmos Goes Global
M.Patmos's Marcia Patmos. Photo by Victor Zhang
M.Patmos. Photo by Victor Zhang
M.Patmos. Photo by Victor Zhang
M.Patmos. Photo by Victor Zhang
IWP Judges Franca Sozzani, Victoria Beckham, and Angelica Cheung. Photo by Victor Zhang
M.Patmos. Photo by Victor Zhang
M.Patmos. Photo by Victor Zhang
M.Patmos. Photo by Victor Zhang