How Ann Roth Transformed Viola Davis Into Ma Rainey
The legendary costume designer shares the story behind Davis's rubber suit.
---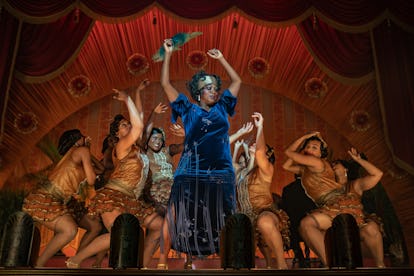 Photo by David Lee, via Netflix
Ann Roth doesn't technically appear in Ma Rainey's Black Bottom, Netflix's adaptation of the play by August Wilson. But the legendary costume designer's handiwork is everywhere, and includes the titular derrière. "I made the behind," the 89-year-old told me on Friday night, which found her sipping vodka by the fire. And while the film's star, Viola Davis, has asserted that "the boobs were all mine," Roth also deserves credit: "Her boobs were her own, but underneath her boobs were the ones I put there," Roth continued. "I mean, you have to make them do what you want them to do."
Originally, Roth turned down the job. She'd just wrapped a year of four Broadway shows and was ready for some fun in Europe. But the slot was still open upon her return, and Roth isn't one to turn down work: She's worked on well over 100 movies, including Singing in the Rain, The Talented Mr. Ripley, and The English Patient. (That's not to mention another 100-plus Broadway credits.)
Usually, Roth gets at least six weeks to prep for a film. This time, she got just 10 days. "It was a huge rush job, to put it mildly," Roth said. Luckily, she has extensive experience with prosthetics. "I am 89 years old, Stephanie. I have done it all," she assured me, estimating she's had "probably 100, 200, 300" rubber suits made over the course of her lifetime.
Not everyone takes kindly to the idea of alterations, but luckily, Davis wasn't fazed. A mockup of the blue velvet dress Rainey wears to perform in Chicago soon proved the padding was just right. "When it glided over the behind, she got it," Roth recalled. "She knew she wasn't looking at Viola in the mirror—she was looking at somebody else."
At that point, the transformation wasn't even complete; next up were Rainey's gold teeth and distinctive horse hair wig. Finding the latter, Roth says, was quite the feat: "There are no wigs made of horse hair, unless you're a judge on the bench in England." Roth and her team also tracked down real pre-1927 currency to replicate Rainey's signature $20-coin necklace, which earned her the nickname "The Golden Necklace of the Blues." And then there were the details they invented, like how up-close, the fur stole Rainey wears on the hottest day of July looks cheap.
Ma Rainey was, of course, a real person. But the version of the blues singer you see in the film is actually based on Aretha Franklin, whose measurements were much easier for Roth to track down. (She knows people who know the singer—one of whom is in the film. Glynn Turman, the actor who plays Toledo, was once Franklin's husband.)
Roth's other most prominent contribution is on a much darker note. She was the one to select the fateful pair of glossy shoes worn by Davis's late costar, Chadwick Boseman. She has fond memories of her time on set with the actor, as well as his partner Taylor Simone Ledward. "I told her she was the first and only wife I allow in the fitting room," Roth recalled.
Roth always envisioned the shoes as glossy and yellow. ("I mean, they couldn't be pink!") And while she recalls getting them somewhere on Orchard Street in Manhattan, other details are a bit foggy: "I used to know who made them. But I don't remember now that I've had this drink."
Related: How Ruth Carter, Black Panther Costume Designer and Oscar Nominee, Put a "Wakandan Spin" on the Film