The MAC Cosmetics x Aaliyah Collection Is Real and Coming for Summer 2018
MAC Cosmetics will launch an Aaliyah inspired makeup collection for the late R&B singer.
---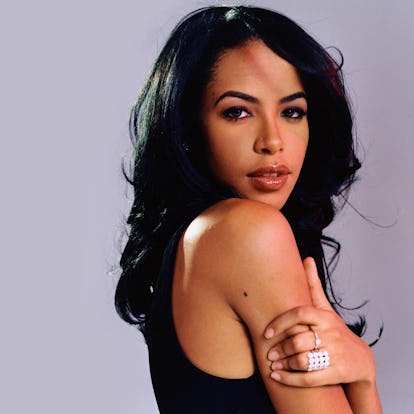 @aaliyah_haughton_official
Unveiling it's most recent artist collaboration, MAC Cosmetics has announced it's Summer 2018 signature collection for the late singer Aaliyah. As one of the most prominent and relevant female R&B musicians still inspiring the music world today, the collection will pay tribute to the singer's most iconic looks, leaving many adoring and nostalgic fans excited to celebrate the singer's legacy.
And while MAC is known for it's many A-lister collaborations, including Nicki Minaj, Lady Gaga and Mariah Carey, it's not the first time the makeup brand has paid tribute to a late artist with their own makeup line, debuting a signature collection for singer Selena Quintanilla in 2016.
Revealing how the makeup line came to life, Catherine Bomboy Dougherty, Senior Vice President, Global Communications, for MAC Cosmetics explained that it was the passion from Aaliyah's countless fans. "There is a certain something about each of our collaborators that inspires MAC, with Aaliyah it was the incredible passion from her fans that was everywhere we turned. We admire Aaliyah because she was a not only an exceptionally talented artist but a risk taker and innovator who still influences the worlds of music, fashion and beauty. She continues to be a role model whose legacy inspires us all to follow our hearts. We are honored the family trusted MAC to bring Aaliyah and her fans' vision to life."
Dougherty further explained that will the help of Aaliyah's family, the products in the collection will be a celebration of Aaliyah's most memorable looks. "We worked closely with Aaliyah's family to select products that are true to Aaliyah's style and love for MAC. The collection celebrates some of Aaliyah's most famous looks from her iconic images, music videos and award show performances which will give consumers a nostalgic yet modern feel that celebrates her life and soul."
And with a timely unveiling in commemoration of 16th anniversary of Aaliyah's passing, Dougherty said, "We made a lot of people really happy today and that feels good."
Related: Rowan Blanchard's Makeup Artist On How Colorful Makeup Can Really Change Your Mood
The Beauty Secrets of Supermodels