Rowan Blanchard's Makeup Artist On How Colorful Makeup Can Really Change Your Mood
Makeup artist Amy Strozzi breaks down the steps to a Chanel-worthy beauty look.
---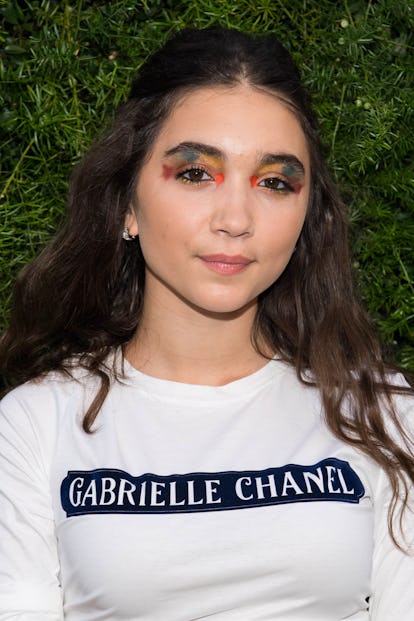 Emma McIntyre
In an age where "no makeup" makeup rules the news, with celebrities like Alicia Keys committing to living a makeup-free existence and writer Zadie Smith declaring that makeup is a "waste" of time—Rowan Blanchard's experimental, adventurous approach to beauty stands out.
In her short career, the 15-year-old actress and activist has embraced bold, eccentric, fashion-forward looks that rival the runway for a wide range of events. Most recently, she attended a Chanel dinner in Los Angeles wearing a playful, rainbow-colored eye. Amy Strozzi, the Los Angeles-based makeup artist who regularly works with the actress, was responsible for that particular look–and thinks everyone can learn a thing or two from Blanchard. After the event, Strozzi posted an image on Instagram, with the caption "Thank you Rowan for constantly pushing my boundaries & comfort zones while you bravely develop your own."
Here, Strozzi explains how to get the look at home, and why you shouldn't be afraid of colorful makeup.
Why do you love bright, colorful makeup?
I love to work with color on any part of the face. There are so many amazing products out there that literally anything is possible, and with the right technique and some good choices, color can be wearable for anyone, anytime. I love a colored liner for a "safe" look, a bold color on the lip looks soft as a stain or pops with a coat of gloss. Colored eyeshadow can be worn so many ways, even a small detail can be effective. And if you can pull it off, a wash of a bright blush is amazing.
Why don't more people stick to neutrals, and stay away from playful shades?
Colorful or more eccentric makeup goes against the social norms of beauty that we are all used to. But just like when we started seeing pink hair so often it became normal, I think you are seeing more people experimenting with color on the face as well. Life can be really stressful, I feel that now more than ever a sense of individuality is SO important. Your entire mood and mental state can improve when you go outside your boundaries.
A Definitive Ranking of Rowan Blanchard's Most Daring, Fashion-Forward Makeup Looks of All Time
This graphic treatment is one of Blanchard's most daring makeup looks yet.

Rowan Blanchard at the NYLON Young Hollywood Party at AVENUE Los Angeles on May 2, 2017 in Los Angeles, California.

JB Lacroix
With a multi-colored eye, Blanchard proves she isn't afraid of some color.

Rowan Blanchard at the Chanel dinner celebrating Lucia Pica and the Travel Diary Makeup Collection at Capo on July 12, 2017 in Santa Monica, California.

Emma McIntyre
The CFDA awards are an opportunity to celebrate the American fashion industry. Naturally, Blanchard chose a fashion-forward look, with small crystals below her eyes, for the occasion.

Rowan Blanchard at the 2017 CFDA Fashion Awards at Hammerstein Ballroom on June 5, 2017 in New York City.

Taylor Hill
Blanchard's graphic eye makeup and super straight hair were a futuristic, sleek combination.

Rowan Blanchard at "Chanel Collection des Metiers d'Art 2016/17 : Paris Cosmopolite" Show on December 6, 2016 in Paris, France.

Pascal Le Segretain
A graphic white line added a playful touch to Blanchard's boho look.

Rowan Blanchard attends the H&M Conscious Exclusive Dinner at Smogshoppe on March 28, 2017 in Los Angeles, California.

Charley Gallay
A swipe of silver eyeshadow was the perfect look for a summer evening in New York.

Rowan Blanchard at the Coach Summer Party on The High Line on June 6, 2017, in New York City.

Photo by Katie Thompson for W Magazine.
Blanchard's frosted blue eye looked anything but retro.

Actress Rowan Blanchard arrives at the International Women's Media Foundation Courage Awards at the Beverly Wilshire Four Seasons Hotel on October 27, 2015 in Beverly Hills, California.

Amanda Edwards
Blanchard upped the glamour of a bronze smoky eye, by adding a glittery brow.

Actor Rowan Blanchard attends the 10th annual Women in Film Pre-Oscar Cocktail Party at Nightingale Plaza on February 24, 2017 in Los Angeles, California.

Frederick M. Brown
Blanchard adds a pop of color to an otherwise natural makeup look.

Actress Rowan Blanchard attends Children Mending Hearts' 9th Annual Empathy Rocks at a private residence on June 11, 2017 in Bel Air, California.

David Livingston
A simple pop of color was a subtle, playful touch on the red carpet.

Actress Rowan Blanchard attends Teen Choice Awards 2016 at The Forum on July 31, 2016 in Inglewood, California. (Photo by Kevin Mazur/Fox/Getty Images for Fox)

Kevin Mazur/Fox
Sure, a cat eye isn't anything knew. But Blanchard goes to the extreme with her winged look.

Rowan Blanchard attends the launch party for Chanel's new perfume "Gabrielle" as part of Paris Fashion Week on July 4, 2017 in Paris, France.

Stephane Cardinale – Corbis
A little volume goes a long way.

Rowan Blanchard attends Teen Vogue's 13th Annual Young Hollywood Issue Launch Party on October 2, 2015 in Los Angeles, California. (Photo by Jason Kempin/Getty Images)

Jason Kempin
What are your best tips for wearing brightly colored eye shadow?
If you are entering into the color arena a bit unsure, start with a bright liner like white, yellow or teal. Switch up your cat eye or grab a colorful soft kohl and smudge it into your lash line. It's a baby step towards something more bold. For colorful eyeshadow, I like to use three brushes, a flat dense brush to apply the shadow to the lid, a fluffy brush to blend the edges and a pointed smudge brush to apply under the lashes or to add depth to the crease. Properly blended shadow will keep it looking chic. Apply a wash of shadow to the center of the lid and use a fluffy brush to blend it out. A diffused eye in one color is a beautiful daytime look. Use a gentle amount of mascara (or skip it altogether) to keep the look soft.
Stay within one color family, like lavender and plum, if you're just getting into it. Eyeshadow palettes are designed that way for a reason; the colors are complimentary, trust them and experiment. Consider using a more natural-looking mascara with a colorful eye, or going sans mascara if you're comfortable! A colorful eye and a strong lash is a great look, but definitely less subtle. Use a stiff brush to first apply color, but soft fluffy brushes to blend edges and add more product. A fluffy brush will ensure a softer result. Do your eyes before your foundation, this way if it falls in the process you can just wipe it clean. I always do the foundation after the eye with my red carpet clients.
What is your favorite makeup look for the summer?
I love keeping skin minimal and creating washes of color that stand on their own. I think less if often more with color and using a tinted balm or a lip stain is a great yet minimal compliment to a stronger eye. For summer I love a bright flush on the cheek with or without mascara, I love colored liner for playing it safe, I love a brightly stained lip, and I love a wash on the eyelid with barely there makeup otherwise.
The Best Colorful Makeup Palettes for a Playful Take on a Smoky Eye
Watch: How Not to Get the No Makeup Makeup Look