With All Due Respect to Zadie Smith, Many Women Do Not Find Makeup to be a Waste of Time
The writer is simply trying to look out for her daughter—and also missing the point.
---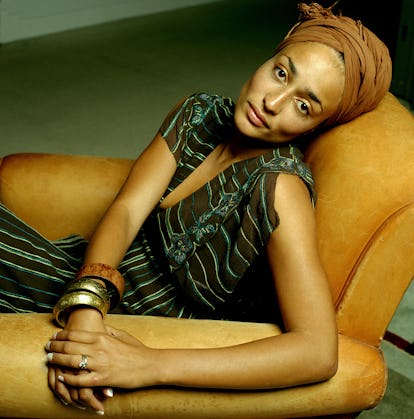 Eamonn McCabe/Getty Images
Zadie Smith is something of a pro when it comes to speediness: She was just 21 when she submitted an excerpt of her debut novel, White Teeth, to an agent, sparking a bidding war that ultimately led in Smith publishing the novel at 24 and worldwide fame.
Fast forward about 17 years later, and Smith, now 41, has added plenty of essays and four additional novels to her oeuvre, hence her appearance this week at the Edinburgh International Book Festival, where she announced to a sold-out crowd that she'd be releasing her first-ever collection of short stories.
The real takeaway, though, ended up Smith's thoughts on makeup—and not in the glowing way that you'd expect. Somehow, in her discussion of her latest novel, Swing Time, which has been long-listed for the Booker Prize, she arrived at describing how her seven-year-old daughter Kit has apparently been misbehaving. "I saw that she had just started spending a lot of time looking in mirrors," Smith said, as the Times of London reported. "It was infuriating me."
And so, never lacking in productivity, Smith took action: "I decided to spontaneously decide on a principle: that if it takes longer than 15 minutes don't do it," she said. "I explained it to her in these terms: you are wasting time, your brother is not going to waste any time doing this. Every day of his life he will put a shirt on, he's out the door and he doesn't give a s— if you waste an hour and a half doing your make-up."
If that sounds a bit extreme, it seems like Smith is simply taking preventative measures so that her daughter can eventually ignore the apparent evil that is contouring. "From what I can understand from this contouring business, that's like an hour and a half and that is too long," she said. "It was better than giving her a big lecture on female beauty, she understood it as a practical term and she sees me and how I get dressed and how long it takes."
Here's the problem, though: Smith—like no-makeup advocate Alicia Keys and the supermodel Natalia Vodianova—is an unequivocally beautiful woman with or without makeup—something she's well aware of, having expressed her frustrations that her attractiveness has historically made people think she "couldn't possibly be a great writer." And by not giving Kit "a big lecture," Smith might make the seven-year-old to feel that she herself is the one to blame, rather than the system itself with its unrealistic beauty expectations of women.
As a naturally gorgeous woman who's already found success, Smith might not be aware of this, but the reality of today's society is that wearing makeup is a norm, and, as the Atlantic has pointed out, "nothing ruins a first impression like a norm violation." Frequently, women who wear makeup often make more and are treated better; academic studies have found both that women who are made up are more likely to land "prestigious jobs," and that female waitresses who wear makeup make more tips—at least from male customers.
After all, we live in a patriarchy, which is in part why it's no surprise that some women in fact feel more confident when they're made up—and why Smith is likely just plain wrong when she says her son "doesn't give a s—" whether or not women wear makeup. (By the way, believe it or not, there also exist women who apply makeup—yes, sometimes even for hours—simply because they think it's fun and they enjoy it, regardless of whether or not they're already naturally beautiful.)
To be fair, Smith was not at a beauty summit, but instead a book talk, where she was exploring a line of argument. If she had, hopefully she would have said that the first "big lecture" in store for her kids would be for her son—and that the next one for her daughter would be coming soon, before she starts down young women's well trodden and all too familiar path toward self-hatred.
Related: Why Misty Copeland's New Estée Lauder Deal Is Such an Important Moment in Beauty
See W's most popular videos: