Makeup Artist Val Garland Is Rebelling Against the "Boring Perfection You See on Instagram"
Makeup artist Val Garland isn't afraid of daring color. Or bold trends.
---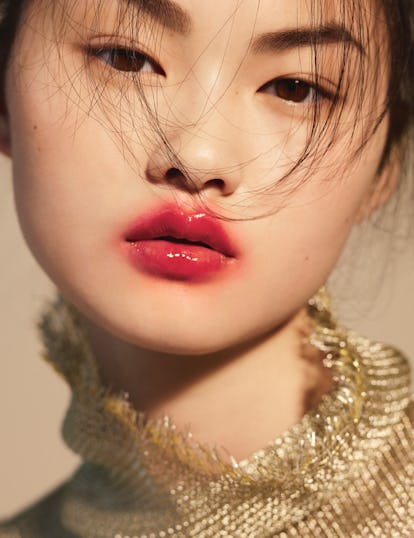 Photograph by Sharif Hamza, Makeup by Val Garland
Makeup artist Val Garland isn't afraid of daring color. Or bold trends. In W's May 2017 issue, Garland combined the two in a fashion forward look. "Make-out mouth, or, as we say in England, snogged lips" is how she describes the cherry pout she painted on model He Cong. "It's fresh, young, irreverent, and feels quite rebellious." It's also a backlash against all the "boring perfection you see on Instagram these days." Garland used three different textured brushes to achieve the perfect imperfection, pushing intense Dolce & ­Gabbana Miss Sicily Lipstick in Maria from the center of the lip to just beyond the edges, and then adding a coat of MAC Lipglass in Clear for that "bubblegum-hot, sexy look." Don't fancy this level of Lolita-ness? Then simply use your fingertips to dab on color and gloss. Whatever you do, though, lay off the liner. As Garland puts it, "Messy is modern."
Garland is full of unexpected moves. Here, the makeup artist talks about her love of color, favorite trends of the moment, and more.
Tell us about the sexy, imperfect pout you created here. Why is it important to draw outside the lines?
Sometimes imperfection is beautiful.
You are known for taking chances with makeup, whether it's on the runway or on celebrity clients like Lady Gaga. Where do you get to run wild with your imagination?
Inside my head.
We know you love colorful makeup. Does your love of color extend to your London home?
It does! Out of the endless possibilities on the color palette, yellow, gold and red are my faves and they appear a lot in my home.
What is in your personal makeup bag?
My personal makeup bag is unbelievably small, when compare to my professional kit! Eye liner, brown eye shadow, mascara, red lippy and of course, my can't-live-without eyebrow pencil. I love L'Oreal Super Liner Blackbuster, MAC Concrete eyeshadow, L'Oreal False Lash x Fiber Mascara , Bobbi Brown Art Stick Liquid Lip in Uber Red and Dior Brow Styler.
Any wellness trends you are loving right now?
Everything in moderation. Walk to live.
What do you do to relax?
I read, I cook, I get in the garden.
Favorite holiday spot?
Fiskardo, Greece.
Which products are a must on set at the moment?
Anastasia Beverly Hills Clear Brow Gel, giving major glossy brush up brows in a stroke.
Purple Eyebrows, Gold Lip Cuffs and More of the Best Outrageous Makeup Trends from Paris Fashion Week
At Valentino, makeup artist Pat McGrath paired an exaggerated maroon cat eye with a satin burgundy lip.

Photo by Getty.
Models wore a sleek up do with rosy cheeks and a modern white cat eye at the Kenzo Fall/Winter 2017 show.

Photo by Getty.
Makeup artist Tom Pecheux drew on black eyeliner to highlight the silver metallic smoky eye and exaggerated lashes at Chanel.

Photo by Getty.
At the Maison Margiela show, makeup artist Pat McGrath transformed used vibrant colors of blue, green, orange and yellow shadow all along the eye and through the eyebrows.

Photo by Getty.
At Balmain, makeup artist Tom Pecheux paired a heavy metallic black and copper cat eye with a natural lip embellished with lip cuffs.

Photo by Getty.
I love the idea of "intentional makeup." After so many seasons of trying to look like they're not wearing makeup, I think women are warming up to the idea that a statement lip or a statement eye is okay. Do you see this trend in your travels? What city most loves makeup?
I would like to believe that women are confident enough to take control of their lives and wear the makeup that makes them feel the most empowered.
What trends are you loving right now? Hating?
I am loving the Snogged Lip trend, obviously. Not quite sure about the Instagram brows though..
Single biggest mistake you see real women make with their makeup?
Covering up their beautiful skin with a full mask of foundation.
How do you make your subjects' skin look so amazing?
I like to prep the skin really well before putting anything on.
You started your career as a hairdresser. Are you opinionated about the hair in fashion shows and on shoots, or do you keep quiet about it?
I do sometimes get opinionated about the hair. But I guess as hair and makeup work so closely together, it's part of the deal to look at the whole image together to see what works best.
You have done a lot of Vivienne Westwood and Alexander McQueen shows. What are some of your favorite all-time looks from these shows?
So many, if I had to choose, it would be McQueen Voss, Westwood Horses.
Whose makeup are you dying to do?
Betty Boop
Finally, what are three new products you want every woman to go out and buy immediately, if not sooner?
L'Oreal Infallible Lip paint, NARS Sun Wash Diffusing Bronzer, YSL The Shock Mascara.
The Beauty Secrets of Supermodels