A Temporary Hair Color Guide for Beginners, Courtesy of the Manic Panic Founders
The Manic Panic founders break down how to wear temporary hair coloring like a pro.
---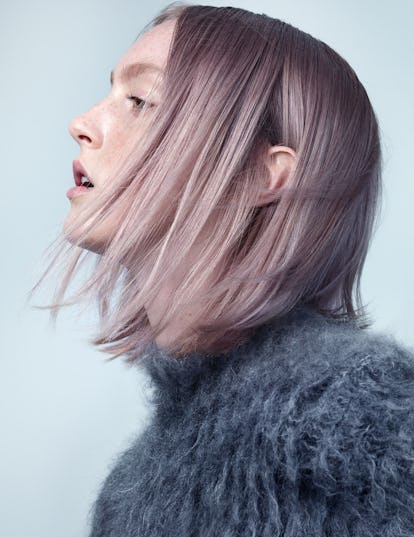 Photographer: Benjamin Lennox Stylist: Andreas Kokkino and Katie Becker
While the Hollywood red carpet has turned into a sea of platinum blonde pixies, leave it to Cara Delevingne to make a change. On Thursday, the model and actress hit the red carpet in Mexico City with a stunning pastel pink color. If you're feeling inspired, you're not alone. We immediately turned to Manic Panic founders, sisters Tish and Snooky, to break down how to wear temporary color like a pro. Here, the duo reveals their best tips and tricks on how to apply, wear and maintain colored hair.
How do you prep hair before adding color?
Start with a blank canvas, after all, you're about to create a work of art! Shampoo hair with a non-conditioning or clarifying shampoo to assure it is squeaky clean. If you are using a lighter pastel or a brighter neon color, pre-lightening your hair is essential to achieve vibrant results! If you've never lightened your hair before, we recommend that you visit a professional stylist. More subtle tones can be achieved using our deeper, more intense shades directly over dark hair, without pre-lightening. Always remember, you can't dye a black shirt yellow without removing the black first.
What do beginners need to know before dying their hair?
It's always wise to perform a patch test to make sure you don't have an allergic reaction. To do so, choose a small area of skin about the size of a penny and somewhere discreet, like behind your ear or the inner fold of your elbow. Wash the area with soap and water and dry with a clean towel. Place a thin coating of your chosen dye upon the test area, allow it to dry, and leave undisturbed and uncovered for 24 hours. Examine the area for any signs of irritation. If there is a negative reaction, the product should not be used under any circumstances. Strand tests are also a great way to make sure you get your desired results!
Apply a small amount of color to a discreet section of freshly shampooed and dried hair before attempting to do a large amount. Apply petroleum jelly or a thick conditioner around your hairline to avoid staining skin. Use rubber gloves. Protect your clothing and anything else the color might stain. If you only want the color in a selected area, apply the conditioner to the areas you want untouched. This will act as a "color blocker" and keep the surrounding areas "color free." If doing more than one color, separate each section with foil. Apply color using a double-sided tint brush, starting at the roots and combing through thoroughly, section by section. Cover with plastic cap, and let process 30 minutes. Rinse, with cool/cold water when rinsing out the color, away from face and body, until almost clear.
How do you maintain the color?
For color that you can rock and wash out immediately, use a temporary color gel such as our Dye Hard Temporary Hair Color Gel. Manic Panic High Voltage Semi-Permanent Hair Color lasts for a few weeks or more and fades out gradually, but is also conditioning so it can be refreshed as often as you would like to keep the color always looking bright! Please keep in mind that darker colors will last longer than lighter colors. Lighter colors will fade out faster.
Additionally, washing hair in cool water, using a mild sulphate-free shampoo that is free of oils or clarifiers, washing less frequently, using dry shampoo, avoiding heat styling, wearing a hat in bright sunlight, and wearing a bathing cap when swimming (chlorine and salt water will strip the color) are all great ways to make sure your color stays looking fresher longer!
Are there certain colors that are suitable for all hair types and colors?
Darker colors such as bold, jewel tones look great on darker hair that has not been pre-lightened and give stunning highlights that fade after a few shampoos. Darker colors that are applied to light, porous hair can last a lot longer. Pastels and neons are more vibrant on blonde or pre-lightened hair, but will fade faster. Reds and purples tend to be the most versatile across the board, but it's always good to perform a strand test to see how the color will look on you first.
What are the best ways to treat the hair after coloring?
Conditioning is not necessary after first coloring the hair, however a trick to prolong color vibrancy is to rinse with a mixture of white vinegar and water in equal parts immediately after coloring. Comb through and allow it to sit for a couple minutes then rinse thoroughly. This raises the pH level of the hair, leading to greater color performance. We recommend you don't shampoo or condition for about a week after coloring. Use dry shampoo or us a mild or gentle cleansing shampoo that is free of sulphates, oils, and clarifiers.
See Cara Delevingne, Angelina Jolie and More Famous Actresses Who Drastically Cut Their Hair Short For Movie Roles