Cara Delevingne Debuts Pink Hair in Her Never Ending Quest to Have All Hairstyles
A pink pixie cut is the latest look in her collection.
---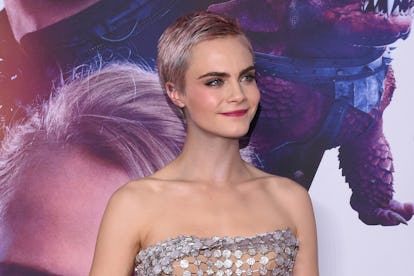 NurPhoto
Ever since shaving her head for a film, Cara Delevingne has been making the most of her fresh follicular start. Her hairstyle has consistently been tweaked as she's spent the months since filming "A Life in a Year" traversing the globe for various fashion events and the Valerian and The City of a Thousand Planets press tour (which seems to have more stops on it than even the title suggests). Ahead of the French science fiction flick's debut in Mexico, Delevingne and co-star Dane DeHaan traveled on down to Mexico City for its premiere there this week.
Delevingne took the occasion to debut a new shade of hair: a sort of champagne pink that looks to be the result of temporary dye. Indeed, when Delevingne was photographed at another Valerian-related stop earlier that same day, her hair was still platinum blonde.
The new hair look was accompanied by an eye-catching Atelier Versace number. It was a fittingly futuristic take on the naked dress that apparently every globe-trotting supermodel has to wear at least once a month. Delevingne certainly put her own unique spin on it.
As for that hair though, Delevingne has certainly been making the most out of the fact she has the least amount of hair she's ever had in her adult life. Back in May during the Met Gala, while her hair was still shorn bald, she showed up with her dome painted in silver suggesting a 2-D take on the sort of slicked down look a robot might wear. A little while later at the MTV Video and Television Awards, she decided to just embrace the full Mr. Clean look, and went without paint or a wig.
By the time she showed up to sit front row at Chanel Haute Couture in Paris back in early July, her hair had grown out enough for people to claim that she looked to be practical hair twins with fellow attendee Katy Perry.
In the midst of all this, Delevingne dropped her first music video for her Valerian soundtrack single "I Feel Everything" in which, thanks to always trusty help of wigs, she rocked three different hairstyles in three different colors—blonde, brunette and redhead.
This has been quite a big hair whirlwhind for a girl who started the year out with her traditional dirty blonde shoulder-length cut. Somewhere in between all of this, she also briefly had a platinum blonde bob as well.
If you need a complete reminder on the history of Delevingne's hair and beauty looks, thankfully we have on here.
Cara Delevingne's Most Adventurous Hairstyles, from Long Blonde Waves to a Short Pink Pixie
Attending the Roberto Cavalli party during Paris Fashion Week in 2010, Cara Delevingne wore her long blonde hair in a sleek, straight style.

Photo by Getty.
Arriving at the opening of the Uniqlo London Flagship store in 2011, Delevingne left her face bare, and accentuated those famous brows.

Dave M. Benett
Delevingne's bold red lip and tousled hair gave off edgy rocker vibes at the Burberry boutique opening in Paris in 2011.

Photo by Getty.
With a sleek ballerina bun and dewey skin, Delevingne was the epitome of an English rose at the Serpentine Gallery Summer Party in London in 2012.

Photo by Getty.
Delevingne wore her hair in relaxed waves and kept her makeup equally effortless at the Glamour Women of the Year Awards in 2013.

Photo by Getty.
Delevingne wore a rocker chic look with a dark grey smoky eye and sleek side french braid at the Costume Institute Gala's PUNK: Chaos to Couture exhibition in 2013.

Photo by Getty.
The supermodel stunned at the 66th Annual Cannes Film Festival in 2013 with her wavy hair, a bold red lip and a smoky eye.

Photo by Getty.
Wearing her hair in sleek, polished curls paired with a red satin lip, Delevingne looked pretty and elegant at the Toronto International Film Festival in 2014.

Photo by Getty.
The supermodel wore a frosted, silver eye and tousled natural waves at the 67th Annual Cannes Film Festival in 2014.

Photo by Getty.
Delevingne wore her blonde hair in a glamorous, Hollywood-appropriate curls at the Costume Institute Gala at the Metropolitan Museum in 2014.

Photo by Getty.
Wearing a playful, braided high ponytail with a purple smoky eye, Delevingne looked out of this world at the world premiere of Pan in London in 2015.

Photo by Getty.
The natural beauty wore beachy waves and nude pink lip at the Paper Towns Q&A in Los Angeles in 2015.

Photo by Getty.
At the Paper Towns New York premiere in 2015, Delevingne wore her hair in romantic, loose wave.

Photo by Getty.
At the 2016 MTV Movie Awards, Delevingne wore a plum lip and left her hair in natural waves.

Photo by Getty.
Delevingne's shorter hairstyle at the Suicide Squad premiere in London in 2016 felt like a refreshing change for the model turned actress.

Photo by Getty.
Natural tousled blonde waves with chic sunglasses was the look at theChanel show during Paris Fashion Week 2017.

Getty.
Embellishing her recently shaved head with frosted silver paint and diamond sequins, Delevingne attends the 2017 Costume Institute Gala.

Getty.
Paring her exaggerated taupe smokey eye with a dark maroon lip, Delevingne attends the 2017 MTV Movie and TV Awards.

Getty.
At the Valerian And The City Of A Thousand Planets film premiere, Delevingne embellishes her platinum pixie with a sleek cat eye and satin red lip.

Getty.
Now adding pink highlights to her pixie cut, Cara Delevingne attends the Valerian and the City of a Thousand Planets New Mexico film premiere.

Getty.
In any event, Delevingne's hair has done more and taken more risks than most of us have all year.
Related: Cara Delevingne Challenges Mainstream Beauty Standards in New Instagram Posts
Cara Delevingne Does ASMR, Revealing How She Got Into Character For 'Suicide Squad':
Cara Delevingne Always Looks Like Herself, Whether She's Wearing a Bomber Jacket or Couture
Cara started out the year with her dog Leo in tow at the Chanel Haute Couture show in January elevating her signature boyish style

Getty
Cara Delevingne starting her "Suicide Squad" press tour at Comic Con wearing army pants with a chic black blazer, again elevating her masculine style

Getty
Here at the "Suicide Squad" world premiere, Cara Delavigne sported a plunging Anthony Vaccarello design

Getty
At the European stop Cara showed off her rocker aesthetic in an Alexander McQueen dress

Getty
Showing off her creative side while adding the finishing touches to artist Ryan Meades mural in London, Cara rocks a Gucci jacket with sneakers

Getty
While at the iD Females Gaze Party Delavigne takes on the pajama trend in a full Burberry look

Getty
Burberry LFW At the Burberry Arrivals Party during London Fashion Week Cara showed off her unique style with a line drawed down her chest using makeup as her accessory

Getty
In October Delavigne reminded us how she can make "off-duty" sweatsuits cool again

Getty
Going for the classic Holloywood meets gothic vibe, Cara rocked a custom Elie Saab dress to the Glamour Awards

Getty
At the H&M Westfield store opening in New York Cara reminds us of her street style pairing a bomber jacket with sneakers

Getty
Returning to the runway in the recent Chanel Ritz show Cara danced her way in a dress from the new collection

Getty
Cara shows off her colorful style at LAX airport in Los Angeles

Getty