Cara Delevingne Just Dropped Her First Music Video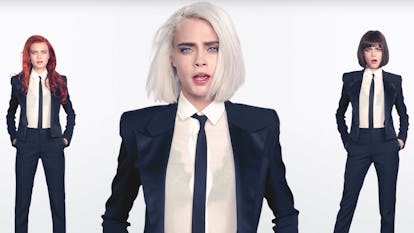 CaraDelevingneVEVO/YouTube
Actress and model Cara Delevingne has officially added "singer" to her résumé with the release of her first music video. The song, "I Feel Everything," is a breezy "love makes me crazy" throwback tune, and Delevingne's accented vocals are as cabaret as they come. Add to that her shiny blue suit and you've got yourself something in the vein of "mellow Amy Winehouse. Except there's also a sci-fi twist, because the song is pulled from the soundtrack of her new movie, Valerian and the City of a Thousand Planets.
So, naturally, there's a bit of a sci-fi twist with the visuals. Toward the end, butterfly-like creatures that Valerian (Dane DeHaan) and Delevingne's character Laureline encounter seem to cover Cara's body.
Delevingne also dons a number of wigs throughout the video (remember, she just cut her hair for an upcoming role in Life In A Year opposite Jaden Smith), so you're in luck if you've ever wanted to see what Cara Delevingne looks like as a redhead.
If the visuals seem cohesive with the film, that's because Valerian helmer Luc Besson also shot the video. The French director has been selective about music video directing in the past, and his exclusive list of past musical clients include Madonna and Serge Gainsbourg.
Now, let's take another look at those lyrics. Sure, the song is for the movie, but could they contain a line or two about Cara's romantic life, say, maybe, her ex St. Vincent?
I'm scared that I'm falling/ Come catch me I'm falling/ My heart is calling/ You can't stop me roaring I'm soaring I'm sky/ I'm scared that I'm falling/ I'm blinded I'm falling/ My love is calling/ You can't stop me roaring up I'm soaring come jump with me and fly
While Pharrell Williams handled the track, Delevingne herself wrote the words.
Cara Delevingne, Kate Hudson, Angelina Jolie and More Actresses Who Have Cut Their Hair for Hollywood
To play the '70s and '80s supermodel Gia Carangi in the HBO TV film Gia, actress Angelina Jolie cut her dark hair into a shorter style.

Photo by Getty.
After shaving her hair for her role in V for Vendetta, actress Natalie Portman paired her buzz cut with taupe smoky eye and a nude lip on the red carpet.

Photo by Getty.
Anne Hathaway chopped off her long, brunette hair for her role in the musical Les Misérables, and won an Oscar.

Photo by Getty.
Actress Tilda Swinton went completely bald for her role in Doctor Strange, but let her hair grow back in stages.

Photo by Getty.
Attending theComic-Con International 2013, actress Karen Gillian debuts her buzzed cut that shaved her head for her role in Guardians of The Galaxy.

Photo by Getty.
South African beauty Charlize Theron went short for her role in the film Mad Max: Fury Road.

Photo by Getty.
Model and actress Cara Delevingne debuted her newly shaved head as she prepares for her role in her upcoming film Life in a Year.

Photo by Splash News
Kate Hudson gets into character for her role in her new film with singer Sia, debuting her recently shaved head.

Photo by Backgrid.
Related: Cara Delevingne Sets the Record Straight on Her Sexual Fluidity
Cara Delevingne on Her Childhood Obsession With Death: