Mac Miller Mourned by Solange, Chance the Rapper, and Other Celebrities
The rapper was 26 years old.
---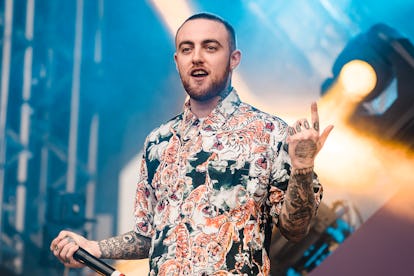 Mauricio Santana/Getty Images
Today, Mac Miller was found dead, at 26 years old. His body was discovered in his San Fernando Valley home around noon, where he was pronounced dead, as TMZ reported. The cause of death has not yet been revealed, but an overdose is suspected.
Not long after Miller's untimely death was reported, his peers took to social media to mourn the rapper and celebrate his legacy. "Rest in your peace Mac Miller," Solange tweeted. "Always exuded so much kindness and goodness. Thank you for sharing your gifts with us all."
Chance the Rapper shared his appreciation for the artist, tweeting, "I don't know what to say Mac Miller took me on my second tour ever. But beyond helping me launch my career he was one of the sweetest guys I ever knew. Great man. I loved him for real. I'm completely broken. God bless him." He followed with a second tweet: "It's so crazy cause earl literally hit me up this morning him and vince were real friends I met at a pivotal time in my life through mac. This shit hurts so bad. If you love someone male sure you tell em."
Wiz Khalifa shared, "Praying for Mac's family and that he rest easy ???? #pgh #412."
Jaden Smith added to the chorus, tweeting, "Long Live Mac Miller, Rest In Peace We Love You."
Paris Hilton also expressed her sadness over Miller's death, tweeting, "So sad to hear the news about @MacMiller. Such a talented artist. My condolences go out to his family and loved ones ? RIP."
Kehlani, meanwhile, revealed that she and Miller had planned an upcoming trip. "WE WERE SUPPOSED TO GO TO OHANAS THIS WEEK I WAS SUPPOSED TO COME THIS WEEKEND," she tweeted, "WE WERE SHOOTING YOUR VIDEO NEET WEEK WE HAD TO FINISH YOUR NEW FAVORITE SHOW NO NO NO NO U GOT THE SATURN TATOO AFTER I DID UR CHART THIS IS TOO MUCH."
Take a look below at their tweets, as well as other celebrity reactions to Mac Miller's death.