Macaulay Culkin and Kathy Bates Will Have "Crazy, Erotic Sex" in American Horror Story
That's why Culkin accepted the role, according to AHS creator Ryan Murphy.
---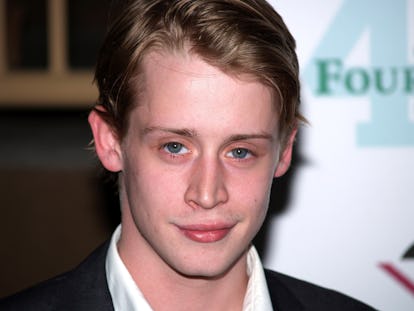 Bruce Gifford/Getty Images
In the decades since Party Monster and Home Alone, Macaulay Culkin has made few (if any) ventures into the mainstream. In the late '90s, he even passed on the lead role in what he later described as a "perfect movie": Wes Anderson's Rushmore. Instead, the 39-year-old has been working on his website, Bunny Ears; playing in the Pizza Underground, a cover band; designing socks; and prepping to have a baby with his girlfriend, the actor Brenda Song.
Culkin has also steadily worked on smaller film projects, which recently seem to be increasing in scale. In February, he did his first photo shoot in 15 years for the cover of Esquire. And in the accompanying, expansive interview, he shared that he recently did his first audition in around eight years. (It was for Once Upon a Time… in Hollywood, and in Culkin's words, "a disaster.")
"No matter how much I act like a curmudgeonly old man, it's still fun to get back in the saddle once in a while and play around," Culkin told the magazine. "I enjoy acting. I enjoy being on set. [But] I don't enjoy a lot of the other things that come around it."
Ryan Murphy's track record in the industry couldn't be more different. The American Horror Story creator and executive producer has worked with seemingly every actor in Hollywood over the years, and always been keen on adding Culkin to that list. Now, it's finally happening: Culkin has accepted a "very, very great insane part" in the next season of the FX anthology series.
So, what convinced him? Apparently, Culkin is extremely interested in portraying someone who's intimately involved with the award-winning Murphy series regular Kathy Bates.
Murphy doesn't usually allow actors to read when he's casting, but he made an exception for Culkin, who agreed to a phone call. "I said, 'Okay, here's the pitch,'" Murphy told E! News. "And I told them the character and I told him he has crazy, erotic sex with Kathy Bates and does other things." Apparently, it was right up Culkin's alley: "He paused and he goes, 'This sounds like the role I was born to play.' So, he signed up right then and there."
"I have always loved Macaulay Culkin's work," Murphy continued. "I loved everything that he's done. I love the stuff he did in Home Alone. I also loved the sort of the older, more recent stuff that he did. And he hasn't worked in a while."
Prolific as ever, Murphy is already thinking beyond season 10 of AHS. "I'm excited for [Culkin] to be in my world," Murphy continued, noting that while production has been postponed, the scripts are already finished. "I think he's fascinating and interesting, and I think he has a soul. There's both a lightness and a darkness with Macaulay Culkin that I'm attracted to."
So far, details about their first collaboration are scarce. In fact, the only thing we know about Culkin's character is that he's sexually attracted to Bates. Her character also remains shrouded in mystery, but the possibilities are endless: Over the past seven years, the 71-year-old actress's six AHS roles have ranged from a bearded lady to a socialite who tortures slaves.
Related: What Is Going on With Macaulay Culkin's Instagram?
American Horror Story's Most Shocking Onscreen Transformations
Sarah Paulson, the show's most frequent star, has rocked just about every hairstyle under the sun throughout her run (even getting to model two at one time for her conjoined twin role in Freak Show). While she usually plays more sympathetic characters, her red-headed transformation into a stern Wilhemina Venable for Apocalypse certainly stands out. Seriously, the eyebrows alone… Photos courtesy of Getty Images and IMDB.

Getty Images / IMDB
Poor Billy Eichner spent a good part of Apocalypse running around as a tattered survivor of the nuclear fallout. Photos courtesy of Getty Images and IMDB.

Getty Images / IMDB
We don't even know the names of most of the 1984 characters yet, but we do know most of the cast had to endure some serious hairspray, with Billie Lourd getting a particularly severe spritz. Photos courtesy of Getty Images and @mrrpmurphy.

Getty Images / Instagram
Naomi Grossman's transformation into recurring character Pepper is one of the series' most notable. Photos courtesy of Getty Images and IMDB.

Getty Images / IMDB
Evan Peters mostly fills the role of "confused young man" in the series, but he got to stretch his skills in Cult for a segment in which he played Warhol. Photos courtesy of Getty Images and IMDB.

Getty Images / IMDB
Though, maybe that wasn't as drastic as his appearance as Christ himself. Photos courtesy of Getty Images and IMDB.

Photos courtesy of Getty Images and IMDB.
Yes, the show even turned Meryl Streep's daughter into a freak show performer once. Photos courtesy of Getty Images and Everett Collection.

Getty Images / Everett Collection
Gaga maintained her glamour in Hotel, but went full on swamp witch for her smaller role in this season. Photos courtesy of Getty Images and Everett Collection.

Getty Images / Everett Collection
Patti LaBelle is showbiz glamor personified, but she underwent a pretty drastic makeover for her role in Freak Show. Photos courtesy of Getty Images and IMDB.

Getty Images / IMDB
Perhaps regretting killing off her original character too early, Ryan Murphy brought Joan Collins back for a second character later in the season and fitted the famous brunette with a white wig. Photos courtesy of Getty Images and IMDB.

Getty Images / IMDB
Jessica Lange usually gets to retain a bit of glamour for her roles, but certain scenes in Coven required her to portray the dying witch as, well, a dying witch. Photos courtesy of Getty Images and FX.

Getty Images / FX
Perhaps less notable than her accent from this season, but a beard on Kathy Bates is still a beard on Kathy Bates. Photos courtesy of Getty Images and Everett Collection.

Getty Images/Everett Collection
Joker who? Photos courtesy of Getty Images and IMDB.

Getty Images / IMDB
Lena Dunham has only appeared on one season, but even she required a makeover. Photos courtesy of Getty Images and IMDB.

Getty Images / IMDB
France Conroy's most famous roles are usually more low key, which made her transformation into full-fledged fashionista Myrtle Snow all the more exciting. Photos courtesy of Getty Images and Everett Collection.

Getty Images / Everett Collection