Macaulay Culkin Plays Crucified Kurt Cobain in Father John Misty's 'Total Entertainment Forever' Music Video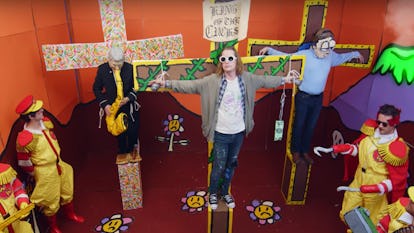 Father John Misty/Youtube
In a moment of peak '90s nostalgia, Macaulay Culkin plays Kurt Cobain in Father John Misty's newest music video for the song "Total Entertainment Forever."
The video, which absurdists will appreciate, features Culkin as a crucified Kurt Cobain stuck in a virtual-reality game being played by George Washington. The visual clip also features cameos from actors portraying Jon Arbuckle from Garfield, Bill Clinton, and a group of men dressed as Ronald McDonald. Misty wanders among the madness with two hooks for hands, and at one point, a papier-mâché play Ronald McDonald pops out of his chest like a scene from a sci-fi movie (you know the one).
The song, which is off Misty's latest album Pure Comedy, opens with the line "Bedding Taylor Swift/Every night inside the Oculus Rift," a phrase that Misty (otherwise known as Joshua Tillman) recently told Pitchfork was chosen because "nothing else rhymes with 'Oculus Rift.'" Misty recently performed at Coachella and announced that he would be extending his world tour.
As for Culkin, this isn't the first wild project in which the Home Alone former child star has been involved in recent years. In 2013, he and his cover band Pizza Underground started making pizza-themed covers of classic Velvet Underground songs. In 2015, he offered Home Alone fans a dark update on grown-up Kevin McCallister, who apparently is still dealing with issues stemming back to what happened on Christmas Day 1990. Culkin also recently put together a sex-, drugs-, and alien-fueled live-action version of Aladdin with musician Adam Green.
But in what was perhaps his most notable appearance as an adult figure (until now, that is), Culkin sported a shirt with a picture of Ryan Gosling wearing a shirt with a picture of Culkin, and the Internet, obviously, couldn't get enough of it.
See Also: Step Inside Adam Green's Wild "Aladdin" Universe with Natasha Lyonne and Macaulay Culkin
Home Alone 2: Lost in New York, Starring Model Jordan Barrett: