Little Mackenzie Foy Grows Up
And talks about her role in The Little Prince at the Cannes Film Festival.
---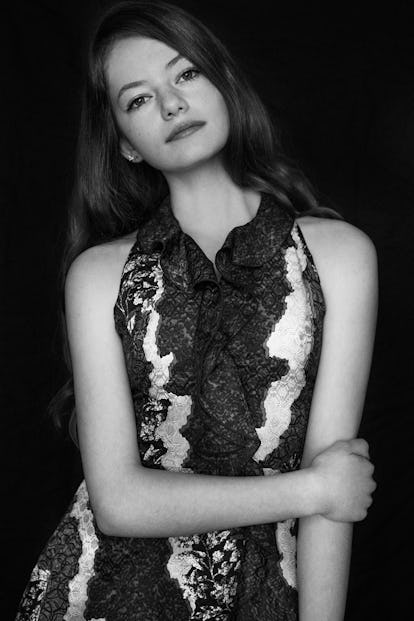 At 14-years-old, actress Mackenzie Foy is no Hollywood newbie. In 2012 she played Renesme, the daughter of Bella (Kirsten Stewart) and Edward (Robert Pattinson) in the final installment of the Twilight Saga, and in 2014, she starred in Christopher Nolan's summer sci-fi blockbuster Interstellar alongside Matthew McConaughey, Jessica Chastain and Anne Hathaway.
She is, however, a novice when it comes to the annual Cannes Film Festival. "I'm a little sunburned," she said over the phone from her hotel room. "It's my first time in France. We haven't been to the beach yet, but we've been walking around. It's really sunny here."
Foy is in Cannes promoting an animated film adaptation of The Little Prince, in which she plays The Little Girl, who discovers the prince (Riley Osborne) and escapes into a fantasy world with the aviator (Jeff Bridges). "The Little Prince is one of my favorite books," she exclaimed. "The first time I read it I was in school, and immediately loved it. I used to get the picture of the elephant and the snake, and I would go around and show it to all of the adults and ask them what they saw. The ones who hadn't read the book said it was a hat. I was like, 'No, it's an elephant inside a snake!'"
Although the film has a stellar cast, which includes Rachel McAdams, Marion Cotillard, Paul Rudd, James Franco, Benecio del Toro, Ricky Gervais, Albert Brooks and Paul Giamatti, Foy mostly worked solo with the film's director, Mark Osborne, who would read lines in funny voices for the other characters. In fact, the only co-star she met before the photo call in Cannes was Jeff Bridges. "He is amazing. He's so peaceful and calm and nice," Foy said. "I wish I could have worked with Rachel McAdams. She seems like a really incredible lady."
McAdams, who plays Foy's wicked mother, wasn't at the film festival—her sister's wedding was that same weekend—so the on-screen mother daughter duo have yet to meet. Instead, Foy became acquainted with the actors who played the characters for the Japanese-language version of the film. "Rio, the girl who plays the Japanese Little Girl, is so cute," Foy said. "I got to talk to her a little, but she doesn't speak much English."
The next move on Foy's professional agenda is top secret, but before getting started, she plans to see Inside Out ("It sounds like a great film."), and continue to practice Tae Kwon Do ("It's fun. I can work out and hang out with my friends."). But first thing's first: putting on an Oscar de la Renta gown and attend her first Cannes premiere. "I'm pretty excited," she said.
Dressed to Impress at the Cannes Film Festival