Mad About You Revival in the Works, with Helen Hunt Returning
Don't you miss the '90s? TV seems to think so.
---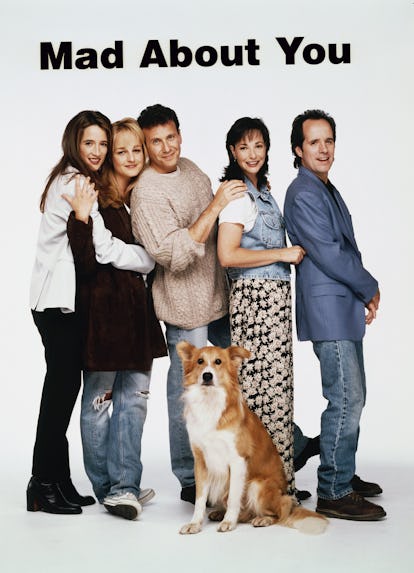 NBC
The 90s revival craze is here to stay as we head into the new year. We've seen it happening across the arts, including TV. Now, joining the likes of Will & Grace and Roseanne, Mad About You, the former NBC sitcom that aired from 1992 to 1999, is in informal talks to return to network television via Sony Pictures Television Studios, reveals TVLine.
The comedy, which would welcome back its stars Helen Hunt, 54, and Paul Reiser, 60, is about family life in New York. Reiser himself, along with Danny Jacobson, created the show and is reportedly the one pushing for its resurrection. When it left off, the storyline centered around the married couple—played by Hunt and Reiser—and the birth of their daughter, named Mabel. According to the source, the show would pick up almost two decades later, as they deal with the effects of their daughter leaving for college.
Back in the late '90s, Mad About You was a major success, receiving over a dozen Emmy and Golden Globe nominations, which included wins at both award shows for Hunt and Reiser in the best actress and actor categories, respectively. And by the seventh and last season, the two were making $1 million each an episode. Hunt has since gone on to win an Oscar for Best Actress in As Good as It Gets as well as a filmmaker and TV director.
While there's no confirmation on the news just yet, Sony TV has produced adaptations of the show in the past in both China and Argentina. And just last October, Reiser shared some insight with People about the possibility of a comeback.
"For years, I would've said, 'Absolutely no. We never would do it,' because I was very proud of how we ended it really well," he said. "Now, because everybody's talking about it, I started to think, 'Maybe if there's a story we could come up with…' To me, it's interesting when I see my kids are growing and leaving the house. It's like, 'Oh.' It's like that moment when you get married. It's like we're in a new world that we don't know the rules of."
Related: Blast from the Past: See the Most '90s W Magazine Covers