Two Geezers Steal the Show from the Kids at "Made in L.A."
Huguette Caland, 85, and Kenzi Shiokava, 78, are the breakout stars of the biennial at the Hammer Museum in Los Angeles.
---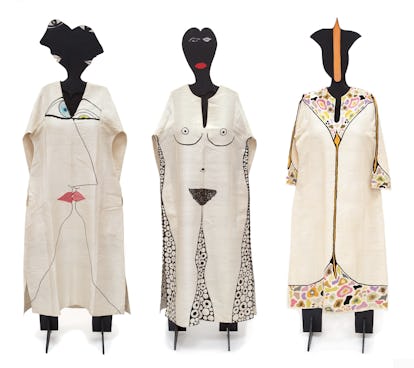 Huguette Caland
There's plenty of attention-catching work in "Made in L.A.," the Hammer Museum's third biennial of emerging and under-recognized Angeleno artists: An entire brick field made by Rafa Esparza, for one; runway looks and a campaign video from the fashion label Eckhaus Latta; an M&M-shaped Clippy-like widget on the Museum's website from net art pioneer Guthrie Lonergan; a Reddit-centered short by Kenneth Tam; and even the text-only subtitle of the show, "a, the, though, only," by the minimalist poet Aram Saroyan.
The most exciting of the 26 artists featured, though, are not the genre-defying, Internet-era youngins: Instead, the biennial's breakouts Kenzi Shiokava and Huguette Caland, are, respectively, 78 and 85 years old.
Two Geezers Steal the Show from the Kids at "Made in L.A."
Huguette Caland, "Sunrise," 1973. Oil on linen.
Huguette Caland, "Tête-à-tête (dress #3)," 1971, thread on fabric; "Mannequin #3," 1985, wood, acrylic paint, foam; "Miroir (dress #4)," 1974, thread on fabric; "Mannequin #4," 1985, wood, acrylic paint, foam; "The First (dress #1)," 1970, thread on fabric; "Mannequin #1," 1985, wood, acrylic paint, foam.

Huguette Caland
Huguette Caland, "Mannequin," 2010. Ink, mannequin, headscarf.

Huguette Caland
Assemblage groupings of various found objects in Kenzi Shiokava's Compton studio.

Kenzi Shiokava
Kenzi Shiokava, "Shaman 1," 1990; "Shaman 2," 1998, "Shaman 3," 1998. All wood, macramé, cord.

Kenzi Shiokava
Huguette Caland, "Homage to Pubic Hair," 1992. Mixed media on paper over panel.

Huguette Caland
Kenzi Shiokava, Untitled, 1994. Metal box, wood form, cow figurine.

Kenzi Shiokava
Huguette Caland, Untitled, 1972. Ink on paper.

Huguette Caland
Huguette Caland, "Enlève ton doigt," 1971. Oil on canvas.

Huguette Caland
Their contributions span two entire rooms at the center of the exhibition – essentially two miniature retrospectives, which curator Aram Moshayedi described as "somehow the least we could do," since Caland and Shiokava aren't exactly late bloomers: Each has over half a century of artmaking under their belts, not to mention decades on the L.A. scene. Still, the two have somehow been overlooked in the city's institutional context, making their expansive mini-surveys at the Hammer their first museum shows.
"We're trying to correct an oversight," Moshayedi added, referring to his co-curator, Chicago Renaissance Society's Hamza Walker.
Caland's room spans nearly 50 years, stretching from oil paintings made in Beirut in 1967 to full-scale painted mannequins made in the 2010s. The daughter of Lebanon's first post-independence president, she left her husband and children in Beirut for Paris in 1970, falling in with the Romanian artist George Apostu. She went on to produce art in just about every medium, all of it bending toward the erotic. Plus, she designed the caftans she wore daily: Hand-embroidered tunics that caught the eye of one Pierre Cardin, who enlisted her to collaborate on over 100 designs. In 1987, though, she moved to Los Angeles – partly because "California Land" reminded her of "Caland" – and soon picked up with a group of luminaries she'd already been aware of: The artist Ed Moses, for example, who she repeatedly painted and drew after spotting him once in Paris, plus the likes of Nancy Rubins and Ken Price.
At the same time, elsewhere in the city, Shiokava was also mixing with starry names, though of an entirely different world: He was the housekeeper and gardener for Marlon Brando. Born in Brazil, and Japanese by descent, Shiokava has lived in Los Angeles since 1964, when he reportedly became the only non-black member of a group of assemblage artists associated with the Watts Art Center. In the 90's, he moved into his current studio in Compton, which essentially bleeds into his garden: Shiokava grows trees and plants specifically for his sculptures, or else picks up materials – telephone poles, railroad ties, misplaced lumber – from the street. (His 35 totem poles at the Hammer had to be fumigated and quarantined for 60 days before entering the museum.)
Caland's home in Venice, on the other hand, became something of a salon, with her as a 90's Gertrude Stein. "It was a well-kept secret," Moses said of Caland's work and home in the show's catalogue, recalling his surprise at how she was treated as something of a celebrity when he accompanied her to Lebanon: Though she'd kept up showing in Paris and Beirut, Caland's exhibitions in Los Angeles were limited to a rare feature in, say, a clothing store.
Unfortunately, it took a bit too long for her work to get the museum treatment in L.A.; Caland moved back to Beirut a few years back. As for Shiokava, he's still around: "We did 200 studio visits for this show, and at times you can imagine how daunting that was, but when we met Kenzi, he was just so energetic and excited," Moshayedi said. And when Shiokava finally saw his work in the museum, Moshayedi recalled with a laugh, "he paused and said, 'I like them better in my house.'"
[#cnevideo: /cnevideos/577e6c53e03cdd30499cbc60]||||||