Young Madeleine Arthur Has Basically Mastered Being An Actress
Like her character on ABC's new thriller The Family, she's wise beyond her 18 years.
---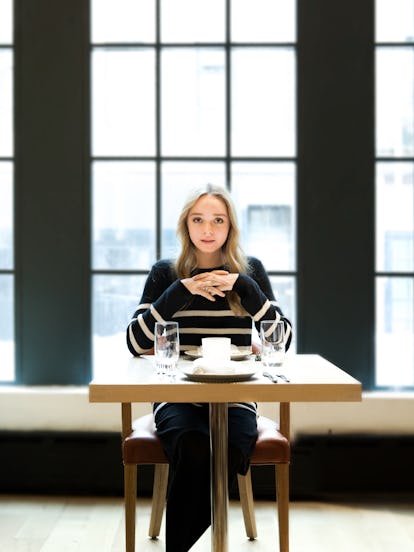 "I am almost a master of the art of rejection," declared Madeleine Arthur, seated at a corner table of Fig & Olive in New York's Meatpacking district, her ramrod posture suggestive of someone unlikely to be shaken by a capricious casting director. "It's not personal when you don't get a role."
One would imagine, though, that whatever parts the 18-year-old actress has lost have been mitigated by her early success. Her first gig came in the 2011 Discover Family series R. L. Stine's The Haunting Hour; three years later, she was playing Amy Adams's daughter in Tim Burton's Big Eyes (her character Jane's oversized gaze was the inspiration for Margaret Keane's paintings). Now, Arthur is starring in the new ABC thriller series The Family, which premieres March 3rd.
Set in Maine, the show opens when a distressed boy shows up claiming to be Adam Warren, the youngest son of the Warren family who went missing and was presumed dead 10 years earlier at the hands of a pedophile neighbor (Andrew McCarthy). The boy's apparent resurrection sends the Warren clan into a tailspin (not least of all because the family matriarch, played by Joan Allen, is mayor). The taut show flashes back and forth between the aftermath of Adam's disappearance and the present day, as viewers and characters alike try to unravel the mystery. And as Adam's 13-year-old sister Willa Warren (the older version is incarnated by Alison Pill), Arthur has plenty of her own secrets to guard.
"Willa is quite the intelligent young lady and wise beyond her years, so it wasn't too hard to access those younger characteristics," said Arthur, her wide-set blue eyes reflecting the afternoon light. "Sometimes, I'll be in a grocery store and I'll try to get food at a tester and they'll say, 'Do you need to ask your parents first?' So it does work that I look younger."
Arthur's girlish appearance belied an enviable poise. A Vancouver native, she was a competitive gymnast for 13 years (five of which she also spent coaching little kids) and has been playing the violin with varying degrees of seriousness since she was five ("I should practice more," she sighed). Acting entered the picture when she attended a theater camp at age eight; soon it eclipsed everything else, though not enough to prevent her being co-valedictorian last year.
Always precocious, she even cited meditation as a key to her sanity in what is, at times, a dark role on The Family.
"It helps me step into my character, or step out of my character," she explained. "It's important to have a life outside of your characters. Otherwise, I think it could be very detrimental."