Madina Visconti di Modrone's Contemporary Eye
The Italian jewelry designer has art in her blood.
---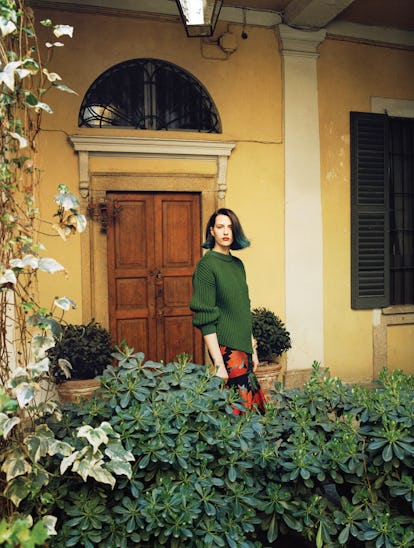 Photographer: Angelo Pennetta Stylist: Gianluca Longo
If you were raised in a Milan apartment filled with artworks by Anish Kapoor, Jeff Koons, and Alighiero Boetti, watching your mother making jewelry casts, there's a good chance you'd end up in a creative career. "It was very stimulating to grow up in this world," says Madina Visconti di Modrone, 24, the daughter of the furniture and jewelry designer Osanna Visconti and the gallerist Giangaleazzo Visconti di Modrone. Always drawn to her mother's work, Madina made her first piece, a silver "M" pendant, when she was 12. She went on to study jewelry design in Milan and London, and, two years ago, mother and daughter joined forces on an eponymous brand, Osanna and Madina Visconti di Modrone. Their styles are quite different; Osanna, who at the moment devotes more of her attention to furniture than baubles, goes for graphic pieces, while Madina, who has collaborated on capsule collections for Yoox, has more of a romantic aesthetic, often inspired by the garden at her family's country home in Grazzano Visconti. Their relationship, Madina says, is mostly harmonious, save for a recent and unexpected point of contention. "My mother told me to get a nose piercing," Madina says with a laugh. "I said, 'No, I already have blue hair!'"
Hair by Luke Hersheson at Art + Commerce; makeup by Gemma Smith-Edhouse at LGA Management. Photography assistants: Jack Day, Rob Willey. Fashion assistants: Fabrizio Finizza.