Madonna's 59th Birthday Party in Puglia Included a Horse
No one throws a party like Madonna.
---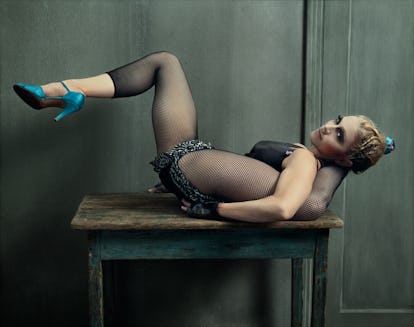 Age is just a number, but, at least for Madonna, it's also an excuse to party. With every passing year, the pop icon's birthday extravaganzas have become increasingly more decadent, and her 59th was no exception. To celebrate her birthday, which is today, August 16, Madonna not only threw yet another blow out, she did made it a destination. Continuing with her theme of jet-set birthday parties — last year's unforgettably went down in Cuba — Madonna headed to Puglia, Italy. Which seems to be the city of the summer, after all.
In typical Madonna birthday fashion, she was joined by equally fabulous company. Madonna rang in her 59th alongside her twins Stella and Esther — who have made adorable cameos on her Instagram as of late — as well as her longtime friends and collaborators Mert Alas and Riccardo Tisci, who has been living his best life in Italy all summer long. "Night of the Gypsies ? amazing night last night ?⚡️? tonite is the night of the Bday girl @madonna #family #icon," Alas wrote in an Instagram of the host.
Meanwhile Tisci shared a couple of snaps of the evening on his own account, including a photo of himself with the caption "Back to the roots #love #puglia."
He also shared a video of the evening's entertainment: dancing.
That may have been secondary, though, to Madonna herself, who also took the dance floor.
The real highlight of the evening happened even before the dancing, when Madonna arrived. Madonna being Madonna, she didn't just walk into her own party. Instead, she trotted in atop a white horse à la Bianca Jagger. Thankfully, for those who didn't receive an invite, Madonna shared moments from her surreal entrance on Instagram. "Because A Leo…," she cheekily wrote in the caption. Of course, we all already know that Madonna loves horses.
"Likes to make an Entrance!!," she added in the following photo caption.
As for her attire, Madonna opted for a bohemian vibe with a signature top hat and a flowy floral lace dress.
The party wasn't Madonna's first summer trip to Puglia though. The pop artist visited last July for a friend's wedding and, possibly, for the pizza as she posted a photo of herself to Twitter in front of one with the caption, "The Pizza we Ate…..,……….??? We love you Puglia❣❣❣Ciao Italia??????."
Considering she has an even bigger birthday coming up next year — her diamond one — her Puglia party is likely only the warmup.
Related: Madonna Introducers Her Twin Daughters to "Holiday" For The First Time
See What's Trending in W Video:
Chanel silk crepe blouse; bridle with custom silverwork by Stephen England and stonework by Michael Schmidt; Chopard earrings; Collection Bebe belt and gloves.

Steven Klein
Collection Bebe gloves; House of Harlot shorts; Capezio hosiery; O'Halloran crop.

Steven Klein
Right: Deborah Marquit nylon and polyurethane bra and briefs; Buttress and Snatch Lycra spandex and nylon tulle panties; vintage vest from Catwalk, Los Angeles; Muriel Grateau ring; La Crasia gloves; Ariat spats; Viktor & Rolf silver-dipped flowers.

Steven Klein
Left: Dolce & Gabbana custom Lycra spandex and silk lace corset; Chanel silk crepe blouse; bridle with custom silverwork by Stephen England and stonework by Michael Schmidt; Collection Bebe belt and gloves.

Steven Klein