Madonna Shocks Without Sex
In case you missed it, here are the top style stories of the week.
---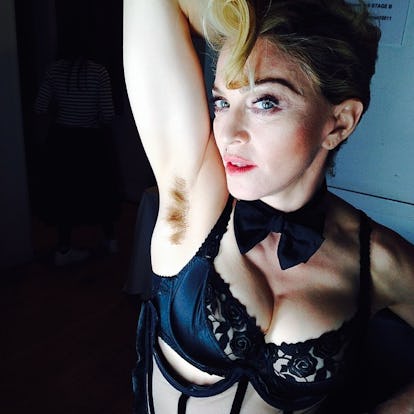 Beyoncé Wore a Jay Z-inspired Tom Ford dress while performing on tour. Makes it impossible for anyone else to wear successfully.
Delevingne, Cara Managed to stay out of the spotlight this week. That seemed more noteworthy than some of her other antics.
Demeulemeester, Ann Plans on releasing her first book to the delight of bare coffee tables everywhere.
Hudson, Kate Launching a collection of LBDs in collaboration with Ann Taylor. Almost interesting.
Kardashian, Kim Cut her hair by multiple inches. Repeat: Multiple.
Knightley, Keira Spilled red wine on her Chanel wedding dress. Hey, at least she didn't lose it. (Ahem, Lily Allen.)
Leto, Jared Distressed his Instagram followers with by posting a short hair #TBT sans hashtag.
Mackie, Bob The feather and sequin connoisseur will NOT dress Cher for her next world tour. Maybe Tom Ford is available.
Madonna Showed off some armpit hair on Instagram. Shocked everyone too young to remember "Sex."
McCartney, Stella Teaming up with Angelina Jolie on a "Maleficent"-inspired kids line. Please, please let it be modeled by the Jolie-Pitt clan.
Philo, Phoebe The Celine designer is being honored with an OBE. Is that a plea for the brand to show at London Fashion Week?
Rockefeller, Indre The former Moda Operandi It girl is the new president of trendy Spanish label Delpozo. Rock on.
Scott, L'Wren Tragically committed suicide in New York.
Upton, Kate The busty bombshell adds Bobbi Brown to the list of brands she represents. What a busy body.
Valli, Giambattista Plans on launching a collection of candles in collaboration with Cire Trudon. Adds to our already hefty most wanted list.
Woodley, Shailene Revealed that she eats clay as part of her beauty regimen. If it ain't broke…