Madonna's 1994 Album Hit No. 1 Last Night, as Time Is Irrelevant
"Bedtime Stories" sounds like Madonna trapped in a specific time. Perhaps that's why it's appropriate for now.
---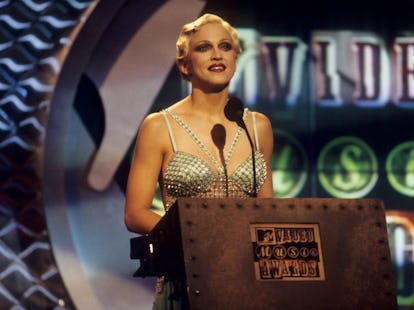 Madonna's career has always been about being in conversation with the moment, but her oft-forgotten 1994 R&B-tinged album Bedtime Stories feels more like a compromise to a particular moment than a mastery of it. So, it's a bit surprising that, of all the collections in her catalogue, this should be the one to have a sudden commercial resurgence.
Then again, time has never felt less relevant than right now. The fact that last night Bedtime Stories hit no. 1 on the U.S. iTunes chart seems almost fitting.
Of course, the iTunes charts, unlike the Billboard charts, are more a reflection of by-the-hour sales trends. The algorithm is a bit mysterious, but devoted fans know how to manipulate it. Madonna fans noticed that the album was marked down to $4.99, and launched a campaign to purchase and stream the album to send it rocketing up the charts (in fact, it was the first time the album had even entered that particular chart). Once there, the fan campaign got an acknowledgement from Madonna herself.
Perhaps in part, Madonna fans were out to seek justice for one of Madonna's less successful projects. Upon its release, the album only hit no. 3 on the Billboard charts, which, aside from her debut, is the lowest of Madonna's career (yes, she can still rack up #1 albums, as Madame X recently proved).
It arrived at a particularly weird time for Madonna. Her Erotica album and artistically lurid Sex coffee table book had pushed her bad girl image to extremes. While the double entendre of Bedtime Stories was intended, the collection was still an attempt to soften and mature her image.
Still, it also came at a time when American-made pop music was at a low point. Times were notoriously good in the early '90s, and yet the dominate musical trends were grunge, smooth R&B, trip-hop and adult contemporary ballads. Everyone was in Gap chinos and their feelings for some reason. Not exactly welcoming conditions for a dance floor queen.
In response, Madonna recruited a trio of producers who would come to define '90s commercial R&B: Kenneth "Babyface" Edmonds, Dave Hall, and Dallas Austin. The trio would help her conceive of most of the album's sounds, but, because she's Madonna, she had to throw a few curveballs into the mix.
Like most people of taste in the early 90s, Madonna had taken a liking to Björk's album Debut. She not only recruited the album's co-producer Nellee Hooper to contribute, but also enlisted Björk herself to co-write the album's title song (though, the pair never met during production).
The public, however, wasn't particularly intrigued. The lead single "Secret," was a moderate hit, but only the album-closing ballad "Take a Bow" became a commercial smash. The rest of the singles failed to enter the top 40. Madonna decided against launching a tour to support the album, opting for her role in Evita instead.
It's not as if the album is without its merits, but it still sounds like a Madonna project trapped in time rather than at the height of her power. Then again, maybe that's why it's suddenly so relevant right now.
Celebrating Madonna's 25 Most Iconic Red Carpet Hair Moments
A young Madonna is potted out in New York City in 1986 wearing her tousled up do with chic bandana and red lip.

Getty.
Performing at Live Aid event, Madonna keeps her brunette waves in natural waves with a burgundy lip.

Getty.
Wearing her voluminous high pony with a heavy cat eye and burgundy lip, Madonna arrives at the 12th Annual American Music Awards.

Getty.
Sporting her new platinum blonde tousled pixie, Madonna arrives at the 2nd Commitment to Life AIDS Project Benefit in 1986.

Getty.
Madonna keeps her look sporty wearing dual ponytails with her signature burgundy red lip at the Siesta premiere.

Getty.
Embellishing her sleek brunette up do with a pink floral hair piece, Madonna arrives at the 1988 Tony Awards Party.

Getty.
Back to her platinum blonde pixie, this time Madonna opts for voluminous curls at the 14th Annual American Music Awards.

Getty.
On stage performing during her Girlie Show tour in 1993, Madonna keeps her pixie ultra sleek with a dark maroon red lip.

Getty.
Madonna wears her golden blonde locks in a curled up with a vibrant red lip at The 22nd Annual American Music Awards.

Getty.
Madonna keeps her look ultra feminine at the The 12th Annual MTV Video Music Awards with a voluminous half do.

Getty.
Back to dark brunette locks, Madonna wears her natural waves with a mauve lip at the 1998 VH1 Fashion Awards.

Getty.
Madonna channels boho chic vibes with her natural waves and twisted braids at the 55th Annual Golden Globe Awards.

Steve.Granitz/INACTIVE
A sleek brunette bob with a frosted magenta smokey eye was the look at the 41st Annual Grammy Awards.

Getty.
Madonna takes on her honey brown locks in elegant curls with a dark smokey eye at the 1999 Vanity Fair Oscar Party.

Getty.
Wearing flipped out 70's inspired curls with a natural glossy lip, Madonna attends the 2005 MTV European Music Awards.

Getty.
Wearing blown out locks with side swept locks, Madonna arrives at the 2006 Vanity Fair Oscar Party.

Getty.
Madonna modernizes the standard bob with voluminous curls and a sleek cat eye at the screening of Revolver.

Getty.
Radiating with sun-kissed skin and beachy waves, Madonna arrives at the amfAR's Cinema Against AIDS 2008 benefit.

Getty.
Attending the premiere of Nine, Madonna wears her luminous skin with hint of blush on the cheekbones.

Getty.
Looking regal at the 68th Venice Film Festival, Madonna pairs her elegant waves with a glossy, cherry red lip.

Getty.
A top hat with tousled curls and a vibrant red lip was the look at the Dolce & Gabbana and The Cinema Society screening of the Epix World premiere of Madonna: The MDNA Tour.

Getty.
Madonna pairs her dark brunette bob with blunt bangs and her signature red lip at the 2013 Costume Institute Gala.

Getty.
At the 57th Annual Grammy Awards, Madonna wears a black hat embellished with a chic face veil with her sleek cat eye.

Getty.
Elevating her messy waves with an embellished hair piece and a natural eye, Madonna arrives at the 2016 Costume Institute Gala.

Getty.
Wearing her side swept golden curls with a sleek cat eye and a nude lip, Madonna arrives at the 2017 Costume Institute Gala.

Getty.