Madonna Is Actually Just Going to Direct Her Biopic Herself
Would you expect anything less from someone who also wrote the screenplay for her biopic on Instagram Live?
---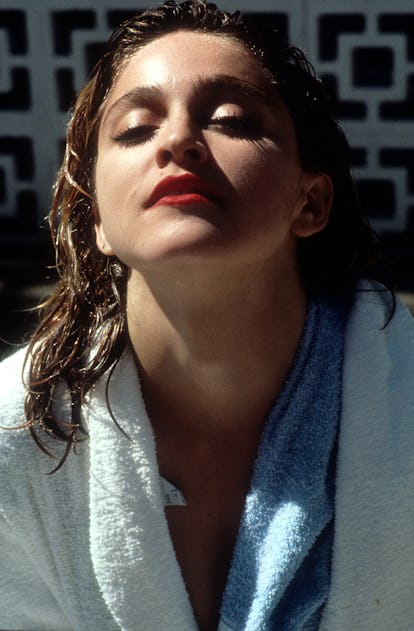 Getty Images
By now, you must have heard the news that there is a biopic based on the life and five-decade career of Madonna. What's new, though, is that the musician apparently wants to direct the biopic herself.
Madonna confirmed the news herself with a Tweet. But really—would you expect anything less from someone who actually wrote the screenplay for her biopic on Instagram Live with Diablo Cody?
The supposedly previously untold true story will be produced by Amy Pascal (whom Madonna has known since she starred in A League of Their Own) and Universal Pictures. "I want to convey the incredible journey that life has taken me on as an artist, a musician, a dancer – a human being, trying to make her way in this world," Madonna said in a statement about the biopic on her website. "The focus of this film will always be music. Music has kept me going and art has kept me alive. There are so many untold and inspiring stories and who better to tell it than me. It's essential to share the roller coaster ride of my life with my voice and vision."
This forthcoming biopic would not be Madonna's first foray into directing a film. In 2008 she directed a British dramedy called Filth and Wisdom. It didn't get great reviews, but three years later, Madonna directed another film called W.E. This time, it was a romantic period drama starring Abbie Cornish, James D'Arcy, Andrea Riseborough, and Oscar Isaac. Again, this one got terrible reviews. But maybe the third time will be the charm.
If her Instagram Live writing session with Cody is any indication, we should not expect any ex-boyfriends or label executives to be spared when it comes to the making of this film. Still, one has to wonder, who on earth would play Madge? The Twitterverse has tossed out a few names, from Julia Garner to Florence Pugh, or even possibly Riley Keough, Maika Monroe, or Haley Bennett. But that's a choice that Madge should probably just make herself, too.
Related: Madonna Wrote Her Own Surreal Biopic on Instagram Live