Madonna Celebrates the French Election Results by Making a Point About Ageism
She thinks we should all be more like the French when it comes to this.
---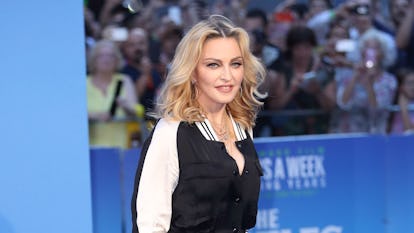 Mike Marsland/WireImage/Getty Images
Madonna is not exactly known for being shy about voicing her opinions, and she didn't hold back on the occasion of the French presidential election. While she seems to be just as happy as anyone that a party fueled by isolationism and xenophobia was handed the loss, she also took the opportunity to make a point about an issue dear to her heart: ageism. Particularly ageism in public relationships.
As election results Sunday showed that centrist candidate Emmanuel Macron swiftly defeated his far right opponent Marine Le Pen, Madonna posted two celebratory videos to Instagram of her children and their friends jumping for joy on a trampoline and dancing in the kitchen. Madge wrote alongside the clips, "so happy about elections in France!!" and "Vive La France!!"
Then, on Monday, Madonna posted a photo of the victor himself, Macron, and his wife Brigitte. The pop icon congratulated the French president-elect, who at 39 will be the Fifth Republic's youngest leader, and his first lady, who is 64, while also making a relevant point about ageism.
"Congrats to Emmanuel and Brigitte Macron." she wrote. "Fun Fact for Monday is that the first Lady of France is 24 yrs older than her husband and no one in France seems to care about their age difference nor insisted that Brigitte 'Act her Age' …Vive La France!"
In January, Madonna told Harper's Bazaar that she herself refuses to conform to society's ideals of how a woman her age should act when it comes to relationships. "I refuse to live a conventional life," she said. "I've created a very unconventional family. I have lovers who are three decades younger than me. This makes people very uncomfortable. I feel like everything I do makes people feel really uncomfortable."
And the singer recently opened up about how she's been personally affected by ageism and sexism as a woman in the entertainment industry in her acceptance speech for Billboard's Woman of the Year award.
"If you're a girl, you have to play the game," she said of female musicians in her speech. "You're allowed to be pretty and cute and sexy. But don't act too smart. Don't have an opinion that's out of line with the status quo. You are allowed to be objectified by men and dress like a slut, but don't own your sluttiness. And do not, I repeat do not, share your own sexual fantasies with the world. Be what men want you to be, but more importantly, be what women feel comfortable with you being around other men. And finally, do not age. Because to age is a sin. You will be criticized and vilified and definitely not played on the radio."
It's no surprise then that the queen of pop has the new first lady of France's back.
Related: Even Madonna Can't Keep Up With Everything Madonna's Done
See What's Tending in W Video: