Madonna is Not Pleased With That Planned Madonna Movie
A Madonna biopic is one of the hottest properties in Hollywood, but Madonna herself appears to be none to pleased.
---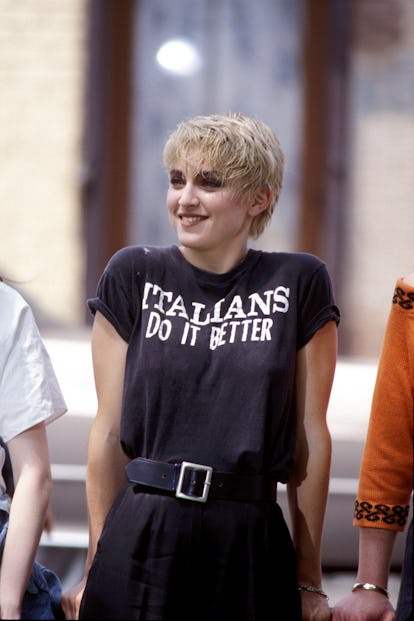 Terry McGinnis
Madonna is poised to be the next musician to get the Hollywood biopic treatment, but, almost entirely unsurprisingly given the circumstances, she's none to happy about it.
The projected, titled Blond Ambition, first made headlines last year when it wound up at first place on the annual Black List, an influential ranking of the best un-produced scripts floating around Hollywood. Penned by screenwriter Elyse Hollander (a former assistant to director Alejandro González Iñárritu), the plot focused on a fictional telling of Madonna's early days in New York City and leads up the recording of her self-titled debut album. Though unknown at the time, Madonna was already a regular at some of the era's most legendary nightclubs and rubbing shoulders with era-defining visual artists like Jean-Michael Basquiat and Keith Haring.
It has all the makings of a great story, and Universal agreed. It recently picked up the project, according to The Hollywood _Reporter_ (production companies RatPac Entertainment, Michael De Luca Productions and Bellvue Productions were already previously attached).
Madonna, however, seems to be a bit upset she's the one not telling it. She's the one who lived to tell after all.
An Instagram update makes her position clear.
"Nobody knows what I know and what I have seen," she wrote with a few emojis interspersed. "Only I can tell my story. Anyone else who tries is a charlatan and a fool. Looking for instant gratification without doing the work. This is a disease in our society."
Unfortunately for Madonna, as a public figure, there's not a lot she can do about the situation. Not anymore than Britney Spears, for example, could do about her recent unauthorized Lifetime biopic.
Madonna's disapproval also doesn't necessarily preclude the use of Madonna music in the film. Her former record label Warner Bros. still reportedly controls her early back catalogue (though, considering the story focuses on the time before the release of her first album, the story may or may not actually need rights to the music anyway).
Interestingly, this wouldn't be the first time someone made a movie about her life without permission. The Queen of Pop's story was also the basis for Fox's 1994 TV movie Madonna: Innocence Lost. PopMatter's review of the mostly forgotten film indicates it was a lurid affair that portrayed Madonna as a man (and woman)-eater unafraid to use her sexuality to get what she wants, and doesn't mind who she has to leave behind to get there. (Actress Terumi Matthews played the title role, and would reprise it in a Dennis Rodman TV biopic, but didn't go on to do much more after that.)
Presumably, Blond Ambition is a bit more sympathetic to Madonna than the Fox TV version, but it's not unsurprising that Madonna is displeased someone else is telling her story. In fact, given what we know about Madonna, she might be more horrified by the suggestion that the most interesting parts of that story are in her past.
Related: Madonna Gave Art Basel the Debauched, Celebrity-Drenched Concert Miami's High Rollers Deserved
See What's Trending in W Video:
See Unpublished Polaroids of Madonna's Early, Denim-Heavy Twenties