Madonna Takes a Shot at Pepsi After Kendall Jenner Ad Debacle
Madonna and Pepsi have bad blood to begin with.
---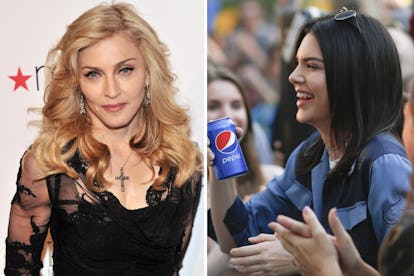 Pepsi ultimately pulled its controversial Kendall Jenner commercial, which was roundly criticized for being tone deaf and out of touch.
Of course, Madonna, who has her own controversial history with Pepsi, had something to add to the discussion as well.
However, her critique was somewhat less political in nature. Specifically, she pointed out that the ad's magical ending didn't even make sense. Taking to Instagram, she wrote, "When you wake up and realize that s–t just really doesn't make sense!" She also used the incident to dredge up her own bad blood with Pepsi, reminding people of another time the company pulled one of its celebrity-fronted ads—her own.
In 1989, Pepsi bowed to pressure to pull an ad featuring Madonna's "Like a Prayer" after the singer's music video for the song upset politically conservative and religious rights groups. Though the ad itself was relatively tame, the separate music video featured Madonna simulating sex with a saint, cross-burning, and stigmata, and Pepsi was ultimately threatened with a boycott by the Vatican if the company continued to feature the singer in its advertising.
Reflecting on the company's current mess, Madonna posted, "Side Note: My Pepsi commercial was pulled 30 years ago because I was kissing a black saint! ?? #ironic."
The two instances are fairly distinct, but it's clear Madonna has no love to spare for the soda company. She also posted a second — perfectly shade-filled — throwback Instagram of herself holding a Coke, captioned with a simple gold medal emoji.
After initially defending its Kendall Jenner ad, Pepsi ultimately changed course, apologizing to consumers and Jenner in equal measure. The company explained, "Pepsi was trying to project a global message of unity, peace, and understanding. Clearly, we missed the mark, and we apologize. We did not intend to make light of any serious issue. We are pulling the content and halting any further rollout. We also apologize for putting Kendall Jenner in this position."
That said, Kendall has since also raised some eyebrows with her own previous statements about the ad.
At least neither women's Pepsi ads ended with their hair catching fire. Not all Pepsi spokesmen can say the same.
Related: Why Britney Spears's Pepsi Commercials Were Perfection, and How Kendall Jenner's Went So Wrong
Kendall Jenner, Performance Artist, Channels Icons Like Marina Abramovic and Yoko Ono: