Isolated, Madonna Reworks "Vogue" as a Song About Fried Fish
Madame X is…quarantined, and surprisingly relatable.
---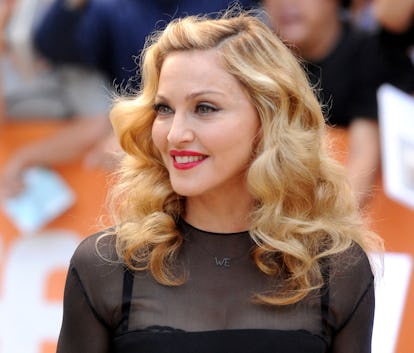 Jason Merritt/Getty Images
Madame X is…quarantined. Or at least practicing social distancing.
No, not even Madonna is impervious to the isolation recommended to curb the spread of the coronavirus and the stir-crazy anxiousness that comes with it. Even though the queen of pop is staying at home (it seems to be her London abode, per her Instagram Stories) with her younger children and her 25-year-old backup dancer turned boyfriend, Ahlamalik Williams, the notoriously prolific artist isn't one to just chill and binge-watch. No, she's trying to stay creative.
On Instagram, she uploaded a video of herself in her bathroom singing a new, seemingly improvised version of her classic hit "Vogue." This time, however, the lyrics have been reworked to center on the idea of eating fried fish. "Because we're all out of pasta," Madonna sings.
"It's 3 a.m.—-cut me some slack, people," she wrote in the caption.
A hairbrush serves as her microphone. It's good to know that even someone who has continuously toured the globe as the premier pop star sometimes can't help but pick up a hairbrush for some bathroom-set karaoke.
The lyrical rework is not Madge's only creative pursuit during these times of social isolation, though. She's also uploaded two installments of her "Quarantine Diaries."
Shot in black and white, the diaries show Madonna sitting in front of her typewriter (Coronamatic brand, as she points out) and types out missives that she then narrates over the footage.
"Madame X did not die in Paris," Madonna writes, apparently in reference to the recent cancelation of her tour due to injuries. "Her story continues under self-quarantine in honor and respect of COVID-19."
"Words and typewritten letters makes me feel alive—remind me that there are so many stories to tell and share with the world. After all, stories are all we have."
In the second installment, Madonna writes, "Artists are here to disturb the peace, but how shall I disturb it now?"
She then lists all the things she misses, including her older sons, horses, and interacting with people.
She briefly considers having a martini before realizing that alcohol suppresses the immune system.
"Lets hope that tomorrow is a better day," she says to herself. "Wait, it is tomorrow."
Honestly, Madame X has never been more relatable.
Related: Madonna Offers Harry and Meghan Her NYC Apartment, Calls Canada "Boring"
Celebrating Madonna's 25 Most Iconic Red Carpet Hair Moments
A young Madonna is potted out in New York City in 1986 wearing her tousled up do with chic bandana and red lip.

Getty.
Performing at Live Aid event, Madonna keeps her brunette waves in natural waves with a burgundy lip.

Getty.
Wearing her voluminous high pony with a heavy cat eye and burgundy lip, Madonna arrives at the 12th Annual American Music Awards.

Getty.
Sporting her new platinum blonde tousled pixie, Madonna arrives at the 2nd Commitment to Life AIDS Project Benefit in 1986.

Getty.
Madonna keeps her look sporty wearing dual ponytails with her signature burgundy red lip at the Siesta premiere.

Getty.
Embellishing her sleek brunette up do with a pink floral hair piece, Madonna arrives at the 1988 Tony Awards Party.

Getty.
Back to her platinum blonde pixie, this time Madonna opts for voluminous curls at the 14th Annual American Music Awards.

Getty.
On stage performing during her Girlie Show tour in 1993, Madonna keeps her pixie ultra sleek with a dark maroon red lip.

Getty.
Madonna wears her golden blonde locks in a curled up with a vibrant red lip at The 22nd Annual American Music Awards.

Getty.
Madonna keeps her look ultra feminine at the The 12th Annual MTV Video Music Awards with a voluminous half do.

Getty.
Back to dark brunette locks, Madonna wears her natural waves with a mauve lip at the 1998 VH1 Fashion Awards.

Getty.
Madonna channels boho chic vibes with her natural waves and twisted braids at the 55th Annual Golden Globe Awards.

Steve.Granitz/INACTIVE
A sleek brunette bob with a frosted magenta smokey eye was the look at the 41st Annual Grammy Awards.

Getty.
Madonna takes on her honey brown locks in elegant curls with a dark smokey eye at the 1999 Vanity Fair Oscar Party.

Getty.
Wearing flipped out 70's inspired curls with a natural glossy lip, Madonna attends the 2005 MTV European Music Awards.

Getty.
Wearing blown out locks with side swept locks, Madonna arrives at the 2006 Vanity Fair Oscar Party.

Getty.
Madonna modernizes the standard bob with voluminous curls and a sleek cat eye at the screening of Revolver.

Getty.
Radiating with sun-kissed skin and beachy waves, Madonna arrives at the amfAR's Cinema Against AIDS 2008 benefit.

Getty.
Attending the premiere of Nine, Madonna wears her luminous skin with hint of blush on the cheekbones.

Getty.
Looking regal at the 68th Venice Film Festival, Madonna pairs her elegant waves with a glossy, cherry red lip.

Getty.
A top hat with tousled curls and a vibrant red lip was the look at the Dolce & Gabbana and The Cinema Society screening of the Epix World premiere of Madonna: The MDNA Tour.

Getty.
Madonna pairs her dark brunette bob with blunt bangs and her signature red lip at the 2013 Costume Institute Gala.

Getty.
At the 57th Annual Grammy Awards, Madonna wears a black hat embellished with a chic face veil with her sleek cat eye.

Getty.
Elevating her messy waves with an embellished hair piece and a natural eye, Madonna arrives at the 2016 Costume Institute Gala.

Getty.
Wearing her side swept golden curls with a sleek cat eye and a nude lip, Madonna arrives at the 2017 Costume Institute Gala.

Getty.