Mahershala Ali and Mindy Kaling Go Deep on Religion With Ramy Youssef in a New A24 Zine
It's the first time we've seen religion as it pertains to pop culture figures like Rainn Wilson and Alexa Demie framed in this way.
---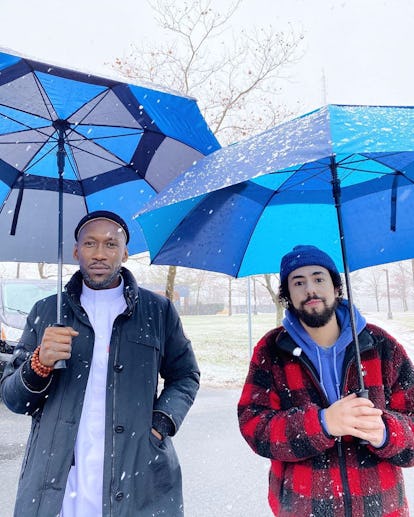 Courtesy of @ramy on Instagram.
In Ramy Youssef's television series, Ramy, the actor and writer plays a version of himself. He's a first generation Muslim-American man on a personal trek to discover his own interpretation of spirituality—split between a life of zero consequence with his fellow Millennials, and his Egyptian community, which expects him to remain morally sound.
It's not a fairytale plot by any means: trying to balance a more modern, free lifestyle with the deeply-held values of chastity and purity is a struggle most people who observe some kind of religion experience. But it's also just one conflict within an entire world of emotional dilemmas when it comes to a religious way of life.
In Youssef's A24 zine, called "Keeping the Faith," released today to coincide with the second season of the show, he explores this idea through candid interviews with Mahershala Ali, (who will have a recurring role) Mindy Kaling, Alexa Demie, The Sopranos' Michael Imperioli, and more.
It isn't the first time A24 has put together a zine of this format—when Mid90s came out in 2018, director Jonah Hill interviewed Q-Tip, Michael Cera, and his sister Beanie Feldstein, among others, about what they were like as kids and how they learned to love themselves. But this edition is a fairly remarkable collection of personal anecdotes on the spiritual journeys of Amar'e Stoudemire, who is Jewish, and Rainn Wilson, an observer of the Baha'i faith. It is certainly the first time we've seen religion as it pertains to pop culture figures framed in this way.
Take, for example, Ali's conversation with Youssef. The Moonlight star detailed his experience converting to Islam in his third year of grad school at NYU, where he studied acting. "Suddenly, I'm being offered roles to play a god, or a demigod," Ali explained. "I'm six months into converting at this point, and I'm thinking about how the main thing in Islam is that there is no God but God, and Muhammad is his prophet. And I'm earning money playing characters that share power with god. It became really confusing for me, especially because then you see Muslims at the mosque and they're like, 'Saw you on TV last night.'"
He also shared insight into the tug of war he has played with Hollywood executives, as he tries to keep things PG and more in line with his faith. In 2006, when he worked with David Fincher on The Curious Case of Benjamin Button, Ali managed to win one of these fights.
"I'd never done a movie before, and here, I'm getting to work with one of the best directors in the world," he said. "There was this one scene where I said, 'Well, I'll do it on one condition. I just want to make sure that this is not a sex scene.' And so you see Taraji [P. Henson]and I come together, and we start to kiss, we fall down out of camera, and then it cuts."
Four years prior, though, he wasn't as successful.
"Before that, in 2002, I told the head of casting at Fox, 'I don't do sex scenes.' And she's like, 'You'll never work. You'll never be a lead.' And what was great was I walked out of there feeling like, if I do then it'll be evidence that god is real. I felt that way about it. I didn't say that to her, but it didn't shake me."
The conversations are fairly wide-ranging, and aren't limited to the actors' religious experiences within the scope of their careers. Kaling laid bare to Youssef her memories of when her mother passed away, and how it threatened to poke holes in her relationship with Hinduism.
"I really ran the gamut of emotions when my mother died," Kaling said. "She died so unexpectedly and so quickly that I remember thinking there can't be a god, because why would they have done something to someone like my mom, who was a doctor and delivered babies and saved lives? Then, I was so surprised by how my relationship with her continued after she died. I'm not talking about spooky shit. She didn't come to me in a dream. I didn't see her or feel her presence or anything like that. I just feel like I still have a relationship with my mom. I still feel like I'm checking in with my mom and that her presence is here, still. That was a really weird way to test my faith—to make me denounce it at the beginning, but then reaffirm it in a crazy way."
Related: 'Da 5 Bloods' Couldn't Have Come at a Better Time, and Jonathan Majors Knows It