Maisie Williams Shows a Softer Side of Arya Stark in New Superhero Movie iBoy
In the trailer to the Netflix film, which premiered today, the young Emmy-nominated actress channels a different kind of courage than what we're used to in Game of Thrones.
---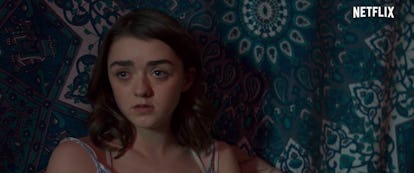 At just 19, Maisie Williams is already a certified on-screen badass. She's been swinging a sword on Game of Thrones for six seasons already and managed to pick up her first Emmy nomination for her efforts last year. Not bad for someone who is still a teen.
But the new trailer for Netflix's original movie iBoy, we get to see a softer side of Williams as she channels a different kind of courage than we're used to seeing her evoke as Arya. In iBoy, "Crystal Han" portrays Lucy, the best friend of a kid named Tom who has super powers. While it seems Lucy doesn't have his gift, she bravely talks to her friend Tom after she's attacked by a gang. In the trailer, we see Lucy tear up as she discusses her attackers. "Never been the victim," she says, before telling Tom that "no one's mad at you for not being a hero." It just so happenes that Tom is played by Bill Milner, who played a young Magneto in another superhero series, X-Men: First Class.
It's Lucy's perseverance and desire for justice that appear to inspire Tom to become a vigilante superhero. Well, that and a pretty wild head injury. It's the gunshot to the head that Tom suffers after Lucy's attack that leaves him with cellphone shards lodged in his brain, which turns him into what Entertainment Weekly calls a "one part Mr. Robot, one part Green Arrow" superhero. We're in good hands with this movie, hero-wise. Basically, Tom is a high-tech manipulating hero made for 2017, and Maisie Williams as Lucy is his perfect badass inspiration.
Watch W's most popular videos: