Inside Maison Père, the New Parisian Boutique Frequented by French Stylists
Inspired by a love of fur, embroidery and feathers, 27-year-old designer Camille Omerin launched Maison Père last year.
---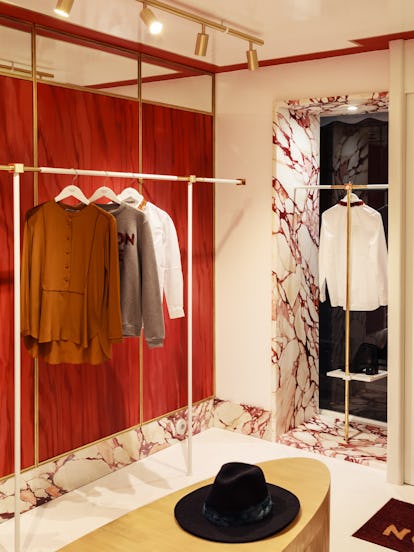 There's no shortage of things to buy in Paris, but boutiques offering unknown, up-and-coming brands are a rarity. That's what makes Maison Père, which opened in December in the heart of the city's Saint Honoré neighborhood, such a delightful surprise. The owner is designer Camille Omerin, 27, who launched her brand last year inspired by a love of fur, embroidery and feathers. She began with coats embellished with fur collars and yokes in curly Kalgan lamb and from there she's worked her way through the staples of a Parisian wardrobe taking style cues from her mother and grandmother's collection of Art Deco bijoux.
The name is a paternal version of the expression Maison Mère, which means headquarters in French. "I like that because it's familiar and comforting, but mère was too common so I changed it," explained Omerin, who worked at Chloé, Lanvin, Balmain, Fendi and Chanel before launching her own collection
"Maison Père doesn't look like any other brand. It has its own identity, a modern wardrobe with a lot of details at a good price," she added.
After building up an international roster of stores and an online presence, Omerin began shop hunting. As a habitué of Paris's Marché aux Puces–her apartment in the Marais is furnished with an eclectic mix of vintage finds from 1960s lamps to 19th-century furniture and 18th-century picture frames–Omerin knows how to snap up a great thing when she finds it, and that's what happened after a few months of boutique hunting, when she discovered the small spot on rue du Marché Saint Honoré. The central location, full of cafés and prime Paris shopping spots–like famed boutique Colette–was the ideal place to begin for a up-and-coming brand like Maison Père.
With barely enough time for a December opening, Omerin called in her interior design friends Hugo Toro and Maxime Liautard who opened their agency Toro & Liautard this year. The duo recently designed the interior for Paris health club Le Klay's Klay Saint restaurant, which convinced Omerin they could do something "extraordinary, simple and elegant," in a small space. "I told them red is my favorite color, and that I love Art Deco and gave them carte blanche," said Omerin. The result is an interior in red-colored, hand-painted wood and marble Haussmann-style apartment from Marcel Proust's days, with antique door knobs, a club style fitting room with a portrait of a dapper-looking Maison Père character hanging above the cash desk.
Tribes Young Parisians in search of original pieces from brands that none of their friends know about–yet.
The Mix Highly decorative, chic basics with an emphasis on comfort and practically (feathers and fur are detachable).
Best Sellers An Art Deco large-scale beaded coat ; a multicolored three fur jacket with zip-on sleeves ; a Maison Père velvet letter gray sweatshirt ; a classic white shirt with feather trimmed collar; blouses in guipure lace.
Prices Start at $179 for a sweatshirt and $340 for a silk dress, and go up to $850 for a coat.
Design The store is art deco in aesthetic, with hand-painted marble and wood, old velvet and leather seating, and mixed vintage pieces.
Location 1, rue du Marché St Honoré, Paris 75001
For those who wish to shop from home Maisonpere.com
Watch W's most popular videos here: