The Insider
Art-world maverick Maja Hoffmann—collector, patron, impresario, entrepreneur—embarks on her most ambitious project yet.
---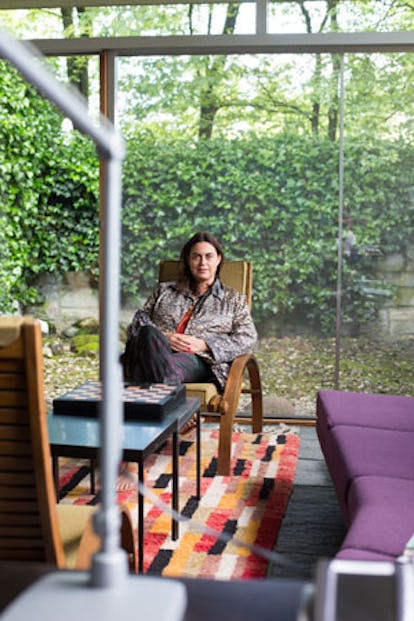 Maja Hoffmann had been reluctant to erect a tent next to her Marcel Breuer house overlooking Lake Zurich. She wanted nothing to deter her dinner guests—a mix of A-list artists, curators, dealers, and collectors—from roaming the grounds, as they had in years past, to take in the Jean Prouvé swing set and the sizable sculptures by Paul McCarthy, Gary Hume, and Willem de Kooning. But with a chilly shower in the forecast this past June, she could delay no longer and the tent went up.
Hoffmann, 56, is among the contemporary art world's most influential patrons, though chances are you haven't heard of her. An activist-philanthropist, she prefers to work behind the scenes, plunging into the nitty-gritty aspects of art making. "She's a producer of extraordinary projects that wouldn't get done without her help," says the collector and globe-trotting tycoon Jean "Johnny" Pigozzi, a regular houseguest of Hoffmann's in Zurich. "She has the money, she has the energy, and she does everything herself."
Invitations to Hoffmann's annual dinner in Zurich—the unofficial kickoff to Art Basel, the ne plus ultra of contemporary art fairs—are highly coveted. Hoffmann, dressed casually but elegantly in a silk Lanvin top and pants and a black blazer, warmly chatted up the players who poured in. Her brown hair hung loosely around her face, accenting her thick eyebrows and striking green eyes. Befitting her no-frills style, she looked as if she'd gotten ready in a hurry. (She usually wears sneakers, albeit by Balenciaga or Lanvin.) While London's Tate Gallery director Nicholas Serota, über curator Hans Ulrich Obrist, auctioneer Simon de Pury, and collectors Don and Mera Rubell mingled inside sipping prosecco, art stars Urs Fischer, Doug Aitken, Douglas Gordon, and Peter Fischli braved the rain on the patio next to the pool. Others toured the pristine modernist home, where a massive mushroom sculpture by Carsten Höller took over much of the living room.
A pharmaceutical heiress (her family founded Hoffmann-La Roche) with a boho streak, the Swiss-born Hoffmann is often described as a collector, but she considers herself an "enabler," she told me on a drive to Basel the day before. "I don't really want to own things. That's not my focus. I want to make things happen." And make them happen she does—in Zurich and just about everywhere else. As the founder of the LUMA Foundation (named for her kids, Lucas, 16, and Marina, 13), she supports art, film, and environmental programs around the world—at the Palais de Tokyo in Paris, the Venice Biennale, the Serpentine Gallery in London, and Human Rights Watch in New York. She is president of Zurich's Kunsthalle, a vanguard showcase for art, and vice president of Basel's Emanuel Hoffmann Foundation, whose formidable collection was started by her grandparents and is now housed in Basel's Herzog & de Meuron–designed Schaulager museum, a warehouse and study center. Hoffmann is also a board member of New York's New Museum and London's Tate, heading up its international council and funding its film program; and she is a key backer of the ongoing cultural program in Queen Elizabeth Olympic Park. »
"She wants to do more things than any one person really can, but that matches her personality," says the artist Liam Gillick. "She's in constant pursuit of ideas and conversation and usually wants to know, 'Where does this work fit into your thinking and development?' That's very much a quality of collectors who buy time for artists."
One of the projects she's proudest of having developed is Olafur Eliasson's "The Parliament of Reality" at Bard College, in upstate New York, a $1.4 million island surrounded by a moat that was designed as a place for discussion and contemplation. "When we met, she asked me what I'd like to do, and I said, 'Work with Olafur,' " recalls Tom Eccles, director of Bard's Center for Curatorial Studies, another board she sits on. "And she said, 'Great. Let's do that, then.' "
Known for her spot-on intuition, she has supported the careers of Fischli and Weiss, Fischer, Aitken, Philippe Parreno, and Douglas Gordon, among many others, and she's plainly happiest when she's in their company. Loyal to the artists she adores, she occasionally buys directly from their studios or simply funds their work and, unlike many a collector, has rarely put pieces up for sale. "She's definitely chosen a ­community—it's not the whole art world—and they are mavericks, all of them," says New Museum director Lisa Phillips, who credits Hoffmann with putting her institution in closer contact with that milieu. "She likes people who think differently and aren't afraid to express themselves in unconventional ways."
And while she's certainly not alone in having the means to jet to art-world hot spots around the globe, "her philanthropy is unusual," says Phillips de Pury chairman Simon de Pury, a friend of 25 years, who stayed in her guesthouse in Mustique last December before accompanying her to Pi­gozzi's 60th-birthday party in the Panamanian jungle. "Most want the social kudos and limelight that come with it; with Maja, you feel it's a deep, deep commitment."
In fact, just an hour before her dinner party got under way, Hoffmann was cohosting a preview of the renovated Kunsthalle Zürich with its director, Beatrix Ruf, another member of her inner circle. The Kunst­halle occupies part of a defunct brewery in the city's former industrial zone along with other museums and galleries, an unusual ­public-private partnership that Hoffmann spearheaded. In the same complex, she also put up a building to house the new offices of LUMA and spaces for its own exhibitions as well as those of the Kunsthalle. LUMA Westbau, as it's called, would open at the end of the summer, but that night Hoffmann gave VIPs a sneak peek; on two floors, she had installed works by Hans-Peter Feldmann and Fischer from her own collection.
Karen Kilimnik's A Shepardess, 2003
Hoffmann had meant to have a smaller dinner this year, so as not to detract attention from the Kunsthalle. For months, she'd been telling friends that she planned to invite only 50 people, not like other years, when the guest list had ballooned to 450. But now, 200 people were helping themselves to the buffet under her tent. "She doesn't know how to say no," Pigozzi confided. "I always tell her she should do less." Hans Ulrich Obrist, a codirector of the Serpentine, added: "What she does is unique in its multidimensionality," noting that her desire to simultaneously engage on so many planes reminded him of the superstring theory. "Actually, Maja is beyond superstring."
One place where Hoffmann hopes to align all those dimensions is in Arles, the Provençal city made famous by Vincent van Gogh, which will soon be home to the Parc des Ateliers, the cultural complex in which Hoffmann is investing some 100 million euros. Located near the city's historical center, Hoffmann's grand project—designed by Frank Gehry—will be a kind of think tank–cum–laboratory for contemporary art complete with a public garden, as well as exhibition spaces, archives, and housing for artists in converted old factory buildings. "I'm interested in bringing together the different interests in my life: environment, human rights, and art," Hoffmann said. "And it's the artists who translate these ideas best for me."
"Most people with this kind of program rent a warehouse somewhere," Gehry said of the Parc des Ateliers' experimental nature. "Maja wants an important public building." Hoping to make Arles a city as known for its vanguard art scene as for its Roman heritage and its summer photography festival (which she, of course, has long supported), Hoffmann wants destination architecture that will serve as a flagship. "She's relentless in her quest for something new," Gehry, who is still in the design phase of the building, acknowledged. Hoffmann met Gehry in 2005, during the making of Sketches of Frank Gehry, one of several documentaries she's coproduced with Stanley Buchthal, her partner and the father of her children. She felt Gehry would understand Arles's Mediterranean sensibility, Hoffmann told me, and create architecture that would appeal to its inhabitants "because he would speak to the senses, not make an architectural statement only."
Her choice of Arles strikes those who know her as inevitable: Hoffmann grew up there. Her mother, Daria Hoffmann-Razumovsky, was a countes­s descended from Russian nobility whose family had fled to Czechoslovakia, and later Vienna, in the wake of the Bolshevik Revolution. Hoffmann's father, Luc, a pharmaceutical magnate and renowned naturalist, cofounded the World Wildlife Fund. Maja and her three siblings spent their childhood in the Camargue, a vast delta where the Rhône splits in two. "Because there's only flatland, the sky is bigger than the earth," she said. "There aren't many places where you feel a sense of infinity. It's what probably trained my eye to see big, versus thinking only about details."
The region is famous for its pink flamingos, wild white horses, and bulls, as well as its 400 species of birds. Hoffmann's father studied their migratory patterns at La Tour du Valat, the center for the conservation and study of the wetlands he created on his estate two years before Maja was born. Maja inherited her father's abiding ties to nature; until the age of 12, she attended the school he set up on the property, and she later worked at La Tour du Valat. In her 20s, she made a documentary about the fishermen of the Sahara and accompanied her father on his research trips. With the Parc des Ateliers, she's continuing that legacy by setting up a kind of preserve for artists to study the migration of ideas.
To help her define just what her 21st-century institution might look like, she has been working since 2008 with two artists and three ­curators—Gillick, Parreno, Obrist, Ruf, and Eccles—her "core group," as she calls her Arles advisers, a who's who of conceptual artistic cool. The group came up with the metaphor of a peloton, a biking term that refers to the way cyclists take turns in the lead but make sure they have one another's back, to accommodate all the egos and help them work effectively. Their model, Ruf says, arose out of the way they believe art is being made today: "The younger artists have networks because of the Internet. They don't start solo. More and more, it's about collective creativity." »
Their Arles project has suffered a few setbacks. Last year, plans for Gehry's original design were rejected. France's heritage commission ruled that Gehry's two towers would obscure the view of the church bell tower in the historic Alyscamps, which was immortalized in paintings by van Gogh and Paul Gauguin, and that the proposed structures would disturb Roman burial grounds. But according to insiders, it was national political wrangling that derailed the plan. Whatever the cause, Hoffmann and her team had to move the building, sending Gehry back to the drawing board. The delay, they all agree, has actually led them to improve their ideas: Gehry has now designed one 12-story tower that will afford views of the Camargue. "The hardest thing to do in architecture is to be painterly; this is a Mount Everest I've been trying to climb all my life, and this is where Maja took a big leap of faith with me," Gehry said. Were it described as a woman's dress, he told me, "it would have a bodice, a waist, and a flouncy Latin skirt spread out at the bottom." They plan to break ground in 2013, with an opening projected for 2015.
"The French are complicated, but Maja's got power in the game," Gehry added. "She wants to make it work for the town, and she knows the nuances." Pigozzi put it less delicately. "She's a rottweiler," he quipped. "Once she gets her teeth in a project, she won't let go. She could just go to her house in Zurich and look at the lake, but she doesn't."
The decisive influence of her paternal grandmother may explain why. An avid collector of emerging art, Hoffmann's grandmother, also named Maja, created the Emanuel Hoffmann Foundation in 1933 to honor her husband, who had died when his car was hit by a train when Hoffmann's father was still a child. Soon after, Hoffmann's grandmother married the conductor Paul Sacher and designed and built a grand, Bauhaus-inspired villa near Basel. She had dreamed of being an architect like her father but became a sculptor instead, and it was on family visits from Arles to her Basel estate that, as a young girl, Hoffmann began to understand how works of art could charge the space around them. "There were discoveries all the time—James Ensor's Le Masque Arraché, Aristide Maillol's big ­naked statues of women in the garden," recalls Hoffmann. "But it wasn't only what I was seeing—my grandmother was also confiding in me her wishes and dreams, so I always felt very privileged."
Hoffmann's grandmother collected Pablo Picasso, Jean Arp, Fernand Léger, and ­Georges Braque, and she enjoyed close friendships with a number of artists. Jean Tinguely was a regular visitor; when Paul Klee came to stay in the guest room, he preferred that the works of his hanging there were turned to face the wall. When Hoffmann was born, Jean Cocteau sent her mother a note of congratulations; when Hoffmann turned 21, Tinguely made her a birthday card that's now displayed in her Basel apartment. By then, her grandmother had decided that Hoffmann's youthful sensibilities would be a welcome addition to the foundation.
"Her grandmother saw something of herself in Maja," observes the Swiss theater director Werner Düggelin, then one of two non-family members on the foundation's board, who saw something else the day he met Hoffmann. He was 47; she was 20. "She was so beautiful," he recalled recently in Basel, suddenly pulling out Polaroids of her from a time when she looked like a young Simone Signoret. "I dropped dead on the floor when I met her. She was wild—in the best sense of the word—and curious. She wasn't interested in being the heiress of Roche. Her parents didn't give her much money then, and this was very good for her. Later," he added with a wry laugh, "they gave her too much."
The pair fell in love and lived together in Basel and Zurich for seven years, "with me as his very young girlfriend," said Hoffmann, smiling at the memory. "My mother was superworried." An important mentor to Hoffmann, Düggelin "was this sexy older man, kind of a flower child and very inventive," says the artist Izhar Patkin. He was also one of the most distinguished directors in Europe: He'd worked with Samuel Beckett and Eugène Ionesco. Hoffmann assisted Düggelin in the theater, giving notes on actors and later making films with him. "She had a great nose for good actors," he told me. "I was convinced she'd become some kind of artist."
The duo also traveled looking for art to buy for the foundation. In New York, they met Julian Schnabel, Jean-Michel Basquiat, Francesco Clemente, and Andy Warhol. In 1980, Warhol made a portrait of Hoffmann's grandmother and wanted to do hers too. He took some Polaroids, but she refused. "I said, 'Why would I need a portrait?' " she recalled. "I was so stupid."
In the early eighties, Hoffmann split her time between Paris, Arles, and New York, often staying in friends' lofts on the Lower East Side as she studied film at the New School and New York University. "I was on the scene then, but I wasn't a player," she said this past April when we were having lunch near the sprawling apartment she owns in a 19th-century former schoolhouse on the Lower East Side. She bought it in 1994 with Patkin, when it was a dilapidated building on a crack-ridden block; the New Museum was years away from opening nearby. "She couldn't tell her family that she was buying a building with some crazy artists and moving into this crack-infested street," Patkin recalled. "She was still single, and she did it on the sly. But this was so Maja. It took me a long time to understand she was from that kind of family. All that changed when she began to take very seriously the sense of legacy and responsibility that comes with her kind of wealth." Of course, she also enjoyed the entrée it gave her. In Saint Moritz, she became the second woman granted membership into the exclusive Dracula Club, founded by industrialist playboy Gunter Sachs. The club's initiation rite involves tobogganing headfirst down the icy three-quarter-mile-long track of the Cresta Run.
As her driver ferried us to the restaurant, I listened to Hoffmann make plans. On Monday, she was definitely going to preview the inaugural Frieze New York on Randall's Island, she told a friend by phone; moments later, she admitted to me she didn't see how she could ­possibly get there because she was meeting Fischer for breakfast and then would be off to Long Island City to visit Rudolf Stingel in his studio. How would she fit in seeing Liam Gillick install his new show in Chelsea before her root canal at 4 p.m.? It was Hoffmann's birthday, and her BlackBerry was buzzing with messages. Some were from her core group, who were lamenting the news that Swiss artist David Weiss, Hoffmann's close friend, had died the day before in Zurich. His death was clearly on her mind as we ate lunch.
Though exceedingly private, Hoffmann began talking about Nicolas Economou, the Cyprus-born pianist, conductor, and composer who was her "second love story," she said. Economou's marriage was ending when the two met in Paris in 1986; his death in a car crash in 1993, shortly after Hoffmann ended their relationship, devastated her. A child prodigy who came to international attention at 16, Economou was ­brilliant—and smothering. "He wanted to lock me at home," Hoffmann said. "He hated contemporary art and New York and was very jealous. So I was cut off from the world. It's as simple as that. It was a major passion." Eventually, she told me, "I wanted to be free. He was high-strung and anguished, and I couldn't live with him anymore." Economou was working on a rock opera when he died; Hoffmann has plans to produce his unrealized musical.
The birth of her children in the late nineties brought home to Hoffmann the urgency of making her mark, though it wasn't until she founded LUMA, in 2004, that she defined her mission. "I lived out of a suitcase until I had the children," she says. In addition to the one in Zurich, she's since set up homes in London's Mayfair; on the island of Mustique; in a 17th-century château in Arles; and in a chalet in Gstaad that she purchased from Elizabeth Taylor. Hoffmann, Buchthal, and their children first lived in New York and then in Zurich; these days, they're based in London. Despite the drop-dead artworks and furniture in all of their abodes, each home is designed for casual family living; mementos mix easily with vintage tables by Prouvé, Carlo Mollino bunk beds, and lamps by Jorge Pardo.
Two days after her dinner in Zurich, Hoffmann was in Basel for the VIP opening of the art fair. When I arrived at her apartment in the city's historic section, Nicholas Serota and Tate Modern director Chris Dercon were on their way out. Hoffmann had already been to the fair that morning and had purchased a few works she planned to install in the various hotels she owns in Arles. (She hired India Mahdavi, who did her London house, to design one of them. If the world is going to come to Arles, Hoffmann wants to make sure there are nice rooms.) Fine dining is yet another of her concerns: Since 2000, she and Buchthal have run the Michelin-starred La Chassagnette, an organic restaurant on a 500-acre farm across the way from their home in Arles. As Ruf sees her, Hoffmann is the "mayor" of Arles. "She wants it to be her Marfa," she adds, referring to the thriving arts colony in the West Texas town where Donald Judd once lived. While Gehry completes his plans, Hoffmann's core group will test-drive the experimental programs it hopes will become a mainstay of the Parc des Ateliers. One objective is that viewers will not simply look at art but also move around it and experience it being made. To that end, this past July, as part of "To the Moon via the Beach"—an evolving exhibition curated by Parreno and Gillick—Arles's Roman amphitheater was filled with sand, and over four days, 20 artists, including Klara Lidén, Rirkrit Tiravanija, and Lawrence Weiner, produced works in and around it, as a team of sand sculptors transformed the space from a beach to a moonscape. Next up, in October, is Aitken's ambitious 12-screen installation "Altered Earth—Arles, a City of Moving Images" (complete with an app). But already, Hoffmann has her eye on another project.
Did I know Cocteau's last film, The Testament of Orpheus? she asked me suddenly in Basel and, without waiting for an answer, pulled it up on YouTube. The 1960 movie stars Cocteau, with a cameo by Picasso, and was shot in the caves of Les Baux-de-Provence, 10 minutes from Arles. As she peered at the screen through her glasses, she explained that LUMA owns the archives of the auteur Derek Jarman and that she hoped to present a Jarman film festival inside caves not far from the ones we were now looking at. "You have a mountain of projects," I said absentmindedly, distracted by the footage. "You know," Hoffmann replied pointedly, "if you only see mountains, you never do anything."
Photos: Maja Hoffmann Art Insider
In her Marcel Breuer–designed house in Zurich, June 2012

Photographs: Christian Kryl
At home in Zurich behind Paul McCarthy's Michael Jackson (Fucked Up, Big Head, Bronze), 2002

Photographs: Christian Kryl
Karen Kilimnik's A Shepardess, 2003

Photographs: Christian Kryl
Portrait of Hoffmann by Francesco Clemente, circa 1985

Photographs: Christian Kryl
Photographs: Christian Kryl
Frank Gehry's preliminary design for the Parc des Ateliers, Arles, 2012

Photographs: Christian Kryl
Christopher Wool's Untitled (P135), 1989–90, and John Baldessari's Noses & Ears, Etc. (Part Four): Head (Section) With Nose and Ear. No. 2, 2007

Photographs: Christian Kryl
Carsten Höller's Giant Triple Mushroom, 2009

Photographs: Christian Kryl
With architect Igor Jozsa in Panama for Pigozzi's 60th birthday party

Photographs: Christian Kryl
With Edit deAk and Izhar Patkin on New York's Bowery, 1992

Photographs: Christian Kryl