Makeup Artist Gucci Westman Predicts the Key Hair and Makeup Trends of 2017
From a deep side part to gorgeous, natural skin, here's everything you need to know.
---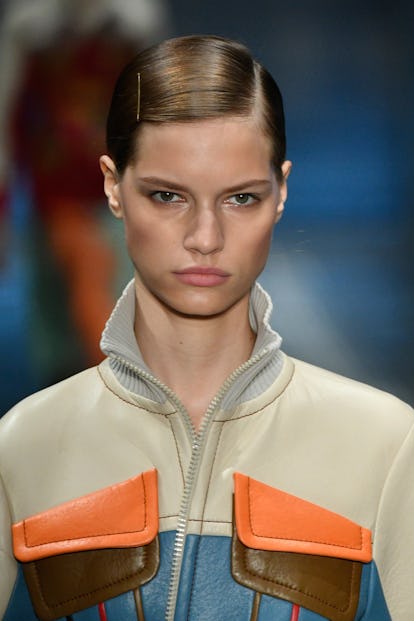 Getty Images
After a year of spider lashes, natural hair and rosy cheeks, makeup artist Gucci Westman is looking forward to what's coming in the new year, inspired by the runway. Just remember, she says, "each of these trends should be interpreted, re-imagined and personalized. It's not about re-creating a full look, but a rendering of." Here, what to look out for in 2017.
Side Parts "A lot of the fashion industry looks to Prada as the biggest trend-setting show. This season, the models wore a youthful clean face with simple boyish, wet hair. I love a side part, a kind of French coquette."
Flawless, Simple Makeup "There is also the Gucci girl, who is a bit more whimsical and spontaneous. She might have just a flawless complexion and a nude lip, or a flawless, mannequin-looking face with a pop of an off, unexpected color. The accessories and palette of the clothing is a lot, so you don't need much."
Good Skin, Always "Gorgeous, natural skin will be a trend. Start with SK-II's new GenOptics Aura Essence for beautiful, luminous skin. Next use La Mer's Foundation for added luminous, followed by NARS Copacobana stick for some highlight. Some rose-colored cream blush would be the next step, very subtle, then Chanel rose-colored lip liner and lip stick, and a matte Tom Ford shadow on the upper lid, brown liner dug into bottom lashes. Lastly, groom brows, and add a bit of Tom Ford contour under cheekbones."
A Bold Lip "A coral, purple-hued or fuchsia lip will be big. I love gorgeous, snowy skin with beautiful highlights and a tiny hint of a soft rose cheek. Then a very dark bordeaux or oxblood lip, even a touch of black in the color is amazing. Chanel has incredible colors."
Retro Mashup "I also like the idea of a girl in blue shadow, blue mascara and a Faye-Dunaway lip."
Sun-Kissed, Natural Beauty "Lastly I would say sun-kissed with freckles and a stained lip."
Predicting The Fashion Trends of 2017
Wear Color – Because 2017 is about getting out of the comfort zone, and retiring black to the back of the closet. Leading the trend is Balenciaga's Demna Gvasalia, whose color-blocked looks (including spandex pants, encasing the shoe), will be a key moment for spring.

Photo by Getty Images.
Wear Pink, specifically – Despite what Pantone says, pink is the color for 2017. Celine offers a fresh caped dress in pepto-pink for spring, while Chanel, Chloe, Gucci, Loewe, and Valentino weren't far behind with their take on the true color of the season.
Shoulders – Baring them was very 2016, and a voluminous architectural shoulder and sleeve is the way to go for 2017. Look to Rodarte, Jacquemus, and Saint Laurent for ways to wear this new shape.

Photo by Getty Images.
Sport – Athlesiure may have defined this year, but sport will determine the next. Put away your loose yoga sweats and try a stronger, sexier take, a la Courreges

Photo by Getty Images.
Utilitarian – Khaki and cargo pants will reign again, yet it is a polished utilitarian look we'll see next year. Take a cue from Balenciaga, Bottega Veneta, Marni, and Stella McCartney.

Photo by Getty Images.
Stripes – Stripes are never out of style. For 2017, they'll either take the form of super-skinny pinstripes, or the exact opposite. Keep your eye out from these great wide-striped wide-legs from Derek Lam.

Image courtesy of designer.
Bows – As fashion becomes more romantic again (thanks to Alessandro Michele at Gucci), a number of brands are turning to their softer side. We'll wear big, sweet bows from Coach, Fenty x Puma, and Erdem.

Photo by Getty Images.
Shirting – is still everywhere. How many ways can you wear a button-down? For 2017, get on board with smart and sexy options from new New York label Monse.

Photo by Getty Images.