Malcolm & Marie Reviews: Zendaya Is All Grown Up
The first reviews for 'Malcolm & Marie' praise Zendaya for giving an electrifying performance as the under-appreciated girlfriend of a pretentious film snob.
---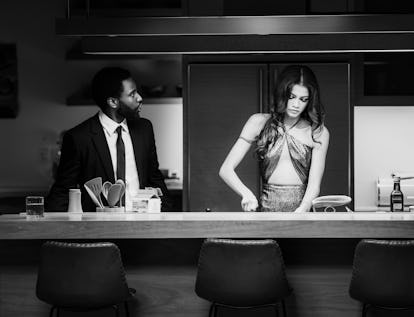 Image courtesy of Netfli
Months before she became the youngest performer to ever win the Emmy for Best Actres in a Drama series, Zendaya shocked all of her fans last summer announced that she had made a new movie. It was not until she announced in July that the film had already complete, that it was also revealed that the idea for the film emerged after the production of Euphoria's second season was halted. As the coronavirus pandemic shut down sets across Hollywood in April, the actress touched base with her Euphoria collaborator Sam Levinson, and together they decided to collaborate again.
Levinson wrote a script for a film in which she could star in less than a week, and in mid-June, Zendaya and her co-star John David Washington gathered around a glass house in Monterey with a film crew and started shooting until July 2.
The final result was Malcolm & Marie, a film in which Zendaya and Washington go toe to toe on the night of hotshot director Malcolm's big movie premiere. Malcolm and Marie go through round after round of arguments about the state of their relationship, art, race, gender, and authenticity—all while they wait for the first reviews of Malcolm's films to pour in. Now, the official reviews of Levinson's film, which will premiere on Netflix on February 2, have started to pop up.
The relationship piece is being compared to Edward Albee and Mike Nichols's Who's Afraid of Virginia Woolf?, John Cassavetes's Faces, and Ingmar Bergman's Scenes from a Marriage, though a critic from The Guardian pointed out that Malcolm & Marie really stands out as a substantial, intimate tête-à-tête between only two people that was made entirely during the Covid-19 pandemic, and defines the types of films that can be made within those kinds of restrictions. A critic from The Hollywood Reporter agreed—there's no gimmick with Malcolm & Marie the way there seems to be with other pandemic films, and this production demonstrates that a movie made during quarantine doesn't necessarily have to be about quarantine.
But not everyone gushed. IndieWire's David Ehrlich acknowledged the resourcefulness of making a film like Malcolm & Marie during the coronavirus pandemic, but wrote that the director used "pseudo-intellectual scaffolding" to hold up the characters.
One critic from Entertainment Weekly called the film "pretentious," likening the premise of a director who forgot to thank his girlfriend in a speech to an acting exercise meant to exhaust the performers, and stating that the dialogue is "overwritten almost to the point of absurdity." Another critic from Slate takes issue with the ways the film itself seems to anticipate film criticism via dialogue from Malcolm about his disdain for a white woman critic at the L.A. Times and the way Levinson practically dares anyone to try to come for him with a single review.
This does put the actual film critics tasked with reviewing Malcolm & Marie between a rock and a hard place. But both of these critics agreed that the film is "stylish," not just because of the wardrobe put together by Zendaya's stylist Law Roach, but also because the movie was shot on black and white 35mm film with cinematography by Marcell Rév.
The performances by Washington and Zendaya, however, seem to have been spared by any harshness in the reviews. A critic from the BBC said Washington "nailed" his character's perspective, Collider's review called him and his co-star "electric," and The Wrap's review acknowledged that both lead actors "go the distance" with the material written by Levinson.
At the end of the day, though, it's Zendaya who receives the highest praise. Hardly any of the reviews seem to focus on the social media reaction to the casting of a 36-year-old man to play the 24-year-old actress's boyfriend, but her performance solidifies her ability to handle the grown-up material.
A critic from The Hollywood Reporter said there is a "mesmerizing power" to her performance and called her the "MVP" of Malcolm & Marie. "You might not always agree with her every rejoinder, whether she's implying that commercial filmmakers are essentially hustlers or insisting that authenticity in art matters as much as aesthetics (a point that she drives home in one hair-raising standout of a scene). But Zendaya…has a way of rendering dialogue irrelevant," Justin Chang wrote for the L.A. Times. "She holds a closeup here more skillfully and naturally than her co-star does, and her silence proves far more eloquent than his words."
It seems that, regardless of how critics felt about the material, the Oscar buzz for Zendaya has truly already begun.
Related: Malcolm & Marie Trailer: Here Comes the Zendaya Oscar Buzz