Update: Explosion at Ariana Grande Concert in Manchester Leaves 22 Confirmed Dead
A number of fatalities are being reported after explosions reportedly went off at an Ariana Grande concert in England.
---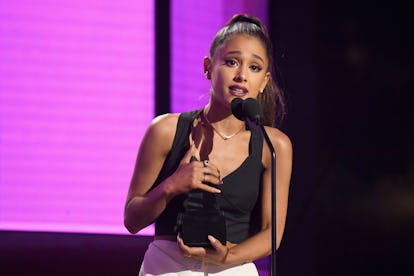 Jeff Kravitz/Getty Images
Update, Tuesday: The Greater Manchester Police have just released a statement that 22 people are confirmed dead and around 59 others are injured. Per a statement posted to the Manchester Arena's Twitter account, the incident reportedly took place "outside the venue in a public space."
—
A number of people died following explosions that went off at the end of an Ariana Grande concert in Manchester, England, local police confirmed.
The Guardian reports that police responded to a loud explosion at the end of Grande's concert, which was initially categorized as a "serious incident" per Manchester police. The paper also quoted one concertgoer, who said that she heard "quite a loud explosion heard from inside the Manchester Arena and it shook, then everyone screamed and tried to get out."
The number of fatalities and injuries is not yet known. The Washington Post corroborated the police report that there were a number of fatalities and even more injuries. Grande's label rep confirmed to Variety that the singer is reportedly OK.
According to TMZ the explosions occurred at the end of Grande's concert. Fans allegedly scrambled to safety while they clutched the pink balloons that typically drop on the crowd at the end of the show.
A 22-year-old attendee told British newspaper The Independent. that around 10:45 p.m. local time, there was "one bang and essentially everyone from the other side of the arena where the bang was heard from suddenly came running towards us as they were trying to exit Trinity Way and that was blocked so everyone was just running to any exit they could find as quickly as they could. Everyone was in a huge state of panic, calling each other as some had gone to the toilet whilst this had gone off, so it was just extremely disturbing for everyone there."
Several people present said that "there was no explosion but rather a loud bang, which created a stampede and people were injured trying to get out of the facility," reports TMZ.
The Greater Manchester police have arrived on the scene, and issued the following statement on Twitter: "Emergency services are currently responding to reports of an explosion at Manchester Arena. There are a number of confirmed fatalities and others injured. Please AVOID the area as first responders work tirelessly at the scene. Details of the casualty bureau will follow as soon as possible."
This news is breaking, and will be updated as new details emerge.