Manolo Blahnik's Fan Club Gathers in New York
At the Couture Councils annual luncheon.
---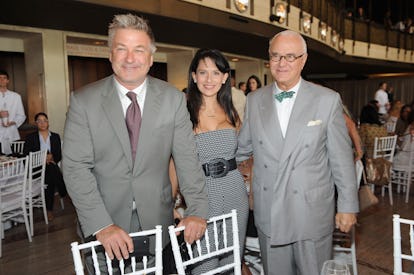 Just one day before the official start of New York Fashion Week, Manolo Blahnik provided something of a case study in staying power at the 2015 Couture Council of the Museum at the Fashion Institute of Technology Awards Luncheon, presented by the Spain Tourism Board, where he was honored with the Couture Council Award for Artistry of Fashion. Simon Doonan put it best.
"In fashion, the idea that you're in and you're out is rubbish. If you're talented, you can stay as long as you want," said the Barneys New York creative ambassador, recalling Blahnik's early store in the '70s in London. Sadly, he wasn't representing the haute cobbler's workmanship in his choice of footwear. "I wish I was. I have very small feet so I could just run to the store and borrow a pair."
Doonan was one of the few guests at the David H. Koch Theater in such a predicament (one woman even sported a fascinator crowned with a pink satin, diamante buckled Manolo pump). The issue for most was choosing from their vast collections.
"I went with coral [mules]," said Jamee Gregory. "I thought, do I want to be a fashion victim in black? No, it's so hot outside. And they are so comfortable!"
Hilaria Baldwin couldn't recall how many Manolos she owns, but happily offered that her husband takes a keen interest in her choices from head to toe.
"I really like it, that he cares about what I wear and how I look," she said. "He can be my girlfriend, too."
"My wife is very sensible, she's not crazy, crazy about shoes. But she's passionate. I want my wife to be happy," said Alec, though he was less gushing about his own stake in her decisions. "Are you asking if I have a sexual shoe fetish? The answer is no."
That wasn't the question, but good to know.
For all the praise, Blahnik himself evinced little understanding of the source of his success.
"This is one of the great mysteries of my life," he said, as he rushed upstairs to his luncheon seat. "I'm very lucky to do what I love to do and this amount of people loving what I do is incredible."
After a Spanish-themed meal, Uma Thurman took to the dais to introduce Blahnik and present him with his award.
"He's the only man I can honestly say has been with me every step of the way—literally," she declared, to much laughter.
Likely, many other women in the audience felt the same.
Photos: Manolo Blahnik's Fan Club Gathers in New York
Alec Baldwin, Hilaria Baldwin and Manolo Blahnik. Photo by Getty Images.
Uma Thurman. Photo by Getty Images.
Martha Stewart. Photo by Getty Images.
Camila Alves. Photo by Getty Images.
Petra Nemcova. Photo by Getty Images.
Dr. Joyce F. Brown. Photo by Getty Images.
Lisa Perry. Photo by Getty Images.