Retail Therapy
Mantras, chakras, chants—no, it's not a tarot card reading. It's the latest merch-meets-metaphysics obsession.
---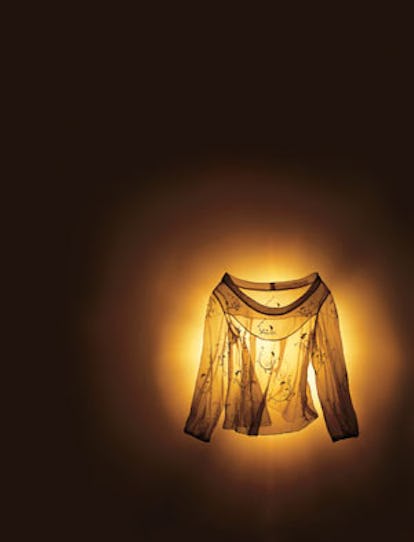 Leila Astarabadi is a fashion fanatic—she shops at Barneys New York and has a closet rife with Prada, Rick Owens and Jil Sander. "I love Lanvin," says the willowy redhead, her tresses spilling down in perfectly coiffed curls. "For me, lately, it's just brilliant." That Astarabadi has started a fashion line of her own this year falls seamlessly into that chic, clotheshorse persona. Hearing her talk about it does not.
Perlota's 18k gold and sapphire Pentacle pendant and 18k gold and diamond Healing Hand charm.
The conversation begins simply enough, as the designer describes her new line. "Everything's really comfortable and light," she says. "It's minimalist and clean too." Then she cuts to the chase: "The line is simple because the truth is simple," she adds. "And simplicity allows your divineness to show." Lest one miss the point, the collection is dubbed Conscious Cloth. "The clothes are embroidered with mantras inside," Astarabadi continues. "When you have words, sacred words, each and every one holds the power of creation. And when you chant mantras repetitively, you're repatterning and bringing healing to experiences and karmic influences."
Come again?
"I infuse the line with the vibration of chanting," she explains. "Most of the chants I put behind the heart so that the energy is felt." By that she means she embroiders each chant on the inside of a garment, at heart level, like a sort of spiritual nicotine patch phasing out the negative with bursts of holistic hoo-hoo. Perhaps not surprisingly, Astarabadi doesn't structure her work around anything as pedestrian as the fashion calendar. She offers no distinct spring or fall collections, never mind resort. "I start things during the new moon," she says. "When you work with the waxing moon, it's much more powerful because all the energy is accumulating. You're planting the seed in the right soil, so you get the tree with the right fruit." Said fruit doesn't come cheap. Prices start at $750 for cashmere boy shorts and climb to $6,200 for gowns. "I chose these fabrics because they have the highest vibration," the designer explains of her pricey textiles. Something must be vibing right; Conscious Cloth is pulling in celebrity clients including Uma Thurman. It's merch meets metaphysics, and it doesn't take a yogi to figure out the commercial appeal.
Conscious Cloth's cashmere gown.
But Astarabadi is not alone in this merging of worlds. Consider Donna Karan. Way back in 1996, as she was taking her company public, Karan let all her New Age dalliances slip in interviews, bantering about hypnosis and her seven past lives. An anomaly at the time, the stories had industry insiders buzzing about the possibility of scaring off potential investors. Nowadays, no one flinches when the designer announces she's branching out into the alternative healing arena, as she did with her Urban Zen Initiative last year.
It's as if everyone is drinking the otherworldly Kool-Aid, and the resulting synergy is one with mile-long marketing legs. In July Chicago's Ruby Room spiritual spa, where services range from Intuitive Numerotherapy and Crystalssage to more mundane brow tweezes and highlights, acquired the rights to Chicago Fashion Week. "We're giving the concept a bit more soul in terms of sponsors, designers and people that we attract," says owner Kate Leydon. "We'll be aligning with all intuitively conscious businesses." But, she adds, "not in a way that's hippie-dippy-do."
There's no denying that the New Age stereotype of yore, in which a serene aura was typically Birkenstock-shod, has given way to a more glam approach. Exhibit A: Madonna. (Or Christy Turlington Burns, an Astarabadi client.) Exhibit B: the spate of spiritually minded jewelers.
"I have a weakness for luxury," says Perlota designer Sophie Pendleton, a former stylist for such glossies as Madame Figaro and Spanish Elle. "I like nice things. I like beautiful things. I don't want to deny that." Still, that doesn't stop the current Singapore resident from pitching her sleek fine jewelry wares as magical charms with a little Age of Aquarius kick. Her pieces have names like Alchemy and Pentacle, and she chooses gemstones for their alleged healing properties. "You feel their vibrations," she says, "and they really balance your mood and emotions." Ditto for Raphaele Canot at De Beers. This summer the creative director added an Amulets collection, based on primitive masks, to the company's Talisman line, which features rough-cut diamonds. "I went back to the meaning of the diamond in history," Canot says. "It has this very deep talismanic dimension."
Melissa Joy Manning, whose work incorporates found objects like Nepalese yogi charms, recalls one customer who rushed back to her studio hours after buying a bear-claw necklace because "it made her heart race when she wore it." As for Manning's stone creations, she notes that her designs have open backs. "If you buy a sapphire ring and it has a closed back," she explains, "the energy doesn't flow. You aren't a vessel for it."
Jewelers Ana Reign and Catherine Michiels go a step further. Reign, a graduate of San Francisco's World School of Massage and Holistic Healing Arts, burns sage incense over her pieces "to clean out any negative energy." In addition, she dips her crystals in sea salt and performs Reiki, the art of healing with the hands, over them. Key clients get an even bigger bonus: Reign works with a local Russian gypsy named Lolita, who'll boost her designs with, say, antiallergy or postdivorce get-through-it vibes.
Michiels also enhances her collection of charm bracelets and necklaces—not to mention wedding rings and handbags—with Reiki magic. "But I don't want to promote it as, Oh, I'm the woman with the light in her hands," she says. "I don't want to sound like this New Age freak. This is jewelry. I'm not the earth-mama type wearing clogs or anything."
Still, in an industry in which designers make electric dresses and coat shaggy furs with 24-karat gold, could these metaphysical add-ons simply be a case of marketing magic? Perhaps, but consider the new jewelry collection Equilibrio, designed by Federico de Alzaga in collaboration with the California firm Clarus. The lineup of sterling silver or 18-karat gold pendants, cuffs and belt buckles purports to improve energy, awareness and well-being, much like the others. The difference: Clarus has clinical research to back up its claims. A University of Vienna study, for one, demonstrated that human tissue cells are more resistant and respond better to chemical stress when exposed to the technology developed by the company. "We process our products with sets of frequencies," explains Richard Gray, president and CEO of Clarus. "They're resonating with the frequencies in your physical body and, guess what? Your body reacts." Gray also mentions plans to expand into clothing as well as cosmetics in the near future. "New Age is no longer really New Age," he says. "It's now the wellness market—organic foods, yoga, acupuncture. What's happening now is that the product side is catching up."
All of which puts Astarabadi's embroidered chants in perspective. "It's abstract, it's esoteric, it's not going to be for everybody," she remarks. But if you want to wear her clothes just because they're pretty, the designer is okay with that too. "We're here to experience earthly pleasures," she says. "Enjoy it."
Gown: Jamie Chung; Jewelry: Courtesy of Perlota