Marc by Marc Is No More
In case you missed them, here are the top style stories of the week.
---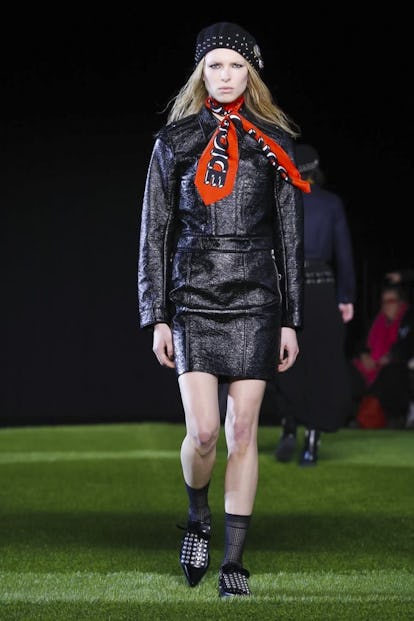 American Apparel The brand now plans to Photoshop nipples and pubic hair on models. The waxing industry rejoices.
Chanel The luxury fashion house plans to actually make some bags cost the same all over the world. Finally.
Dogg, Snoop Wore a leather peplum to dinner in Beverly Hills, made sorority girls everywhere jealous.
Dundas, Peter The former Pucci designer was officially named the creative director of Roberto Cavalli, after much speculation.
Dunn, Jourdan The model, mother, and sneaker fiend announced that she's designing a collection of children's clothing. Her son, Riley, will challenge North West in the under-10 fashion hierarchy.
Fashion Police Following the departure of both Kelly Osbourne and Kathy Griffin, the TV show announced it will be on hiatus until September. Giuliana Rancic to keep quiet till then.
France Will most likely pass a bill that bans brands from employing too-skinny models.
Gisele The supermodel may have announced that she's retiring from the runway. May also have been misunderstood. Only time will tell.
Giorgetti, Massimo The MSGM creative director will replace Peter Dundas as creative director of Emilio Pucci. Gucci The Italian fashion house is getting into the wearable tech game with a collaboration with Will.i.am.
Hadid, Gigi The social media-savvy supermodel was accused of using cocaine at a Victoria's Secret party—based on her boyfriend's Snapchat, of course.
Marc by Marc Jacobs Will be discontinued, and dissolved into Marc Jacobs's mainline. Sorry kids.
Mimran, Joe The Joe Fresh founder is leaving his eponymous brand, which will now merely be called Fresh.
Rihanna Attended enough Dior shows to earn a spot in the brand's campaign roster.
Smalls, Joan The model revealed the collection she designed for True Religion. Will not be designing pieces in North West's size.
Sophia Webster The shoe designer is adding a bridal collection to her repertoire. Say "I do" to buying a pair.
V, Anne The model revealed that she's pregnant—by Instagramming her sonogram. No Snapchat needed.
Waterhouse, Suki Is reportedly no longer dating Bradley Cooper. Will destroy the one photo ever taken of them together.
West, North Looked grumpy leaving ballet class—perhaps because of the lack of child-sized couture available for her uses.
Williams, Pharrell Will receive the 2015 CFDA Fashion Icon Award. Will continue to follow in Rihanna's footsteps and be the face of Dior in 2016.