Street Style Star Marc Goehring: "Don't Try Too Hard"
The stylist and fashion editor at 032c dishes on where to shop in Berlin and what new brands to know.
---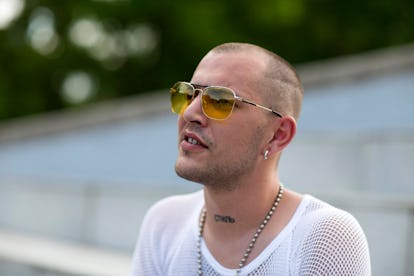 Stylist and fashion editor at the German magazine 032c, Marc Goehring was regularly spotted all over Europe this summer by street style photographers outside the men's shows. When he's not wearing 032c merch, he's flaunting mesh tank-tops, burnt Ottolinger button-downs, and always outrageous shades. Born in the Bavarian countryside, Goehring dreamed about working for 032c since he was 15. Now 24, he can rep the brand as an insider. Take one look at him, and you'll understand why he got noticed. Now that Berlin Fashion Week is over, he offered some advice to aspiring street style stars.
When did you start working with 032c and what do you love about your job? I started working with 032c about a year ago. I've been reading it since I was 15 so it's a dream come true. I love my colleagues (#bestteam) and, as Joerg once said: it's Vanity Fair on crack. It's a good fit.
How would you describe your personal style? People say it's like, "Cunty Military with 80s Casual." Football hooligan meets The Birdcage.
Street style do's and dont's: Be yourself. Don't try to too hard.
Street style icons: Mirrors. Just kidding! My boyfriend, Mumi. And Angelo Flaccavento always looks great.
What are you thinking about when you're picking a look to wear to a show? I pick looks quite intuitively. If I look in the mirror and think "that's rad," that's it.
Accessory of choice: Customized Tom Ford; life is always sunny with them!
Daily uniform: I try to mix it up as much as possible, but it's definitely got to be comfy.
Preferred footwear: Hoka "Mafate Speed" and Vans classis Sk8-Hi.
Favorite shows from Europe so far: Kiko Kostadinov in London; Gucci in Milan; Balenciaga in Paris.
New brands you're into: Alyx, Ottolinger, and Kiko Kostadinov.
Favorite store(s) in Berlin: Townes store owned by my friend Shoko. She's got an incredible archive from Raf Simons to Helmut Lang. Plus a classic army shop with maybe the best name ever: "Trendy Army Store."
Last purchase: Junya Watanabe Man X Lacoste Patchwork Polo.
Lusting after: Cigarettes, to be honest.
Something you would never wear: Chino pants.
Most prized possession(s) in your closet: A Gianni Versace Couture coat and customized traditional Lederhosen.
Rules you live by as a stylist: Never over-style!
Current Instagram muses: The best accounts out there are @michelgaubert and I am obsessed with @scottramsaykyle.
Can you describe your tattoos? The theme is "planet terror." My latest one is of two T-Rexes fighting, a drawing by my friend Christophe Chemin.
What will fashion look like in 10 years? Chic, I hope.
Watch W's most popular videos here:
Photos: Street Style Star Marc Goehring: "Don't Try Too Hard"