Down the Rabbit Hole
Marc Jacobs's new accessories have an Alice in Wonderland–style whimsy.
---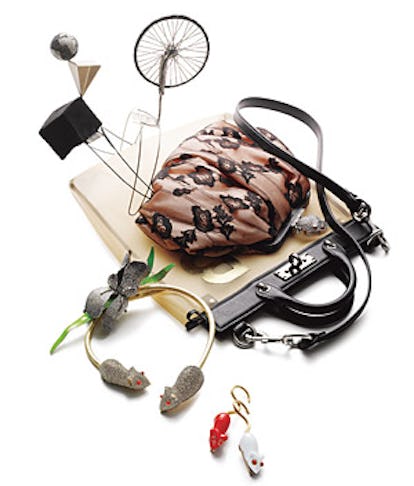 Marc Jacobs is no stranger to playful ideas, and now a bounty of fanciful trappings from his spring collection captures fashion at its most irreverent and carefree. Hyper-adventurous? You might picture a pair of pavé brass mice running hickory-dickory around your neck, or go for a Mad Hatter–like Stephen Jones bicycle wheel intended to precariously perch atop your head. And almost anyone with a flair for the dramatic would love a wonderfully tricky doubled-up handbag; it's an ornate satin purse with a toad clasp plopped on a mesh tote. Whatever your choice, such witty notice-me accessories are sure to wow at your next tea party.
Clockwise from top left: Stephen Jones for Marc Jacobs's lamb suede, acetate and glass headdress and copper and velvet Duchamp bicycle headdress; Marc Jacobs's leather, mesh and lace double bag with metal hardware, $2,100, at Marc Jacobs, New York, 212.343.1490, marcjacobs.com, metal, brass, glass and resin mouse brooches, $445 each, at Marc Jacobs, Los Angeles, 343.653.5100, metal, glass and pavé brass mouse choker, price available upon request, at Marc Jacobs, New York, 212.343.1490, and glass and resin iris brooch, $2,095, at Marc Jacobs, Las Vegas, 702.369.2007, marcjacobs.com.