Re-Making His Marc
Having bid adieu to Louis Vuitton, Marc Jacobs is treating his own label to a major makeover.
---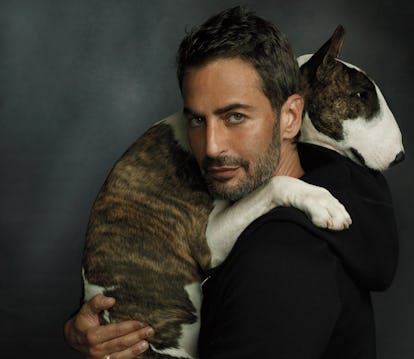 Photographer: Steven Meisel Stylist: Edward Enninful
On a wintry afternoon in December, a few days before Christmas, Marc Jacobs was sitting in the lobby of the Mercer hotel in downtown Manhattan, sipping an espresso and trying to slow the carousel of ideas, schemes, fantasies, and anxieties that is perpetually at spin inside his mind. He'd arrived from Paris two days earlier, and this was his second stay in New York since resigning as the creative director of Louis Vuitton, a decision he announced in October and one he made in order to focus on taking his own company public. While the fashion world was still digesting the news of his departure—making headlines is a skill Jacobs has honed as effectively as making clothes—the designer was too busy working on prints and fabrics for his upcoming fall collection to indulge in any grieving or nostalgia. "I got that out of my system in Paris," he said, launching into one of the digression-heavy, vulnerability-exposing monologues that are his favored mode of communication. "I cleaned out my office six weeks ago. I said my goodbyes, I shed some tears, I was a little depressed and felt my feelings, you know? Now I'm here, and it's time to feel something else, which, to be honest, at the moment is feeling creatively burnt out. But"—he clarified without pause—"I feel that all the time. Burnt out, inspired, scared, excited. Something I learned many shrinks ago is that it's really all the same."
He took a tiny sip from his tiny cup, and when he resumed speaking it was about St. Barths, where he would be heading in less than a week for the holidays. "My first vacation in forever," he remarked, not so much sighing as pretending to sigh—fatigue being a condition Jacobs inoculated himself against years ago. "Well, in April I went to Brazil for my 50th birthday, but the trip was disastrous"—he puckered his cheeks, pale and pudgy in his previous incarnation, bronzed and taut now. "So it doesn't really count. Fifty! I can't believe I'm 50! But I'm the youngest 50-year-old I know, so it's okay. Anyway, what should I read in St. Barths? My friend Sofia"—as in Coppola, the filmmaker and longtime Jacobs muse—"gave me a book on Bob Fosse, which might be fun. Or maybe a novel?" He paused, gathering his breath. "A beach house with marble floors is always a weird thing, isn't it?" he noted, alluding to the place he'd rented on the island, picturing his dog Neville (a hyperactive bull terrier with more than 26,000 followers on Instagram) scampering through the halls. "At the very least, it will be amusing on an aesthetic level," he concluded, when suddenly he found himself distracted by a couple walking through the lobby. "Oh, hey! Look at that!"
The two were of indeterminate age, somewhere between 15 and 50 in what has become the status quo in certain urban precincts, and studiously disheveled in just the way Jacobs adores: a high-low, gender-ambiguous aesthetic he has mined and projected onto the culture more successfully and dynamically than any other designer. Indeed, what drew Jacobs's attention to the couple is that they were carrying a number of shopping bags bearing his name—long a familiar sight in this neighborhood, given that he opened his first store just up the block in 1997—yet one that never fails to elicit in Jacobs, a man who needs approval much the way a plant needs sunlight, a childlike thrill. "People buying my stuff!" he exclaimed. "How nice! How thrilling! I see it all the time at the gym, too: these happy men sweating in my T-shirts!"
That Jacobs remains this excited about the company he founded 21 years ago is a rarity in an industry defined by jaded nonchalance—and among his most remarkable assets as a designer, one he hopes will guide him in the next chapter of a career marked by a continual defiance of expectations. During his 16 years at Vuitton, for instance, Jacobs created the template for how thoroughly a contemporary designer can revive a historic brand, transforming what was a stuffy prestige luggage house into the fashion-forward juggernaut it is today. The men's and women's ready-to-wear collections, the shoe and accessory lines, the jewelry, the fragrances, the must-see runway shows and must-have handbag collaborations with artists like Takashi Murakami and Richard Prince: None of that existed before Jacobs, all of it testament to the singular power of his verve and tenacity. Equally impressive as those accomplishments is that Jacobs—open as he is about the fragility of his emotions, the countless hours spent in psychiatrists' offices, the two stints in rehab, the heartbreak over porn stars, a life of drama mapped out in the 33 tattoos on his body—has managed to achieve them without sacrificing his sanity. On the contrary, he has found a peculiar comfort in the chaotic schedule that has been the undoing of peers like Dior's John Galliano (who was fired in 2011 after a boozy anti-Semitic tirade) and Alexander McQueen (who took his own life in 2010). "Yes, it's very hard," Jacobs conceded. "But that's why very few people are chosen to do it. Very few people can do it." He smiled, showing off teeth that, despite a practically lifelong two-pack-a-day smoking habit, remain mysteriously white. "Do you think Madonna's got it easy when she goes on tour?"
The clearest evidence of Jacobs's stamina, however, can be found in the evolution of his own company. His tenure at Vuitton may have been consuming, but he never lost sight of the brand he founded in 1993, growing it from a boutique line with a single store and $20 million in sales into an empire with 200 stores in 60 countries and sales nearing $1 billion. In achieving this, Jacobs credits Robert Duffy, his longtime business partner, close friend, unofficial life coach, and measured yin to Jacobs's frenetic yang. "When I first started at Vuitton, Robert negotiated a deal that made sure LVMH"—the French luxury conglomerate that owns Vuitton—"would help us grow Marc Jacobs," he said, explaining how LVMH came to own a significant percentage of his company. "For Robert, it was always a means to an end. I don't feel like I've ever neglected my own line, but I couldn't differentiate between the two. I don't think about the big picture. I think about designs, products, shows, fabrics. I think about how amazing it is to work with these ateliers in Paris, and so on and so forth." He paused. "Thing is, just as a computer has only so much storage space, I have only so much energy to go around. If I want to take Marc Jacobs, the company—I'm not talking about myself in the third person; that would just be weird—to the next level, I need to focus 100 percent on that."
Pierre-Yves Roussel, the chairman and CEO of LVMH, began to envision what that next level might look like last year, when Jacobs partnered with Sephora, also owned by LVMH, to launch Jacobs's first beauty line, a critical component for any brand seeking growth and global domination. Whereas some designers see such deals as little more than allowing their name to be stenciled onto lipstick tubes, Jacobs threw himself into each step of the process, ensuring that everything from the color palettes to the packaging reflected the brand's rebellious and quirky sensibility. "He was so involved, but, most importantly, he was actually enjoying himself," Roussel said. "That's when we started to really imagine all that would be possible if he were fully committed to only Marc Jacobs. Marc is still young, with all his creative energy intact. But he's not 20, and if he stayed longer at Vuitton, we simply wouldn't be able to do what we're doing now." Among the first steps toward positioning the company for an initial public offering (IPO) will be the building of a new flagship store in New York. To be opened at the end of the year, it will gather together for the first time the various facets of the brand that currently exist as neighboring boutiques in New York's West Village: his Marc by Marc Jacobs store for women; his bookstore, Bookmarc; Marc by Marc for men; and Little Marc, for children. It will be a kind of fantastical MarcLand, where $2,300 shearling coats are sold alongside $2 condoms and $40 rain boots, each in some ephemeral way enhancing the value of the other. "That will be really important," Roussel said. "Marc's is a brand of his own experience, a brand of his whole world, and we want to show that on a bigger stage than we have so far."
At the Mercer, Jacobs was wearing maroon Adidas track pants, a maroon thermal, and scuffed white Adidas sneakers—an outfit that would be his uniform over the next three days. He had just come from his therapist's office, where he spent the hour discussing the mix of fear and excitement he was feeling about the latest turn his life had taken. "I was talking to him about how there's all this change in the air, how I have all these ideas about how to go forward, but how on some level I don't want anything to change," he said. "You see, I hate change. Well, I love it in a comfortable/uncomfortable sort of way." Indeed, as Jacobs spoke, a giddiness began to take hold as he went into detail about his goals and possibilities. "I'm thinking about everything. I'm thinking we need to redesign the logo, the packaging. What about the shopping bags? The store interiors?" One of his primary objectives is to build up the shoe line, which has never been particularly strong, as well as to revive the handbag business (long a financial cornerstone of the company), which has lost some of its sheen in recent years. "I was letting the design team do the bags, and, unfortunately, without my involvement, you get a lot of merchandisers telling the design team what to do," Jacobs said. "It got very polluted and diluted and lost its identity, and I think that's the same with the shoes. Not to blame anybody, but things slipped, and the only one who can change that is me."
Among the first public signifiers that a new era has dawned is the current advertising campaign. Featuring Miley Cyrus, it was shot by David Sims, making it the first time in 16 years that Jacobs has not worked with Juergen Teller, whose past Marc Jacobs campaigns (Victoria Beckham emerging from a shopping bag, a topless Charlotte Rampling lounging on a bed) came to define the brand almost as much as the clothing. "Juergen didn't want to shoot Miley. I didn't get into why," Jacobs said. "It was our first time disagreeing, and maybe if we had disagreed more in the past I would have been more patient. Who knows? I guess a lot of people had problems with her behavior or something—because they're all so pure and chaste, right?" Jacobs, an exceedingly earnest personality in general, let slip a sarcastic snicker. "One thing I don't tolerate is hypocrisy. Anyway, my attitude was: You don't want to do it? Fine. Sorry it's not working for you; but it's my choice." Parting with Teller wasn't part of any specific brand strategy—"I can't even say the word 'strategy' with a straight face; we're really just intuitive and impulsive," Jacobs noted—but it allowed him to become more at ease with shaking things up at every level of the company. "For the first time in a long time, this is the only thing I have to think about," he said. "It feels like an opportunity to clean house and redecorate and renovate and get in touch with what initially made us tick, you know?"
Jacobs, Duffy, and their partners at LVMH had been considering the prospect of an IPO for some time, and cursory conversations became more serious as signs pointed toward the renewed strength of the luxury industry. When Vince, a much smaller apparel line known for its casual cashmere sweaters, went public in November, its shares rose 43 percent in its first day of trading. Most encouraging, though, has been the staggering success of Jacobs's contemporary Michael Kors, who has had a similar career trajectory—designing for the LVMH brand Céline in the late '90s while expanding his own company, which he successfully took public two years ago. But whereas Kors's approach echoes that of designers who have built empires by exploring a single aesthetic—the monochromatic cool of Calvin Klein, say, or Ralph Lauren's WASP rusticity—Jacobs has always been more about cultivating and selling a spirit, often schizophrenically rejecting whatever he did before, to create a brand known more for spontaneity than predictability. This presents a unique challenge in terms of expansion. "That's really what we're trying to figure out," Jacobs said. "I don't know if it's about sponsoring the—what is the football thingy that happens every year? The Super Bowl? Is it about sponsoring the Super Bowl? Do we align with Disney? I don't know. Michael Kors, he has always been a great designer—he's been a pillar of American fashion for years and years; his sensibility hasn't changed. But he was on Project Runway! He became a household name because of that. Well, I'm not going to be on Project Runway. I'd do other things—and believe me, I'd do things that people would question—but Project Runway won't be one of them. I don't want to follow in someone else's footsteps. I want the results—I just want them our way."
While the energy and the identity of Marc Jacobs, both the company and the man, remain intrinsically linked to New York, where Jacobs was born and raised, it is in London where his talk about the future moves from the abstract into reality, and where the full scope of how drastically the company is changing begins to come into focus. In May, Jacobs promoted Katie Hillier, a fixture in London's edgy fashion community who had been overseeing the brand's licensing deals, to be the creative director of Marc by Marc, the more affordable, street-centric line that was launched in 2000 and accounts for the majority of the company's clothing-based revenue. Since then, the "diffusion" niche has become a mainstay of fashion, with designers like Alexander Wang taking advantage of a consumer Jacobs was largely responsible for creating, and is now keen to woo back with Hillier's help. "The name, for starters, is going to change," Jacobs said, explaining that Marc by Marc was not his first choice but one he settled on due to trademark complexity. "I've always hated that name. I have an idea of what it should be, which I presented to everyone, but I can't really say it yet. I'm very superstitious that way. I always believe that if I say something before it's done it won't really happen."
Rather than work out of the Marc Jacobs offices on Spring Street in Manhattan, Hillier opted to move the Marc by Marc design studios to London. Located inside a crumbling 19th-century schoolhouse in Shoreditch, a neighborhood where the streets are filled equally with young hipsters and Bangladeshi line cooks, the space doesn't resemble the headquarters of an international brand so much as the loft of a conceptual artist awaiting discovery: three small, drafty rooms with plaster walls and scuffed herringbone flooring. "I just think at the moment, people are a bit bored," Hillier, a petite and ebullient woman with straight blonde hair and a face rarely touched by makeup, said one rainy afternoon in December, smoking a cigarette in the studio while preparing for a meeting about music for the fall show. "Whether it's blogs, Instagram, Facebook, or whatever, there's so much stuff that people get bored quickly. To be able to make people excited and have them love something and think a little differently about fashion and the brand, that's really the goal now. I remember when I was first visiting New York, that's where I would go: Marc by Marc. You wanted to be that girl; you wanted to hang out in the store and walk away with that bag. We want to bring that energy back."
With this in mind, Hillier hired Luella Bartley to design the line—the first such creative shuffle in a decade, and one that caused an immediate stir, both inside the company and within the fashion world at large. Bartley, whose own line, Luella, was a cult favorite before falling victim in 2009 to the recession, is known for her idiosyncratic, unpredictable sensibility, which she is looking forward to bringing to Marc by Marc (as it's still known for the time being). "It's a different way of working," said Bartley, joining the conversation via speakerphone from Cornwall, in the South of England, where she was spending the holidays with David Sims, her longtime partner. "The nice thing about being in our little office in the middle of nowhere in London is that it keeps things small enough to still have that sense of spontaneity. It's nice to be slightly removed, you know? When you're in something big, there's an element of formula to it. You're always trying to keep yourself slightly away from it, to retain that innocence about doing a collection."
Understanding the importance of the fall collection in establishing the new tone for both the line's particular aesthetic and the company as a whole, Hillier and Bartley spent countless hours discussing the girl to whom they wanted to appeal, pacing the studio and tacking up onto mood boards images ranging from Chloë Sevigny (Kids era) to Gwyneth Paltrow (The Royal Tenenbaums) to anonymous cliques of adolescent skaters smoking cigarettes in graffiti-stippled alleyways. The result is a collection heavy on references to motocross, BMX, and Japanese manga, meant to attract the sort of youthful woman one can imagine cutting out early from a charity benefit in order to share a bottle of wine with a friend on a fire escape. "It's about being playful again, even a little boyish, and having lots of disparate influences," Bartley explained. "I think that's the charm of the Marc girl. She doesn't buy a head-to-toe designer look, so we can't design in that way. You might have a traditional Japanese hair accessory and put that with a motocross shirt and a beautiful silk dress. Basically, I'm thinking about how we would dress, as opposed to putting a fashion collection together."
Before arriving in New York, Jacobs visited Bartley and Hillier at the London studio, seeing the space and designs for the first time, talking with the two women about where he sees the company going and delighting in the idea of it taking on an increasingly international sensibility. "It's like a New York state of mind that now exists everywhere," he said. "London streets, Paris streets, Milan streets. I don't want to get too ethereal about this, but that's where I'm going in my head." Inspired in part by the visit, Jacobs was considering the idea of showing his higher-end Marc Jacobs collection in Paris. "There's always been this impression that I've been in Paris only to do Vuitton, and New York for Marc Jacobs, but that's never been the case," he said. "I have Marc Jacobs offices in Paris, and, if anything, maybe they need to get bigger. You know, I'm not opposed to someday showing Marc Jacobs in Paris. It's part of what I thought might be a nice way to distinguish between the two lines."
Hillier and Bartley were nervous when Jacobs arrived. "It was quite daunting, to be honest," Hillier recalled. "We were like, 'What the fuck are we going to show him?' And what if he hates it all?" Bartley, for her part, was quickly put at ease by Jacobs's enthusiasm and eagerness to be intimately involved. "When I got the job, I didn't really expect to be working with him so closely," she noted, echoing a sentiment that can be heard throughout all of Jacobs's workrooms these days. "In the past, I think it's been kind of disconnected: You'd get the myth of Marc, but you didn't really get that connection. Sitting here, just shooting the shit with him, you could feel the excitement he has for his own company. It's real and powerful and really intoxicating."
A few days after his coffee break at the Mercer, Jacobs was on the seventh floor of his New York headquarters, smoking a cigarette in his brightly lit design studio and meeting with his handbag team. It had been a whirlwind few days—he was flying to St. Barths later that evening, and the previous night he had been at Linda Evangelista's home for a holiday party—but Jacobs remained a dervish of curiosity and focus as he chugged an iced coffee while looking over prototypes for bags that would not be in stores for nearly a year. If he was still feeling creatively "burnt out," he wasn't showing it, spending most of his time sprawled on the floor, examining each bag with surgical obsession, debating seemingly minuscule details—from the size of the leather tassels hanging from the zippers to the weight and shape of the chrome clasps and studs. "I'm going to drive you all crazy today," he said, squinting through his oversize glasses at a hot pink trapezoidal bag that was either too clunky or not clunky enough.
After three hours, Jacobs's attention had begun to wane. "I'm reaching the get-me-out-of-here point," he announced, thinking more about strolling the beach with his dog than whether the leather could or should be more matte. "Are you sure you guys don't want to continue this tomorrow out by the pool?" Teasingly, he turned toward a member of his design team. "I'm sure you can find a swimsuit. There's an Hermès boutique on the island. And Vuitton, too!" Jacobs smiled. He was not yet content with the bags, but then again, he is never quite content with anything. "When I get back, we'll work weekends, okay? When am I back, anyway?" He closed his eyes for a moment, rubbing his temples as a cigarette smoldered in the ashtray. "Is this the craziest time in my life?" Jacobs asked. "Yes, it is. But there's always a reason why any given moment is the craziest moment in my life. That's just how it is. Always a fresh hell. Which is fine. So long as it's a fresh hell, and not the same old hell, you know?" With that, he smiled, his shoulders loosening. "The same old hell, now that would just be boring."
Photos: Re-Making His Marc
Marc Jacobs with his dog Neville, in New York.

Photographer: Steven Meisel Stylist: Edward Enninful
Marc by Marc's Katie Hillier and Luella Bartley, in New York.

Photographer: Steven Meisel Stylist: Edward Enninful
Marc Jacobs on the runway after presenting a collection for Ruben Thomas Inc.'s Sketchbook label, 1985. Photograph courtesy of CNP Montrose.
Marc Jacobs with his dog Tiger, 1990. Photograph courtesy of Chinsee/Conde Nast Archive.
Marc Jacobs with models in his Perry Ellis Grunge collection, 1992. Photograph courtesy of designer.
His Louis Vuitton debut, 1998. Photograph courtesy of Getty Images.
Marc Jacobs at the Met Gala in New York, 2012. Photograph by BFAnyc.com
Marc Jacobs at his final Louis Vuitton show, 2013. Photograph courtesy of Louis Vuitton.
__Get the full issue featuring Marc Jacobs guaranteed. Subscribe Now.__