Marc Jacobs Is Back With Another Ridiculously Wonderful Party Dress Code
For the designer's Resort 2017 celebration he's dictating "a decorative frenzy in electric paradise."
---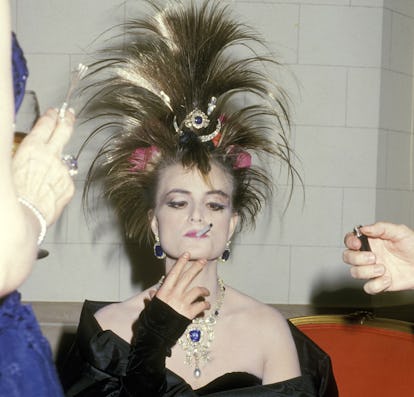 WireImage
In 2015, Marc Jacobs hosted a book party that dictated a dress code that was so glamorously quixotic it sounded not so dissimilar to the rundown of clubs from one of Saturday Night Live's Stefon sketches. Jacobs instructed guests to wear everything from "Patti Hearst Symbionese Liberation Army gear" to "platinum records as head gear."
Well, the Marc Jacobs chic and strict dress code has returned, this time for a party for his own 2017 resort collection. The clothes themselves are decidedly '80s, and the dress code even more so.
Fashionista.com passes on the rule book:
"Glamorous Dress Code Door Policy: Chic 80's with voluminous proportions. Think Gloria von Thurn und Taxis at Le Cirque with Stephanie & Caroline of Monaco. Success, fame and glamour. Punk princess with chiseled cheekbones and exaggerated brows, make Blondie and Brooke Shields proud. Mousse those tresses and tousle them high for a statement hairdo with pumped-up volume. Vertiginous pumps like you're sitting pretty for your Andy portrait. A decorative frenzy in electric paradise; more is more. No posers and definitely no preppies. Be the life of the party, and remember, girls (and boys) just wanna have fun!"
We're not even sure what "a decorative frenzy in electric paradise" is supposed to mean, but doesn't it sound wonderful?
While the 2015 party was themed around Studio 54 (the legendary club where disco music met status), this shindig will be in tribute to Paradise Garage, one of the clubs that gave birth to disco. Originally courting a clientele of black and Hispanic LGBT patrons, the club's unique mix of dance music turned it into a New York sensation (well, except for posers and preppies, naturally). In fact, the club was where Madonna shot her first ever music video for "Everybody."
The whole scene was captained by legendary DJ Larry Levan, and it's not secret that Jacobs has had Levan on his mind lately. The DJ's remix of Man Friday's "Love Honey, Love Heartache" soundtracked his Fall 2016 campaign video after all.
Of course, Gloria von Thurn und Taxis or Stephanie and Caroline of Monaco weren't regulars at the Garage, but Jacobs is going for a very sort of specific '80s melange here.
It's dress code almost as poetry and as a sort of literary mood board. It's also a good excuse to learn your word of the day by looking up the meaning of vertiginous, or brush up on your party icon history by reading up on von Thurn und Taxis.