Marc Jacobs Keeps It Classy With Nude Instagram
In case you missed them, here are the top style news stories of the week.
---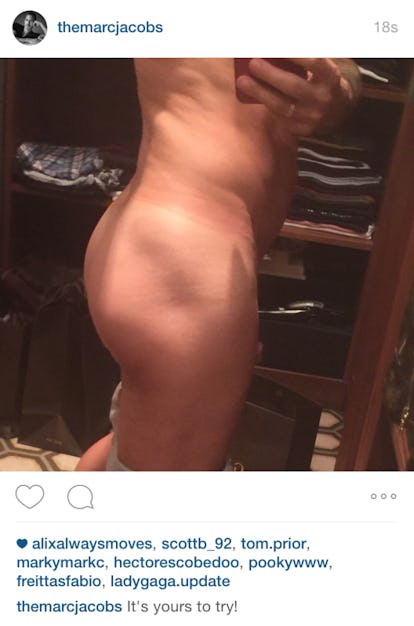 Armani, Giorgio Cast a crew of TV stars in his new ad campaign. Sorry, Jon Hamm wasn't included.
Balenciaga Cast Kate Moss and Lara Stone in a steamy new ad campaign. The folks at Calvin Klein wish they'd thought of it first.
Beyonce Carries a macbook as a clutch. Knows that metallics are so in for summer 2015.
Copeland, Misty Was named principal dancer at the American Ballet Theater. Get it, girl.
Cyrus, Miley Is apparently a big fan of Jacquemus. But really, who isn't?
Damon, Matt Now has a long, flowing ponytail. Reminds Jared Leto how much he misses his.
Jacobs, Marc Accidentally posted a nude photo to Instagram. Took the high road in his response.
Jenner, Kendall Now has the most liked photo on Instagram. Beat out Kimye. Now that's a family rivalry.
Karan, Donna The fashion designer is stepping down as chief designer of her eponymous brand.
Kardashian, Kim Endorses Hillary Clinton for President, in hopes for more Instagram likes.
Kerr, Miranda May return to the Victoria's Secret cat walk. Yes please!
McAdams, Rachel Is reportedly dating her True Detective co-star Taylor Kitsch. Hopefully finds Notebook-level love.
Pei, Guo The designer behind Rihanna's Met Gala dress to open exhibit in Paris. Really capitalizing on the moment.
Queen Victoria The late monarch's undergarments are up for auction. See, granny panties are in.
Ryder, Winona Joins the eclectic cast of the new Marc Jacobs campaign. Also keeps it classy.
Tisci, Riccardo Plans to show Givenchy's Spring 2016 collection during New York Fashion Week, timed to the opening of the brand's new flagship. From all of us here, thank you!
Vikander, Alicia The up-and-coming actress's first Louis Vuitton campaign revealed. Obviously, it's ultra chic.
Watanabe, Junya The Japanese fashion designer cast only white models in his African-inspired show. Appropriately being accused of cultural appropriation. Ziegler, Maddie Stars in Betsey Johnson for Capezio campaign. Taught the flexible fashion designer a thing or two about cartwheels in the process.