All About Marc's Girls
In case you missed them, here are the top style stories from the week
---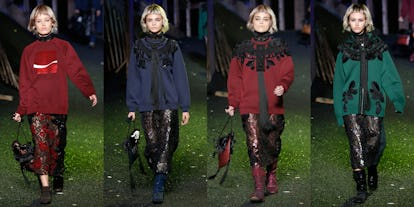 Banks, Tyra Transformed herself into various other supermodels—including Kate Moss, Cindy Crawford, and Cara Delevingne—for a selfie photoshoot. Has clearly run out of ways to get attention.
Chen, Julie Credits her successful career to eyelid surgery, not hard work.
Ferreira, Sky Hit the runway along with Charlotte Free, Cara Delevingne, and Georgia May Jagger for Marc Jacobs. Only Marc.
Gaga, Lady Says flip-flops are the gateway drugs to sweatpants and celibacy. So what does that make Birkenstocks?
Humphries, Kris Is selling Kim Kardashian's engagement ring for charity. Who will the lucky winner be?
Iman, Chanel Reveals that she shares clothes—and grillz—with her boyfriend A$AP Rocky. How… sweet. And unhygienic.
Johnson, Lulu Betsey's daughter revealed that there may not be another season of their TV show XOX Betsey Johnson. That's one way of reminding viewers you have a reality program.
Kerr, Miranda Will not walk at the Victoria's Secret fashion show this year; depresses fans everywhere.
Kidman, Nicole Was hit by a cyclist after the Calvin Klein show this season. Still made it to the Calvin Klein party that night. You go girl.
Middleton, Kate Made her first post-pregnancy appearance in a sparkly Jenny Packham dress… that looks exactly like something she would have worn pre-baby George. Oh, Kate.
Olsen, Ashley
Is reportedly dating the CEO of Oliver Peoples. Can we expect an upcoming collaboration between the eyewear brand and The Row?
Saldana, Zoe Apparently got married in June. To whom, you might ask? Who cares, we just want to see the dress.
Subway The sandwich chain hosted a competition in which aspiring designers created dresses using the restaurant's materials. The judge? Former Spice Girl, Mel B. Why wasn't this at Lincoln Center?
Westwood, Vivienne Is the subject of a new coffee table book; proves that punk WILL NEVER DIE.