Marc Jacobs Spring 2015: Backstage Beauty
There was no makeup at all at the Marc Jacobs Spring 2015 runway show. Find out why from artist Francois Nars here.
---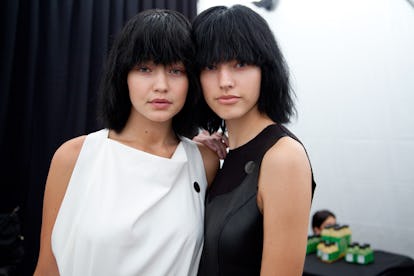 Photographer: Olivia Locher
"Not a gram of makeup," said makeup artist Francois Nars backstage at Marc Jacobs Spring 2015 of the show's bare beauty look. "Not a rosy cheek, not to cover circles—we like the circles!" Though, to be truthful, there were a few concealer touch ups to hide the glaring end-of-fashion-week pimple or two. Otherwise, the makeup look was as minimal as possible, creating an eerily calm vibe backstage. "With Marc we are always very extreme and we felt like it makes more of a statement to send the girls complete bare," said Nars. So what were the makeup artists actually doing? Applying Nars Luminous Moisture Cream ($62, narscosmetics.com) and Nars Total Replenishing Eye Cream ($55, narscosmetics.com) to create a natural glow. Nars even encouraged the models to go outside into the late summer humidity to bring out their natural dewiness. Plus, he added, "Have you seen the set? The set is so fun—it's all pink—it's like that's the makeup." The set was, indeed, completely Pepto-colored, from the carpeted seating to the home placed in the center of the venue, the Park Avenue Armory. Bold, Joey Ramone-inspired hair–matte black bowl cut wigs, which were dyed at Whittemore House Salon by Larry Raspanti and Victoria Hunter, and styled by Guido Palau, whose team cut the wigs to custom fit each model–finished off the look. "This was the fourth season now we've done wigs," said Palau, who used Redken styling products to texturize. "From the staging to the clothes, Marc likes a certain style, and the great thing is wigs depersonalized the girls. It transports them." That certain style, said Palau, was a "late '60s, early '70s underground punk feeling, but it also has a cartoon quality to it, which works with the set—it becomes like an illustration come to life." It's not the first bowl cut we've seen at Marc Jacobs, but if Lena Dunham's recent transformation is any indication, we may start seeing the style finally walk off the runway. ​
Photos: Marc Jacobs Spring 2015: Backstage Beauty
Backstage at Marc Jacobs Spring 2015

Photographer: Olivia Locher
Backstage at Marc Jacobs Spring 2015

Photographer: Olivia Locher
Backstage at Marc Jacobs Spring 2015

Photographer: Olivia Locher
Backstage at Marc Jacobs Spring 2015

Photographer: Olivia Locher
Backstage at Marc Jacobs Spring 2015

Photographer: Olivia Locher