Sept 14: Marc Newson's New Boat
Transportation is a major preoccupation for Marc Newson...
---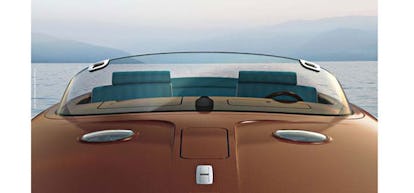 Transportation is a major preoccupation for Marc Newson. "I spend about half my time on airplanes," says the Australian-born designer, who moonlights as creative director for Qantas and whose studios in London and Paris have turned out everything from aircraft interiors to footwear inspired by Russian cosmonauts. "Transport," Newson's second show at New York's Gagosian Gallery (September 14 to October 23), brings together several of his limited-edition and large-scale projects in aviation, aerospace, automotive, and nautical design. The lust-inspiring objects include his mirrorlike Nickel Surfboard (for riding the perilously giant waves of tow-in surfing) and the ultimate tourist fantasy—the interior of a rocket designed for civilian space travel. But the star of the show promises to be a new work: the 33-foot-long Aquariva speedboat, the result of a collaboration with the Italian boat manufacturer Riva. "The original, iconic version, from the Sixties, was called the Aquarama," Newson says. Designing this latest version was a "once-in-a-lifetime opportunity. It's like asking a kid who's into cars if they want to design a Ferrari." Speedboats in art galleries? Newson, who created his own jet (the ultrasleek Kelvin40) for his 2004 solo show at the Fondation Cartier in Paris, is constantly crossing the divide between art and design. "I like the idea of recontextualizing things," he says. "Putting an airplane in an art gallery really turned a lot of heads." Then, too, there are practical considerations. The boats, in an edition of 22, are selling for about $1.5 million each. "As a boat, it's expensive," Newson admits. "But as a work of art, it's kind of cheap. It's a lot of design for your money."
Speedboat: copyright 2010 Marc Newson, Ltd.